Peter Fonda, Easy Rider Star and Auteur, Dies at 79
It is a sad and cruel irony that Peter Fonda died from lung cancer during the celebrations for the semicentennial of Easy Rider (1969), the sleeper hit he conceived, wrote, produced, and starred in.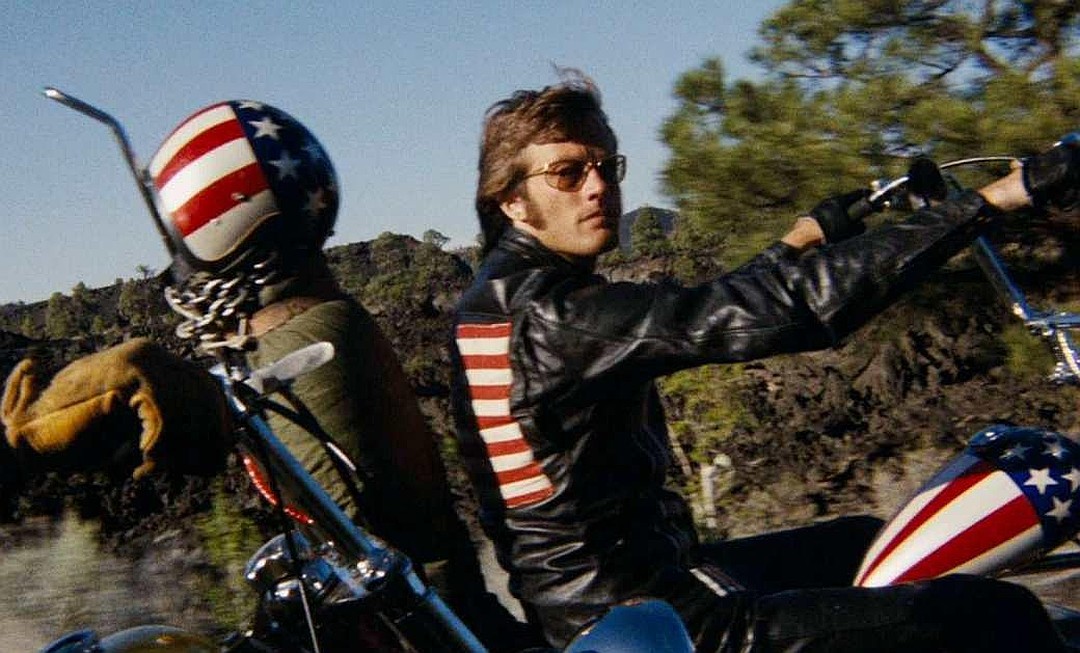 The counterculture road film of the existential search of two outlaw bikers in search of themselves, the American dream, and the meaning of life on a trip across the American South and Southwest became a reference point for a generation. Fonda's portrayal of Wyatt, one of the bikers, made him an icon, if not a star.
Easy Rider won a first film award for Dennis Hopper as director. He also played Billy, the other biker. The American Film Institute included Easy Rider in its list of 100 top films in the United States. And the US National Film Registry added Easy Rider to its list of films that are "culturally, historically, or aesthetically significant".
For its 50th Anniversary, Easy Rider has been restored and released. There have such special screenings as the one at Cannes and special events at the upcoming show at Radio City Music Hall in New York. Fonda's death will only add to the interest in the celebrations.
The film was nominated for two Oscars when it first came out: One for the screenplay by Terry Southern, Fonda, and Hopper; and the other for Best Supporting Actor for Jack Nicholson in what was his breakout role. Nicholson also wrote the script for The Trip (1967), which also starred Fonda and whose character there develops the actor's screen persona in Easy Rider. In 1997, Fonda was nominated for an Oscar for Ulee's Gold, but lost to Nicholson for As Good as It Gets.
Hopper also appeared in The Trip. It was on the promo tour that Roger Corman B-picture that Fonda was asked to autograph a still from The Wild Angels (1966), which famously inspired the premise of Easy Rider: a modern Western in which two bikers travel around the country who eventually get killed by hillbillies.
Wild Angels is a classic outlaw biker film. Fonda got the lead when it turned out that the actor originally cast couldn't ride a motorcycle and Fonda could. It is also the film in which Fonda first develops the persona that become Wyatt in Easy Rider, a persona that he played with and alluded to in other roles in his 57 year career as an actor. Two memorable examples are his turns in Wild Hogs and Ghost Rider (both 2007).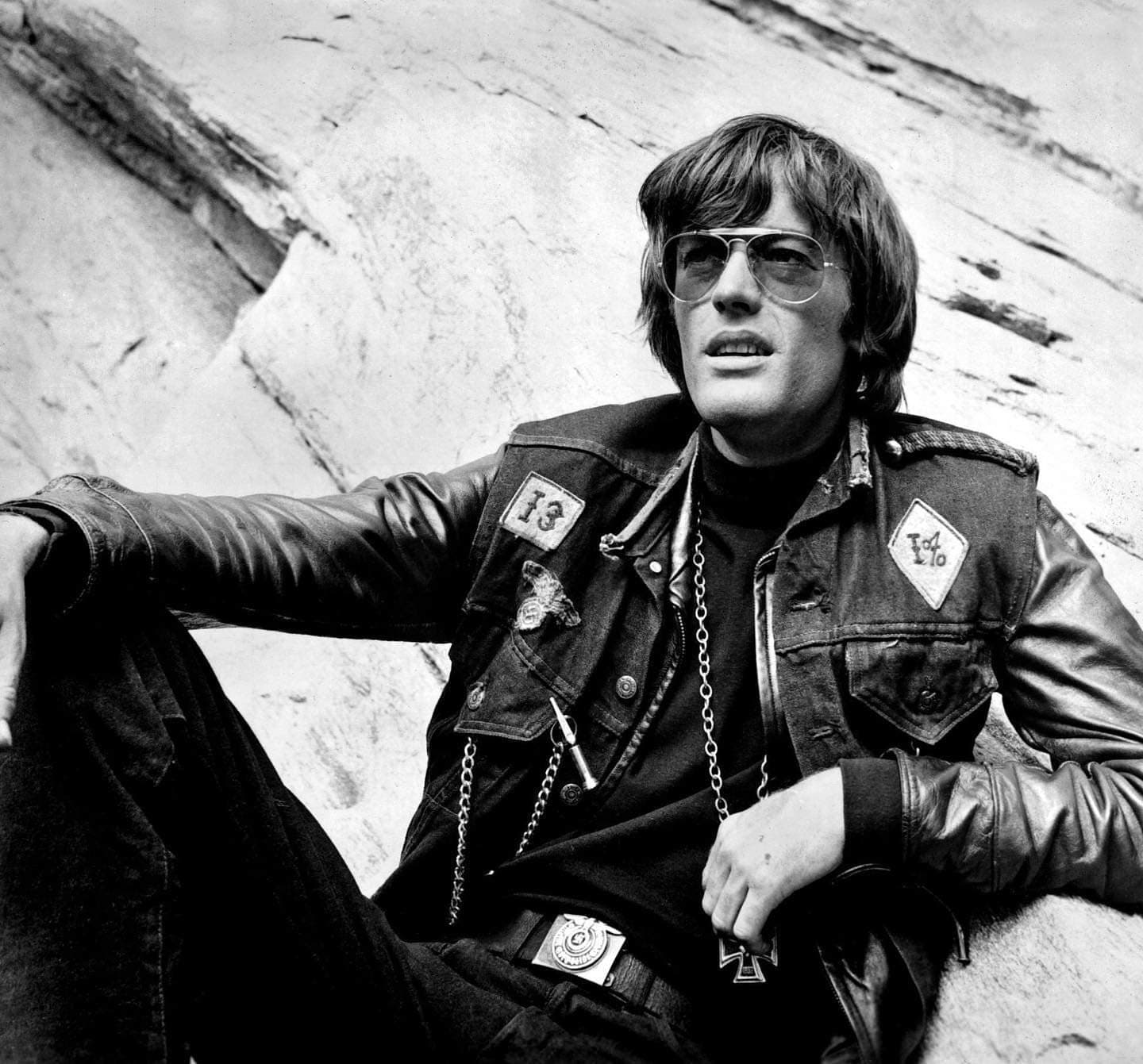 Born in 1940, Fonda was the son of the Hollywood Golden Age actor Henry Fonda and the socialite Frances Ford Seymour. Both his older sister, Jane, and he followed in their father's footsteps, as did Peter's daughter, Bridget, in his. The father and son relationship was strained, though that lessened over the years. Peter wore Henry's glasses from On Golden Pond (1981) for Ulee's Gold.
Fonda accidentally shot himself when he was 11 and nearly died. Years later, he shared his experience with members of The Byrds and The Beatles during an acid trip, noting "I know what it's like to be dead". John Lennon used the line in a song, "She Said, She Said". Byrds frontman Roger McGuinn, of course, would figure prominently in the soundtrack of Easy Rider. When Bob Dylan declined Fonda's requests to write a new song for the film and for permission to use Dylan's own recording of "It's Alright Ma", McGuinn became the default with cover of the Dylan song and completing "The Ballad of Easy Rider", the first verse of which Dylan scribbled out and handed to Fonda, telling him "Give this to McGuinn, he'll know what to do with it".
Fonda also wanted Crosby, Stills, Nash, & Young to compose the soundtrack – David Crosby was another alumnus of The Byrds – but Hopper, who was taking more and more control over the project, was opposed and went out of his way to block that in favor of the film's extensive use of pop and rock music of the time, most of which was selected by the film's editor, Donn Cambern. Interestingly, there has been speculation that the characters of Wyatt and Billy in the film may have been based on McGuinn and Crosby. The names of the characters came from Wyatt Earp and Billy the Kid. Captain America is the name of Fonda's motorcycle.
Hopper's most famous power grab was for screenwriting credit. Southern was brought in by Fonda. They met while Fonda was working on "Metzengerstein", a segment of Spirits of the Dead (1968), in which he appeared with Jane. Spirits is an omnibus film of three Edgar Allan Poe stories, each directed by a different auteur: Louis Malle, Roger Vadim, and Federico Fellini.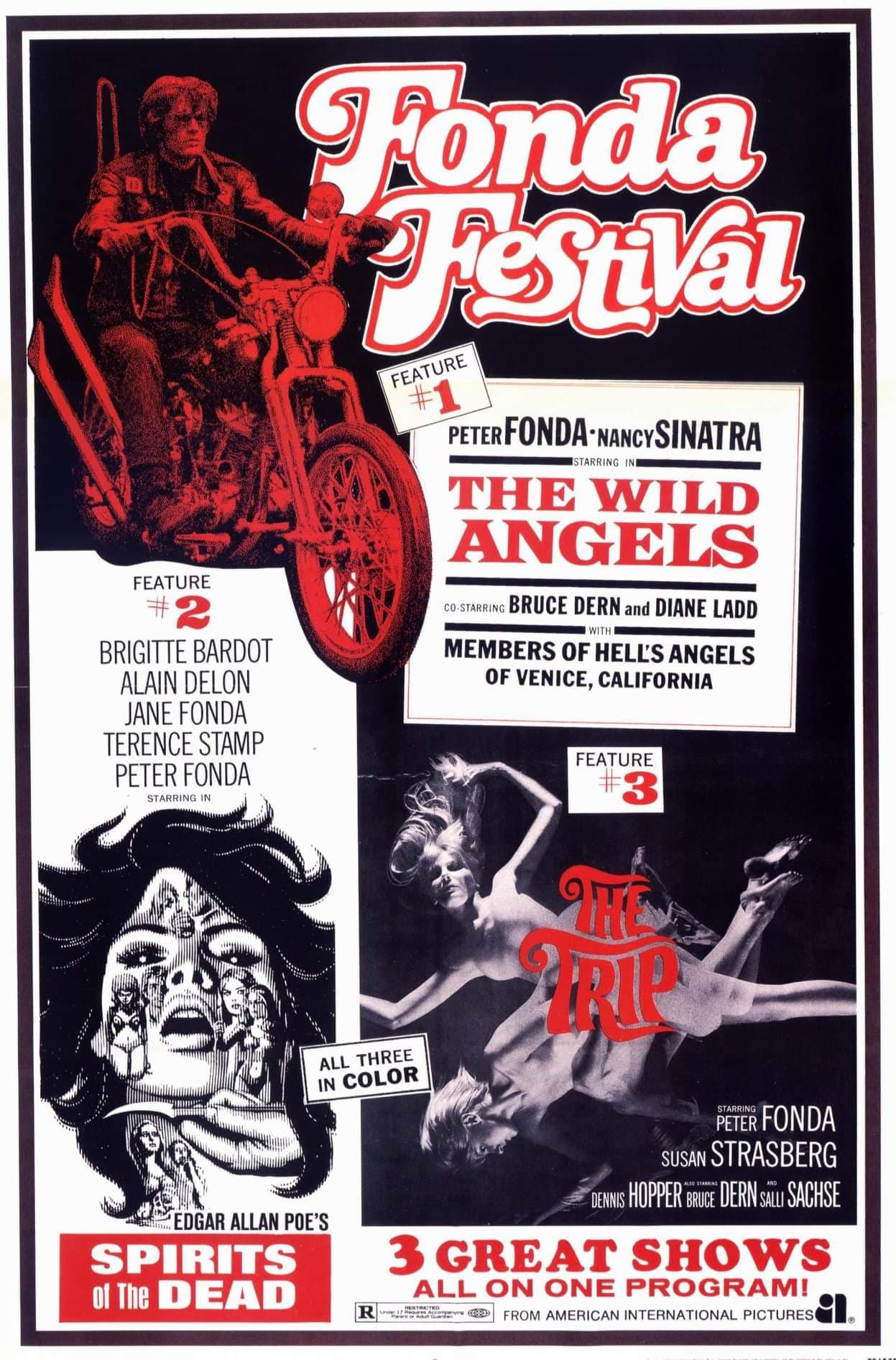 "Metzengerstein" was directed by Vadim, then Jane's husband. Their previous collaboration was Barbarella (1968), for which Southern wrote the script. He accompanied them to the new production. When Peter told Southern about the idea for Easy Rider, he was enthusiastic and signed on.
In Vadim's segment, a decadent aristocrat, Countess Frederique (Jane) inherits the Metzengerstein estate, and meets a distant cousin, Wilhelm (Peter), whom she didn't know she had due to an old family feud. When Wilhelm spurns Frederique's advances, she sets his stables on fire. He's killed trying to save his horses. One survives, which Frederique tries to tame. However, she is carried off into a burning building by the horse which may or may not be possessed by Wilhelm's spirit. Incidentally, the costume design in "Metzengerstein" echoes that of Barbarella.
It's rather amusing, if minor, camp, with the element of incest either adding a fun or ick factor depending on the point of view. Malle's contribution, "William Wilson", is regarded as the dud of the three. Malle would go on to direct Murmur of the Heart (1971), which is about incest. Fellini's, "Toby Dammit", is the best of the lot and worth seeking out.
Fonda took the time to see that people who helped make Easy Rider the iconic film it is get credit for their contributions, most notably a couple of years ago when custom builders, Cliff Vaughs and Ben Hardy, were finally acknowledged as the creators of the motorcycle, based on Fonda's concepts of what Captain America might look like.
It will be left to others to decide whether Fonda is the true auteur of Easy Rider. It is unquestionable the Easy Rider was his dream film, and he made it as close to his dream as reality allowed. Perhaps some of that played a part in the family's statement: "In honor of Peter, please raise a glass to freedom".
Jonathan Boorstein
Please follow and like us: