There's no business like the show business
When you're reporting on an event after the event – as it were – you usually try to give it some sort of angle, especially if you've reported on that particular event before, which I have.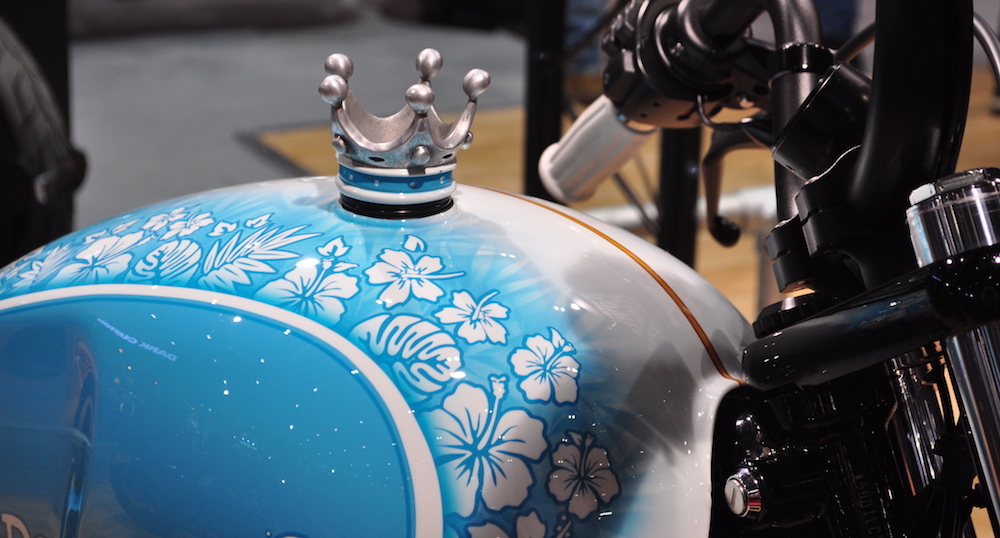 One needs to go back to basics and think about who is likely to read what you've written, and why, and try to make it different to last time, which isn't always easy.
Maybe the reader was there, and agrees (or disagrees) with what I've said, or perhaps I spotted something they missed. Or vice versa.
They may well have gone to the show to see the new models fielded by Ducati, Triumph and Suzuki among others; to see one of their heroes taking part in the 'Slide' event, or perchance to peruse the amazing custom machines on display, and the collectors' items in the Coys Auction on Saturday afternoon.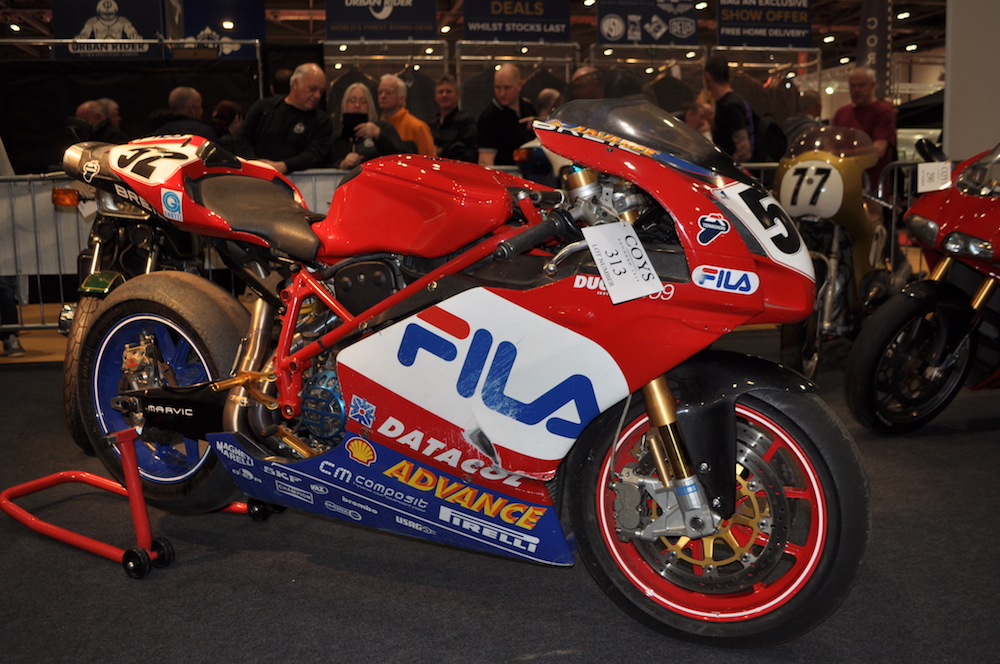 Then again the reader may not have gone to the show for various reasons; too far, no transport, no money (it's not a cheap day out) or just couldn't be arsed.
So it's the latter I will pitch this report at, and if you were lucky enough to be one of the 39,811 people (record attendance) there you can make your own mind up.
To make it easy for you I'll break it down into subsections like the minutes of a meeting or a report – that'll be fun…
Location
The Carole Nash MCN London Motorcycle Show (to give it its full title) is held at the sprawling ExCel exhibition Centre at Royal Victoria Dock.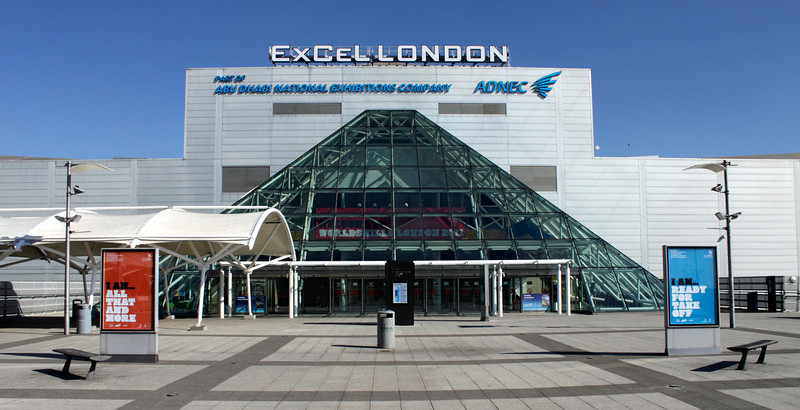 Royal Victoria Dock is part of East London's Royal Docks, which were opened in 1855 on an uninhabited area known as Plaistow Marshes – later home to Ian Dury's hopefully fictitious Patricia, heroine of his infamous song that it's probably best not to play in front of your girlfriend's parents. (Long story.)
The bike show wasn't held there in them days as they weren't invented until thirty years later and the ExCel Centre wasn't built until the year 2,000, what with the docks having gone tits up in 1981.
To get to the ExCel (which has nothing to do with the Microsoft Office application of the same name) from the south, you need to cross water, as alluded to in my preview piece on The Rider's Digest Live, which I can't be bothered to re-write – you should have been paying attention.
Once you get there without taking a wrong turning – which I seem to do every year – you can park your bike for free inside one of the empty halls, which is nice if it's cold or raining. If you do this it is compulsory to blip the throttle a few times just to demonstrate that your exhaust is quite noisy and that you're well cool. Well, I did anyway.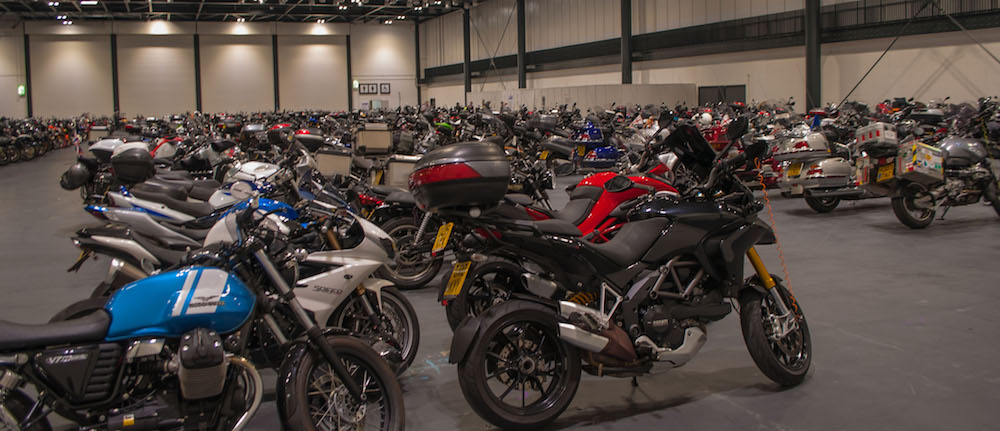 You can then for a few quid leave your hat and coat with those nice people from the SERV Bloodbikes organisation, who were very friendly and helpful.
Once you've done all that, you can walk into the show looking like all those people who came by car or train.
New Bikes
Several new models were on display at the show, and I've taken photographs of some of them. I haven't managed to get all of them as they were either hidden behind people in anoraks carrying Carole Nash carrier bags, or they didn't look much different to the models that they replaced, which is why I took my 27-year-old son along, as he's more 'down wiv da kids' and is able to point these things out to me.
As already mentioned, Triumph's new models included the debut of their brand-new-for-2017 Street Triple range.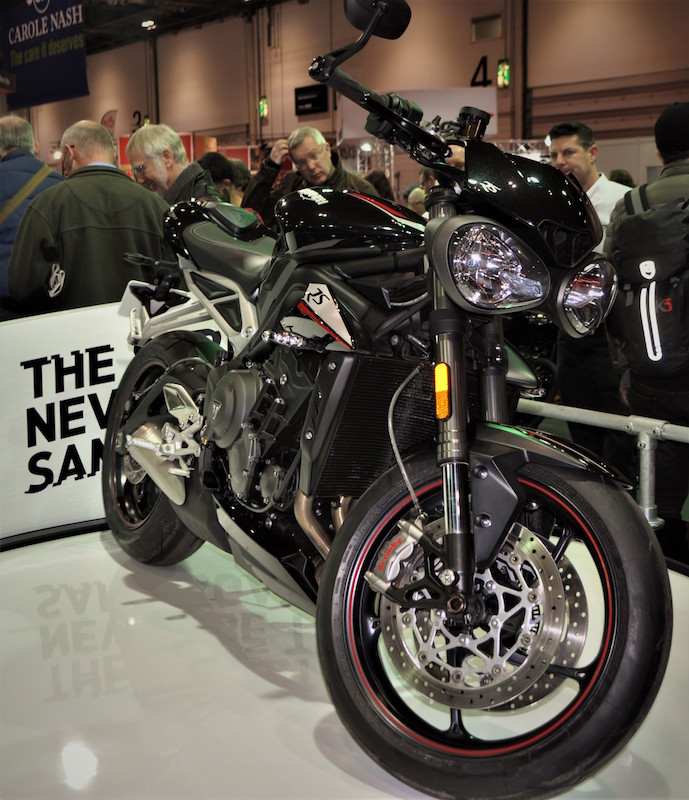 These 765cc machines come in the S, R and RS versions, the latter of which was going round on a big turntable, which doesn't come with the bike; but a 5 inch (shouldn't that be in millimetres?) colour TFT dash, switchable ABS modes and Pirelli Supercorsa SP tyres do.
One of the bikes I was unable to photograph due to being poked and prodded by lots of people with ironic beards, man buns and lumberjack shirts was the 'Bonneville Bobber', a sort of retro take on the Bonnie that looks a bit like the designers lost interest when they got to the rear end. I shall attempt to investigate further in the coming weeks.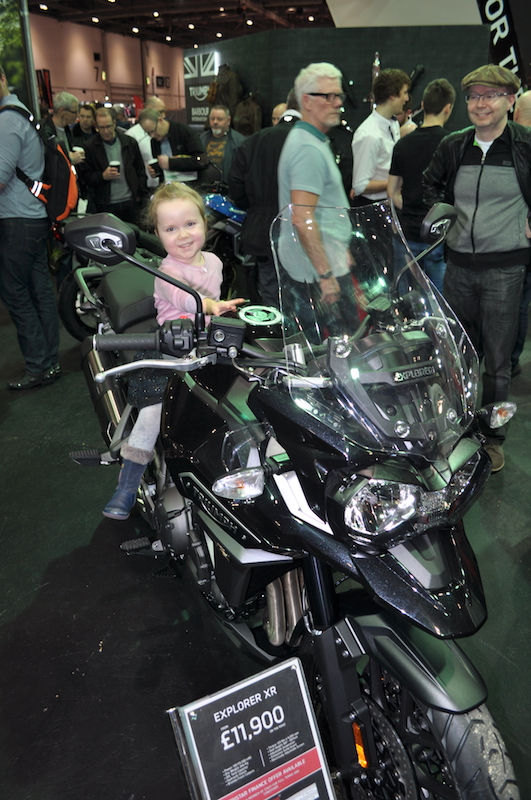 My understanding of the term 'motorcycle' is that it is a two-wheeled vehicle powered by a motor and has no pedals [so where does that leave the FS1E? – Ed]
Triumph's stand however featured a Tiger 800XCx monocyle in the guise of an 'Extreme Ice Bike', which had a heavily spiked rear tyre and a ski at the front instead of another wheel. What wasn't obvious is why.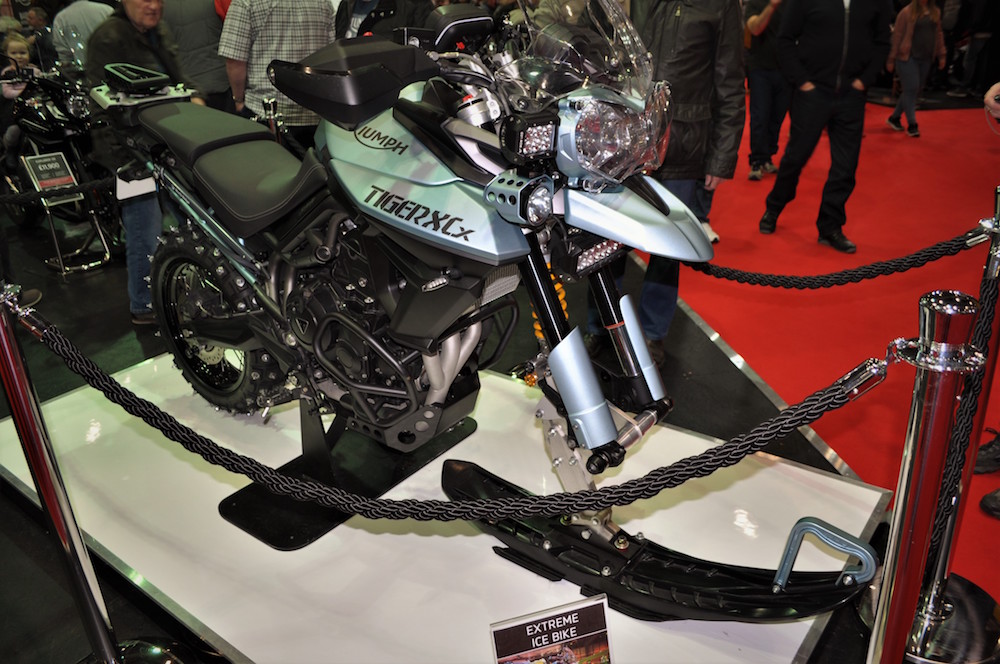 Fellow Brits Norton had their brand new V4RR and V4SS bikes, the latter being restricted to a limited run of just 200 hand built machines, all of which were sold before the bike was even revealed. That gamble paid off, they are simply beautiful.
Norton also featured a Dominator SS fitted with machine guns, apparently for a Bond film. I bet nobody pulls out in front of that…
Ducati had clearly been watching interior design TV programmes, as their new Monster 1200S was boldly painted in grey (apparently it's a very 'in' colour at the moment according to my wife, who watches all that stuff on the telly while I'm looking out for the TV Detector van).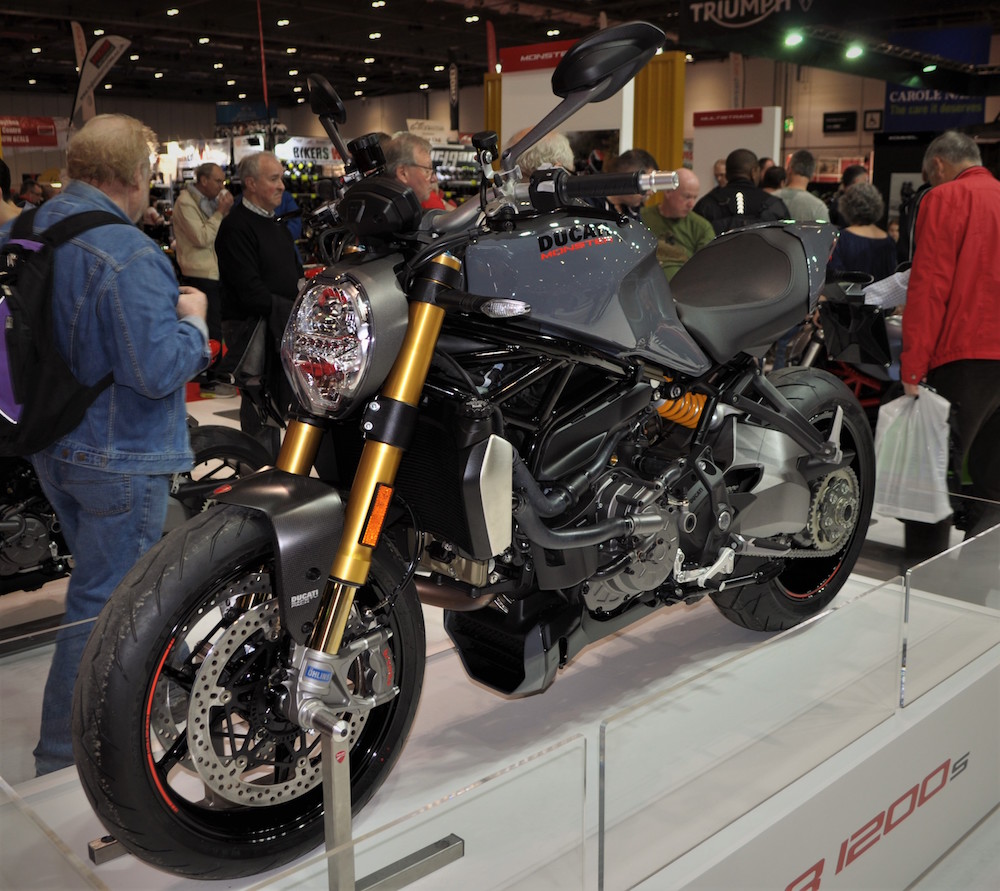 Also new was their 'Desert Sled' version of the 'Scrambler' model, which reminded me of a classic Yamaha XT500, with its white paintwork, knobbly tyres and gold rims. It also actually looked like a dirt bike rather than a roadster fitted with knobbly tyres.
But this is where it all gets rather confusing, especially for someone like me.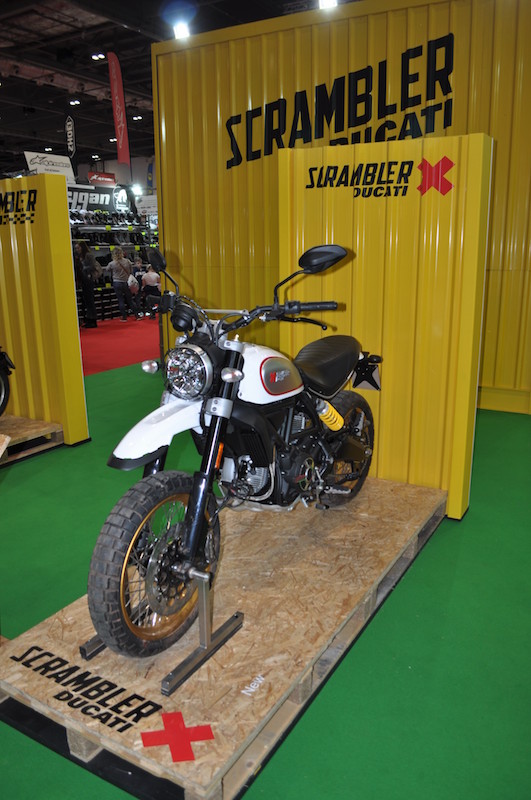 The Desert Sled's next door neighbour was a rather lovely looking machine in black, which was called the 'Scrambler Café Racer'. Let's get this straight – Ducati have taken what is essentially a chunky street bike and put a high-rise exhaust and some knobbly tyres on it, and then named it after what our dads used to call motocross bikes.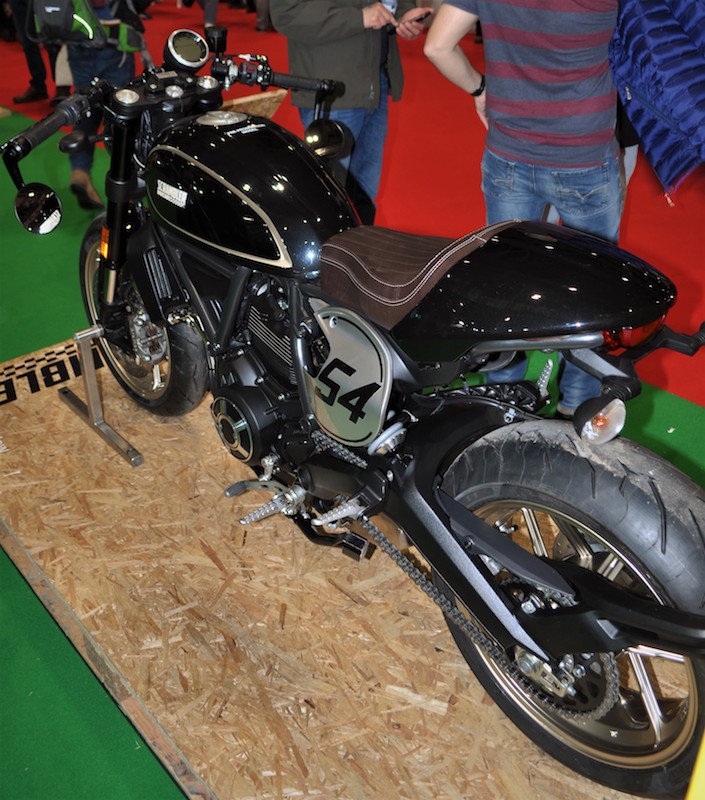 Then they put road tyres back on this slightly disguised road bike and called it a 'Scrambler Café Racer? Next you'll be telling me that BMW will sell you an 800 and call it a 700…
Talking of BMW, they had their new R1200GS Rallye on their stand, a bike that is a bit more than a GS but not quite an Adventure, in case we needed a sort of halfway house.
The German marque has also now made even more versions of their popular R Nine T available, a model that I believe started life as a limited edition to celebrate their 90th anniversary a few years back.
Of course the original R90 was a 900, so with their strange engine capacity logic this bike is a 1200. I think.
Anyway, they had a few new variations of the bike (or should I say range?) which seem to also be suffering from 'DucatiScrambleritis' – a nasty complaint where essentially the same machine is fitted with various tyres and exhausts and sold as either a street scrambler, a roadster, a custom and even now a café racer, thanks to the addition of a rather stylish half fairing.
There was also a collection of tanks on show from which you can perhaps select whichever colour suits your mood for your 'factory custom' – which is clearly a contradiction in terms. Maybe somebody should produce a bike called the Oxymoron.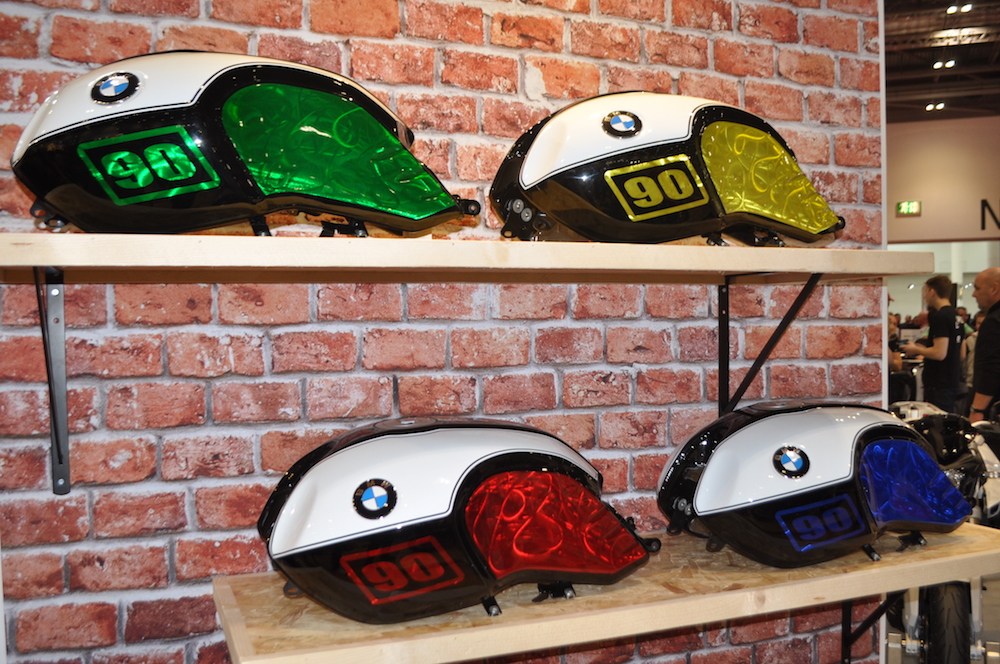 It seems like we're regressing to the days when your Great Uncle Harry rode his BSA 350 round Brands as a grass tracker, took the ferry to the Island to compete in the TT and then headed north compete in the ISDT. All on the same tyres.
Moving on to Suzuki, they were showing off the new GSX-R1000R, which is apparently the first superbike available with Variable Valve Timing (VVT). I thought Ducati had got there first with the Multistrada; but what do I know?
Maybe that wasn't classed as a 'superbike', but who knows what bikes are classed as these days? (When I were a lad…)
I'm sure those who are familiar with the 'Gixxer' would have been able to identify a long list of changes and improvements over previous incarnations, but it looked pretty much the same as earlier models to me.
Suzuki also had their new GSX-R125 at the show (but it had people clambering all over it so no pics) which is available for £3,999; for another couple of hundred quid you could get a GSX250R, but due to the 'R' being in the wrong place what you make up for in having a 250 you lose out to the 125 gang in the credibility stakes by the fact that it's not a 'Gixxer'. Harsh.
There were lots of other new bikes at the show, but I was starting to lose interest by then so I started looking at a completely different genre without even leaving the Suzuki stand.
Classic Bikes
You may have spotted by now that I have craftily moved onto a completely different, and for me far more interesting category, so while we're still on the subject of 'Gixxers' there was a rather tidy GSX-R750F on the stand from 1985 that had been completely rebuilt for the show.
Also present was a fantastic collection of Barry Sheene's Suzuki race bikes, along with two sets of his leathers and lids from 1984 and 2002 respectively.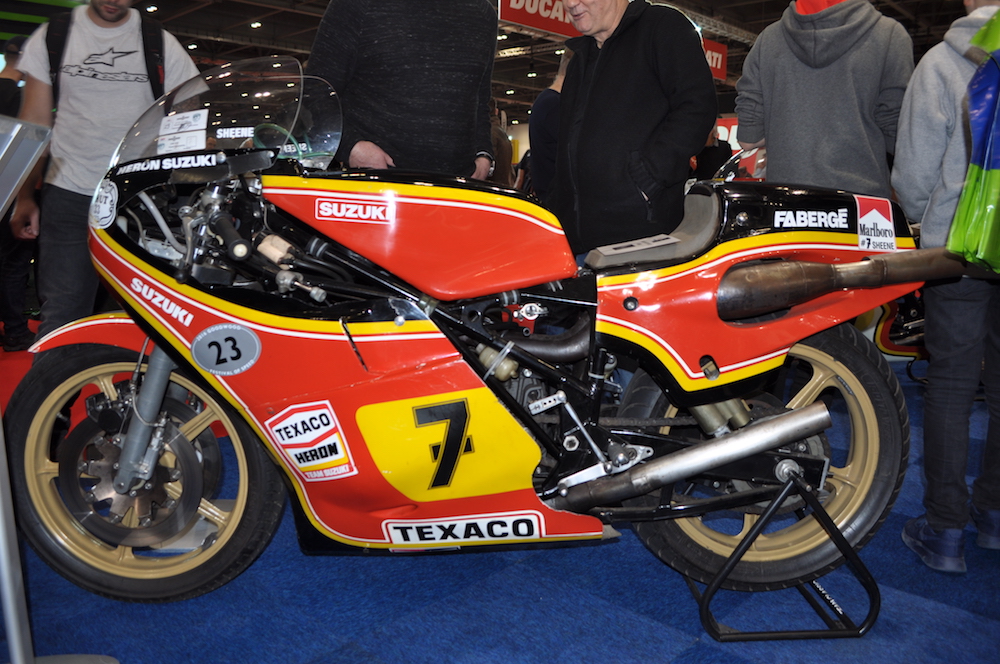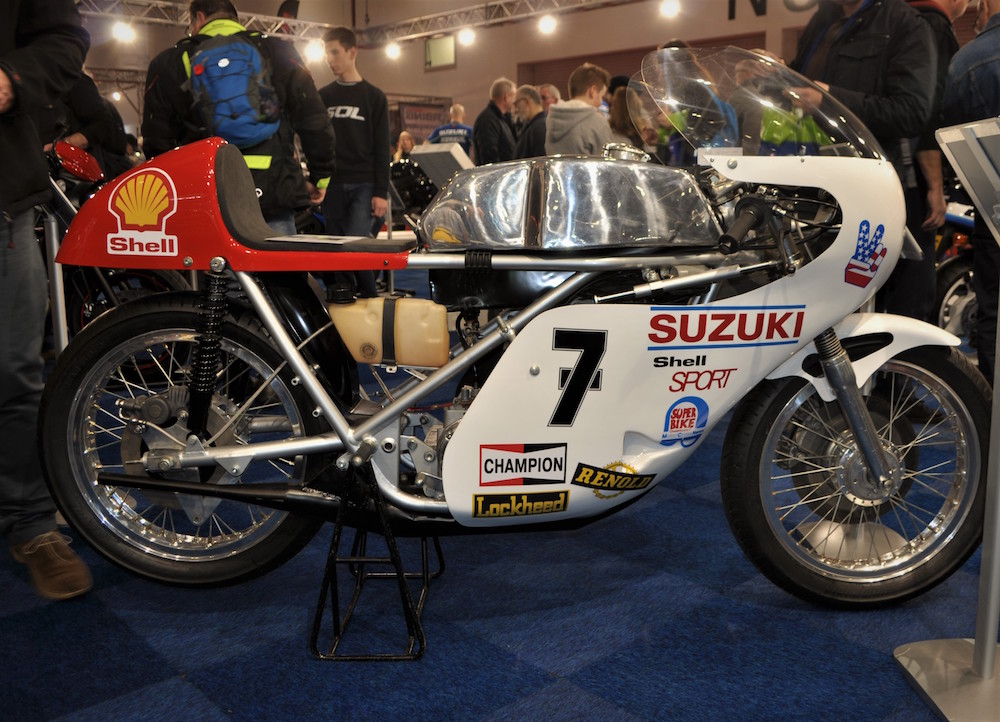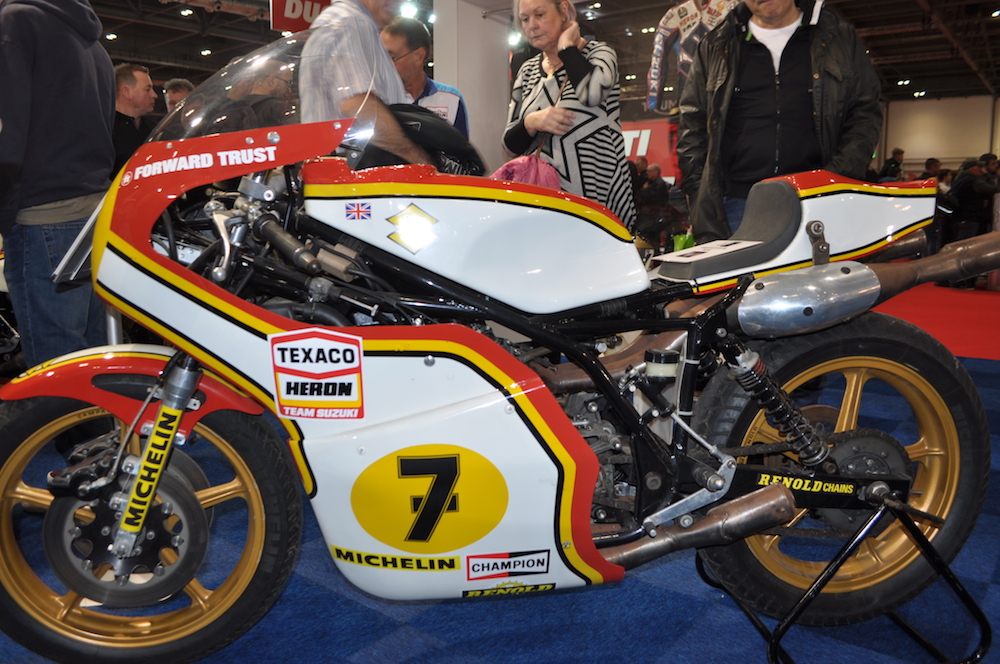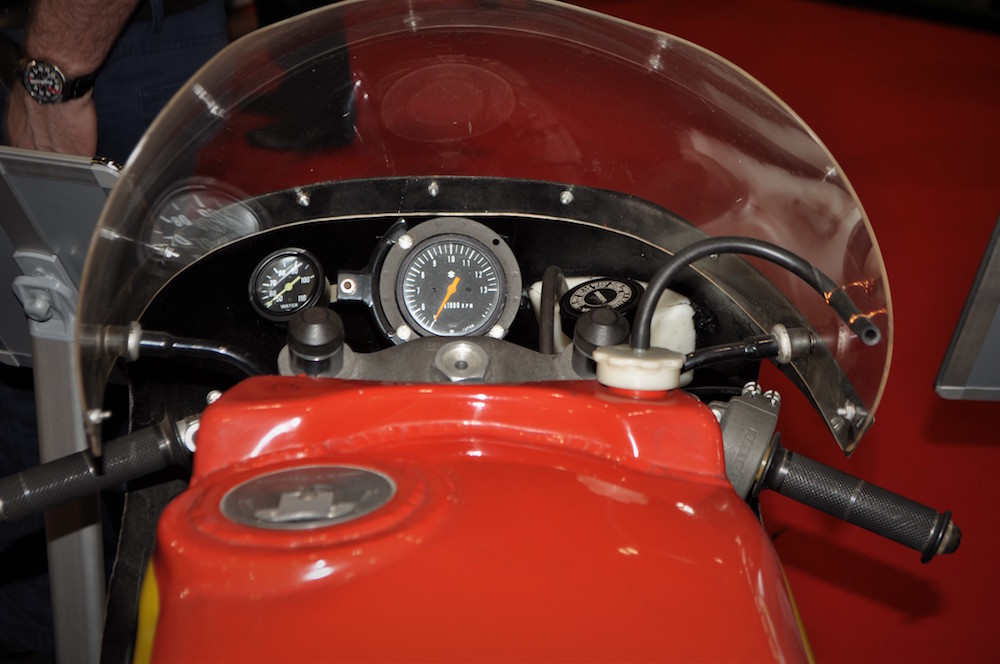 But while Suzuki were mixing it up with bikes old and new, there was an entire area of the hall dedicated to classic machines in all kinds of conditions, many of which fetched eye watering prices in Saturday afternoon's Coys auction.
The star was a classic Moto Guzzi 500 V8, which had reached £196,250 by the time the gavel fell. What's really surprising about this bike is that it was actually a replica of the 1955–57 World Championship GP bike, built in the early 2000s by a team of former Moto Guzzi engineers working from the original specifications.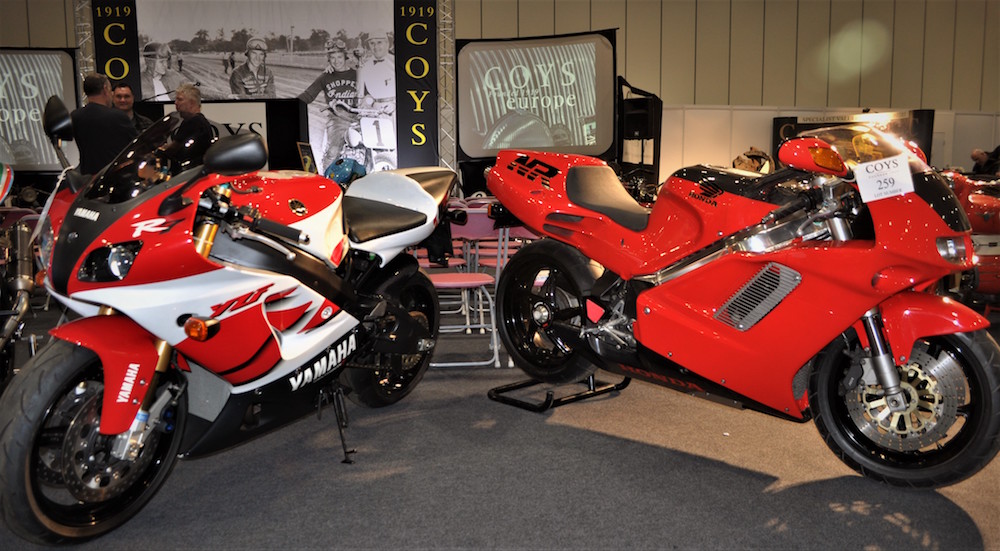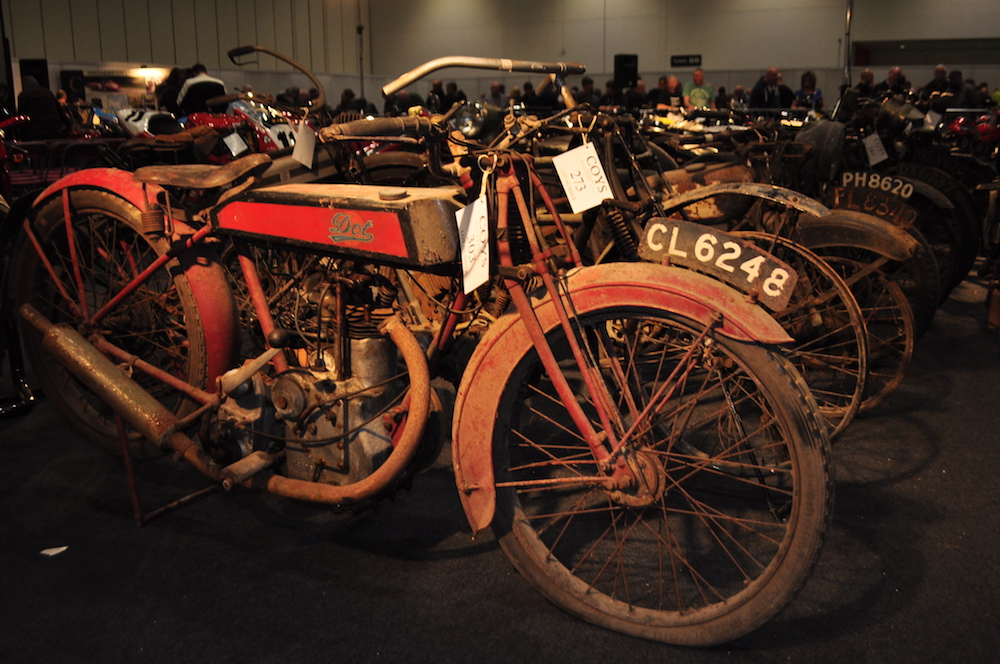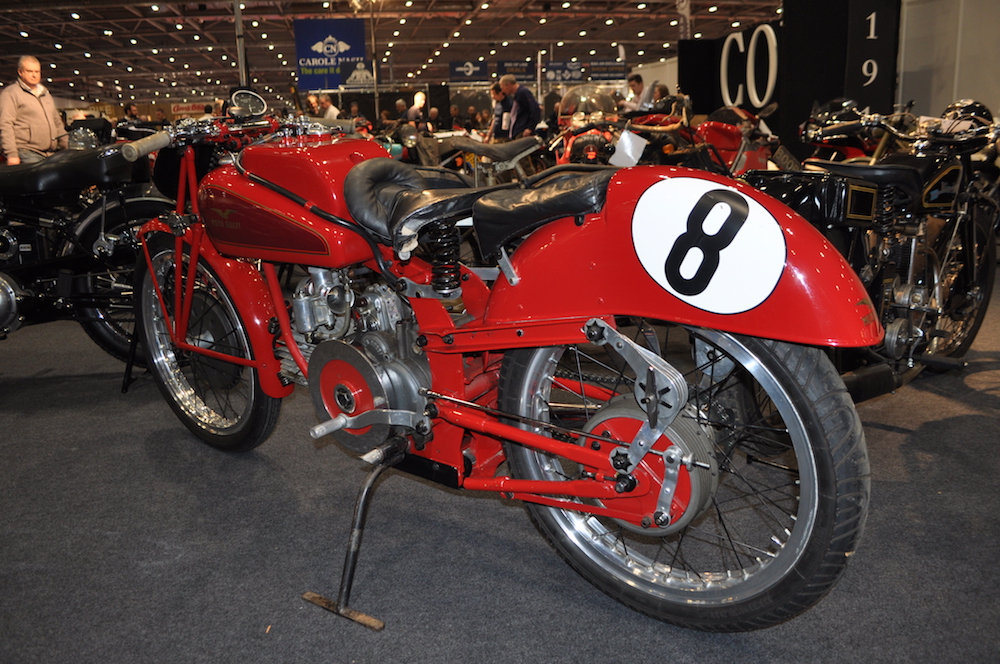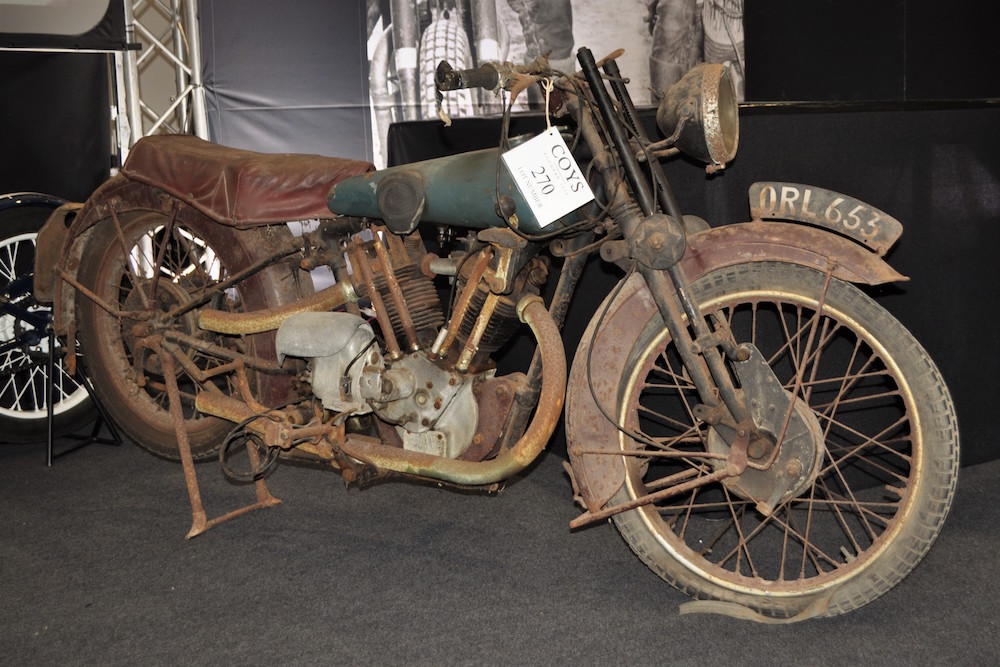 Strangely I didn't spot that particular bike among those up for auction, but my eye was caught by many extremely desirable and exotic machines – as well as a 1982 Honda CX500 Turbo, which was flogged (sorry Coys – 'auctioned') for £7,250.
Bizarrely, having had a butcher's at their 'results' site it seems that most of the bikes I photographed didn't feature, while the vast majority of those listed with the auction prices on their site failed to appear in my collection of snappy snaps.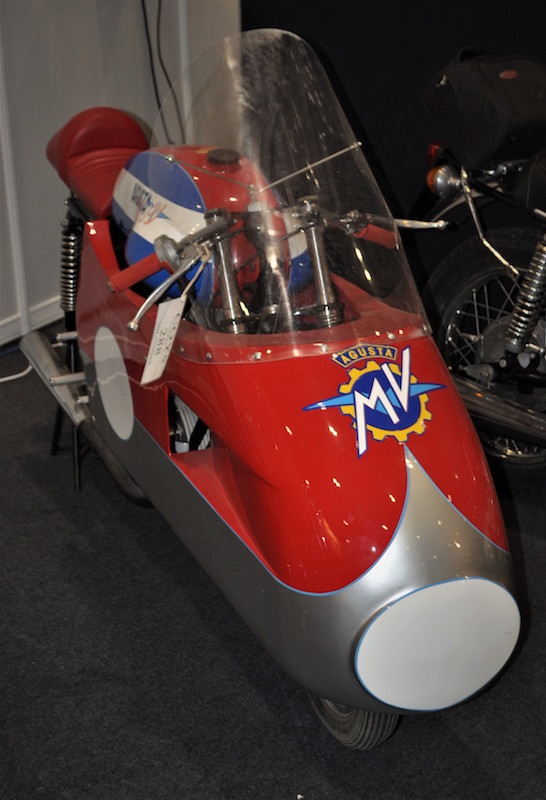 Adventure section
A full programme of guest speakers was lined up for the three days of the show and it was just good luck that I happened to be in the crowd when our very own intrepid explorer Jacqui Furneaux was speaking about her adventures on her beloved Royal Enfield.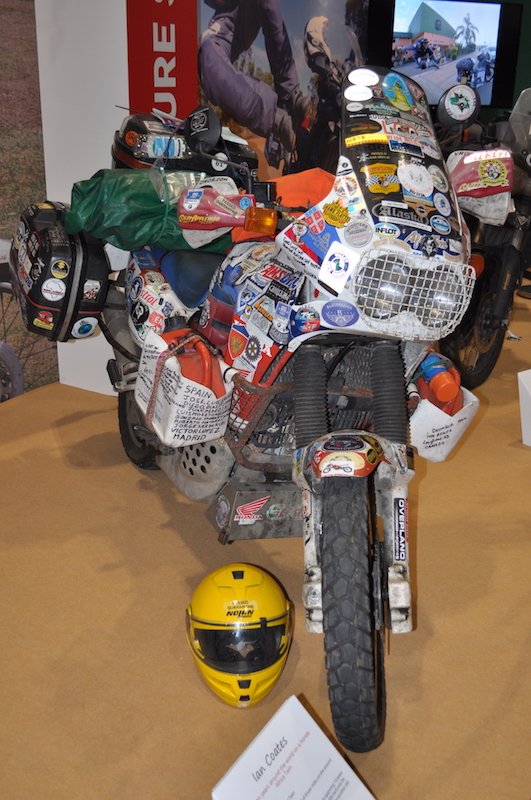 Lois Pryce was awaiting her turn, and I spotted the unmistakeable Geoff Hill wandering around too.
There was also a fine collection of adventure machines on show, including the unbiquitous Ural outfit, complete with roll bar, Ian Coates' 1992 Africa Twin, Bruce Smart's Gixxer, and of course Jacqui's Enfield.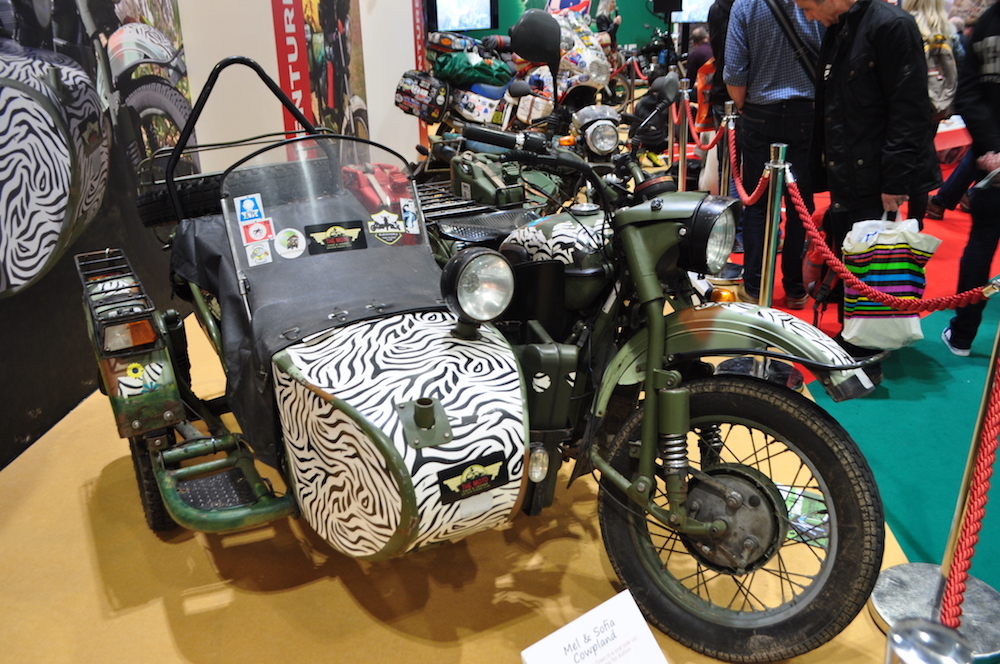 Custom Bikes
One of my favourite sections of the show is the bit where they group all the bikes together that have been lovingly crafted by individuals, and really stand out from the crowd.
These are divided into sub categories, 'Modified American V Twins', 'Retro/Old School', 'Street Performance and Freestyle', the cream of which compete for 'Best in Show'.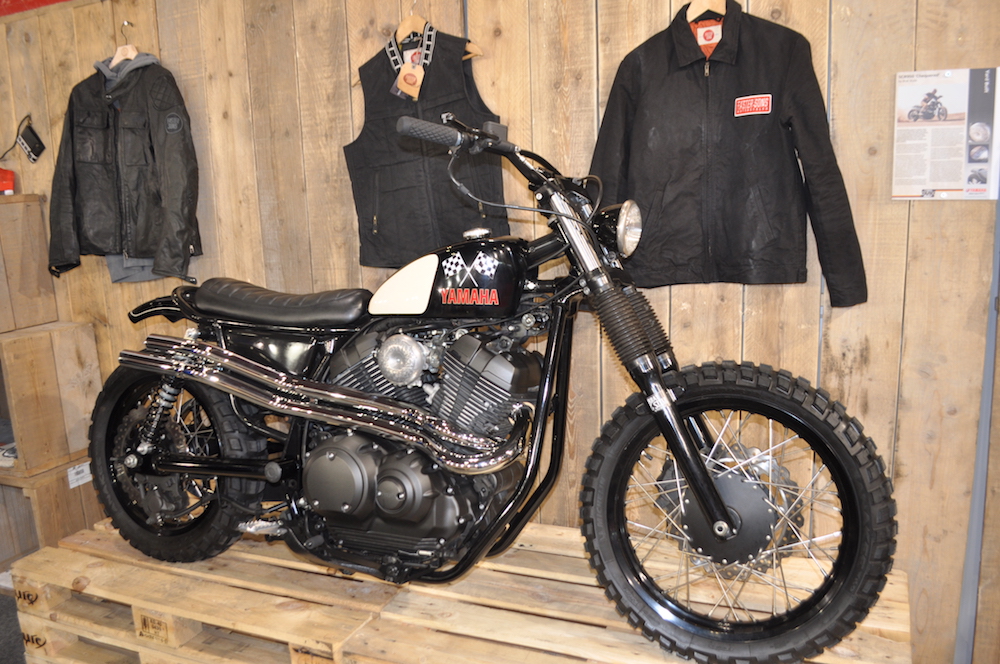 It's hard to choose favourites in this area, the majority of the bikes on show are outstanding but I suppose inevitably I tend to favour builders who've done something a bit different, like 'Grumpy Grandad' Graham Leek's 'Grumpy's Custom' – featuring home-made girder forks, a Zodiac 6 speed gearbox, and a sideways mounted 96 cubic inch S&S V twin engine.
There were also a couple of variations on the Buell theme, including Joe Banks' delicious (can you say that about a bike?) Metisse Cyclone, which has a spec list as long as your arm, but in basic terms wears Yamaha R6 forks and a Buell M2 motor – I'm not sure where along the line it stops being a Harley Evo lump, but if the builder says it's a Buell that's good enough for me. Sadly it sports knobbly tyres.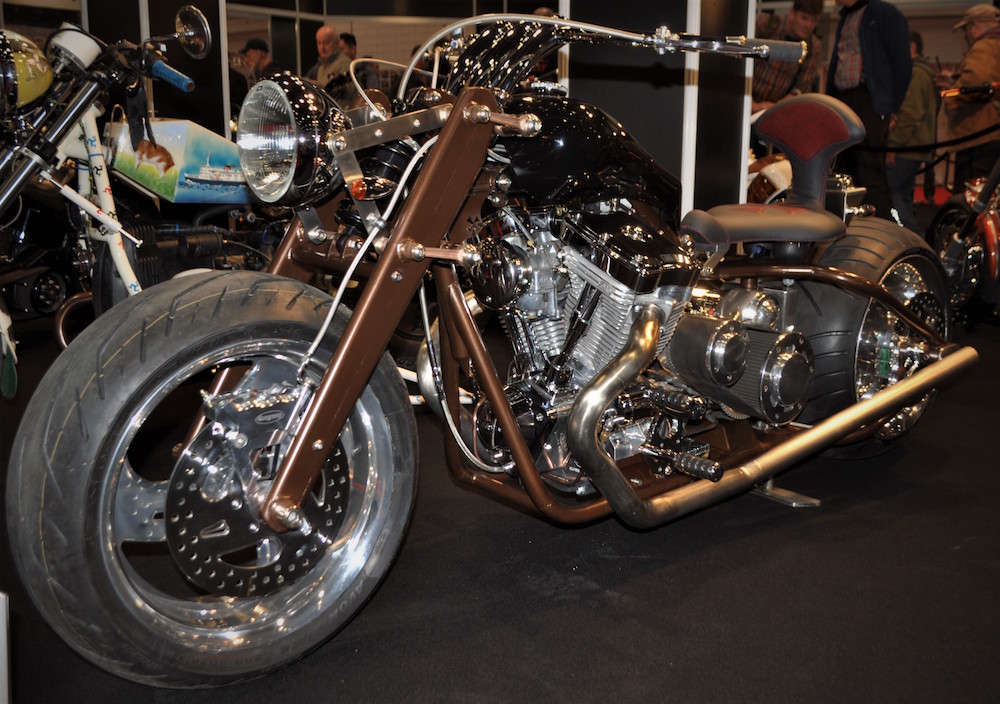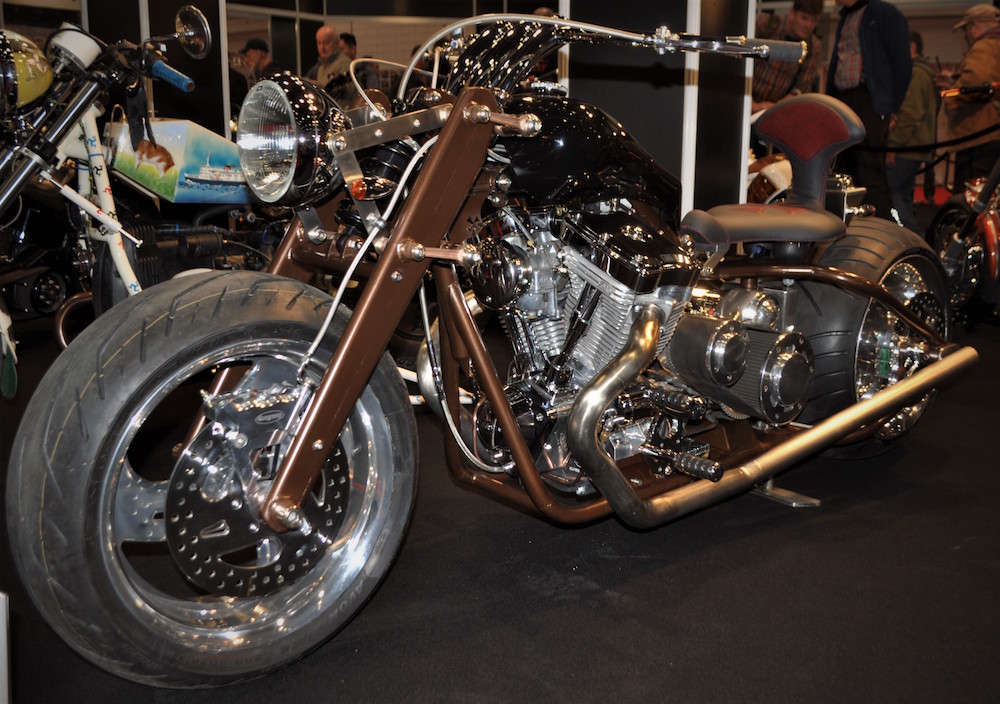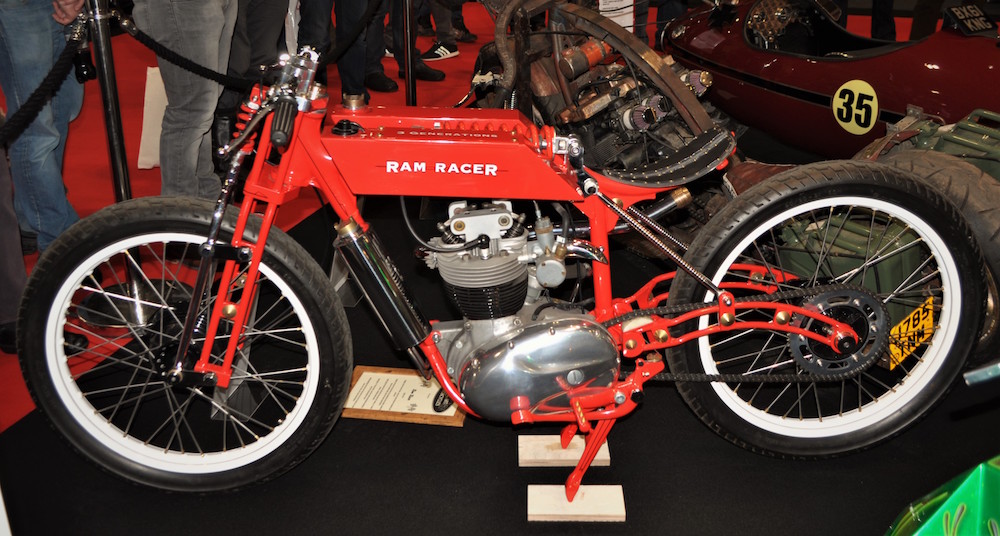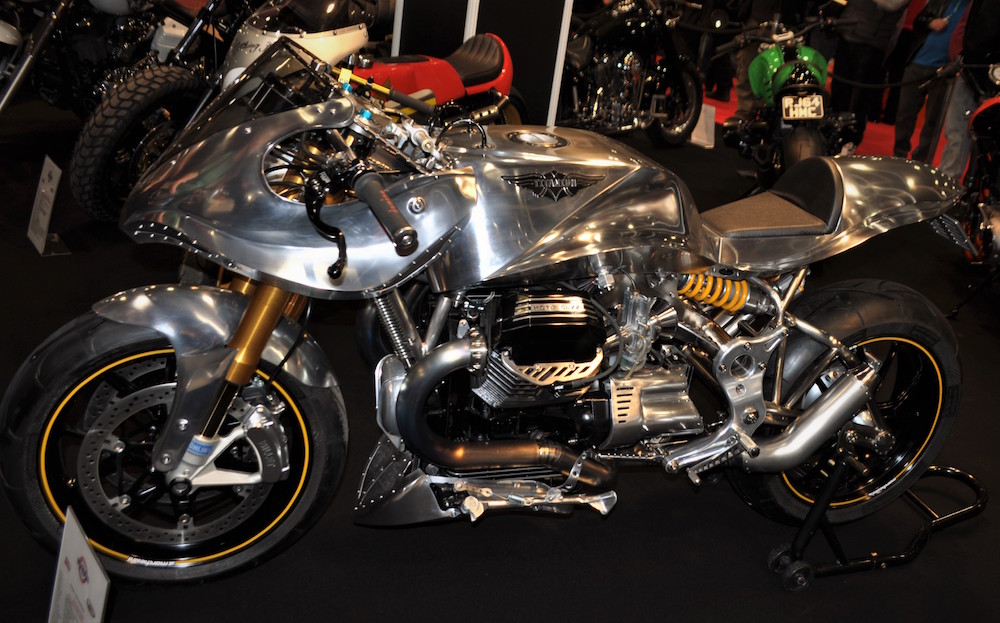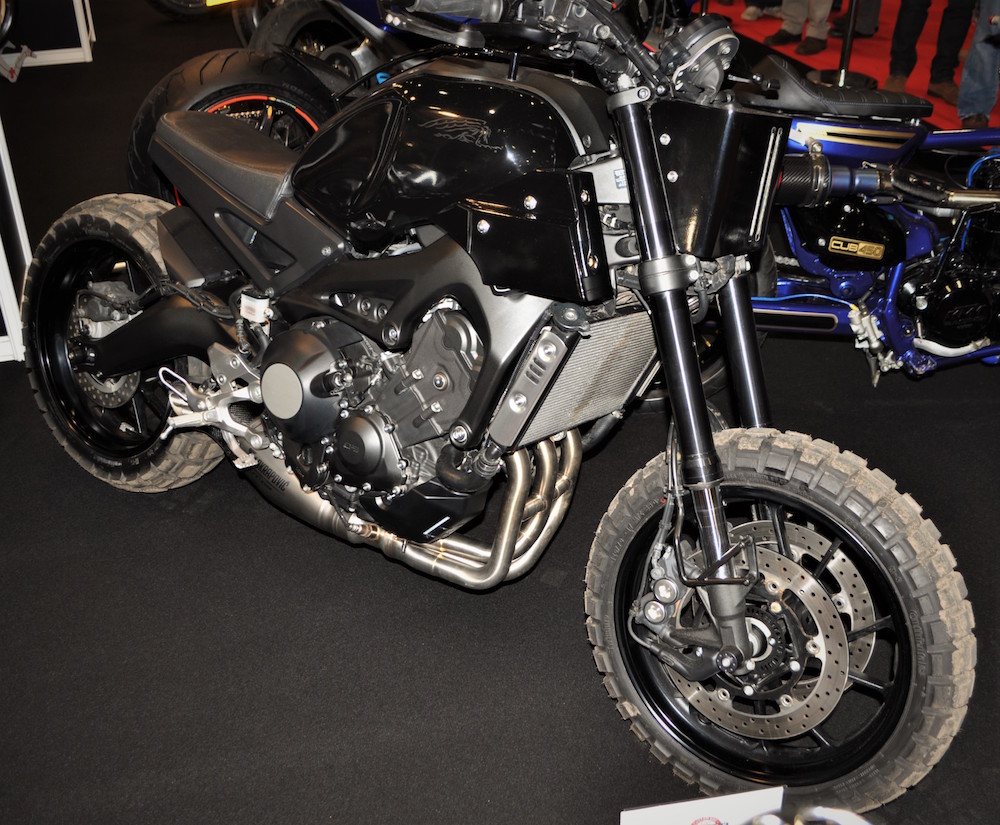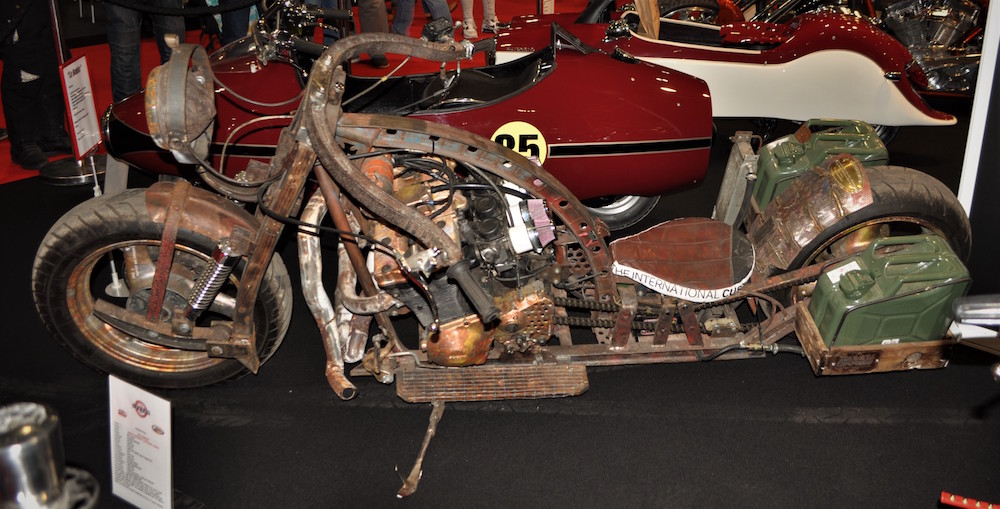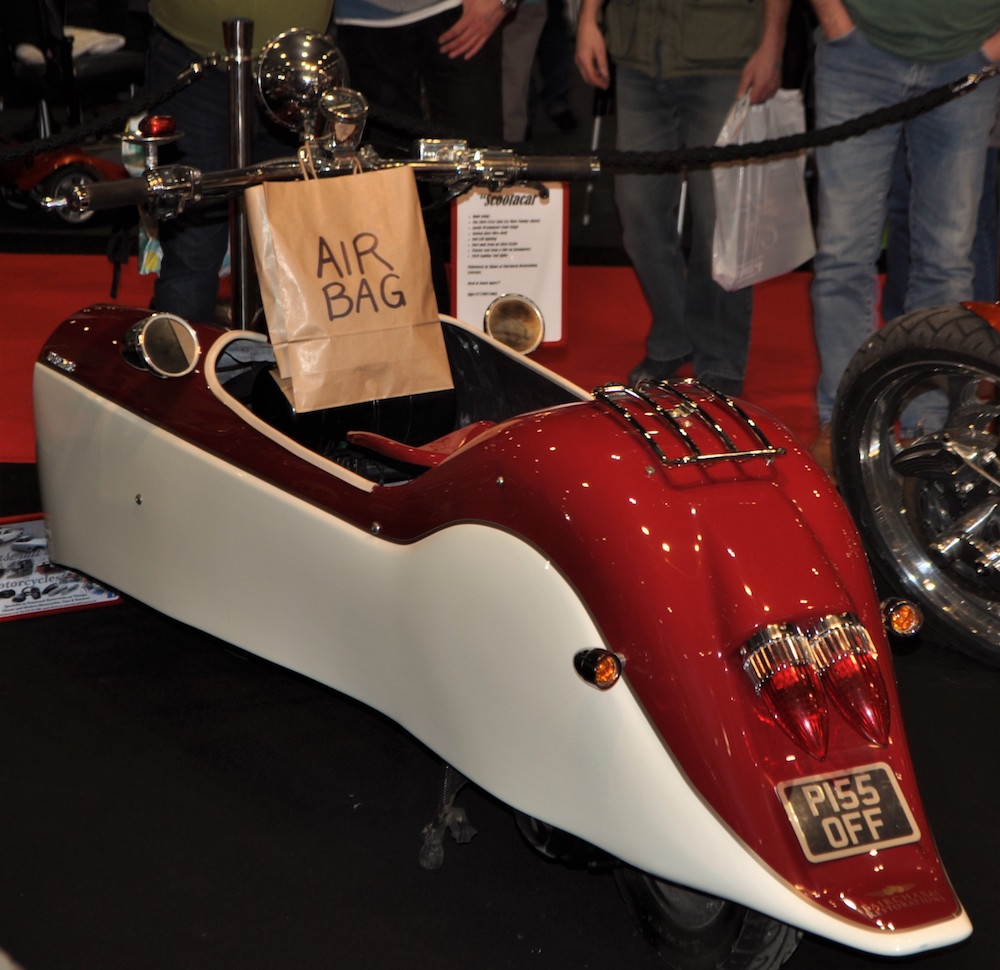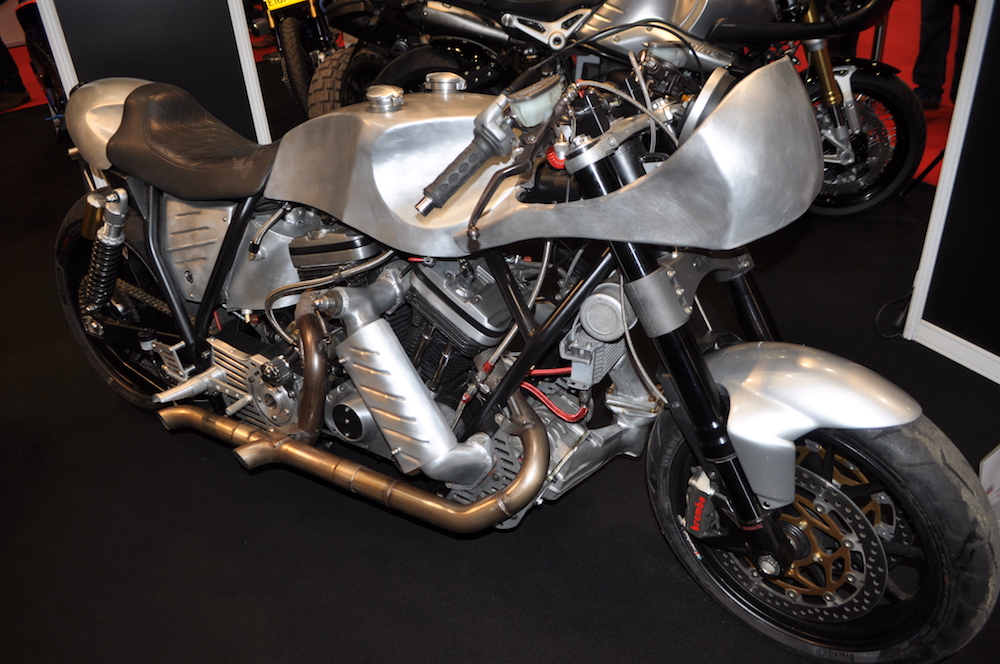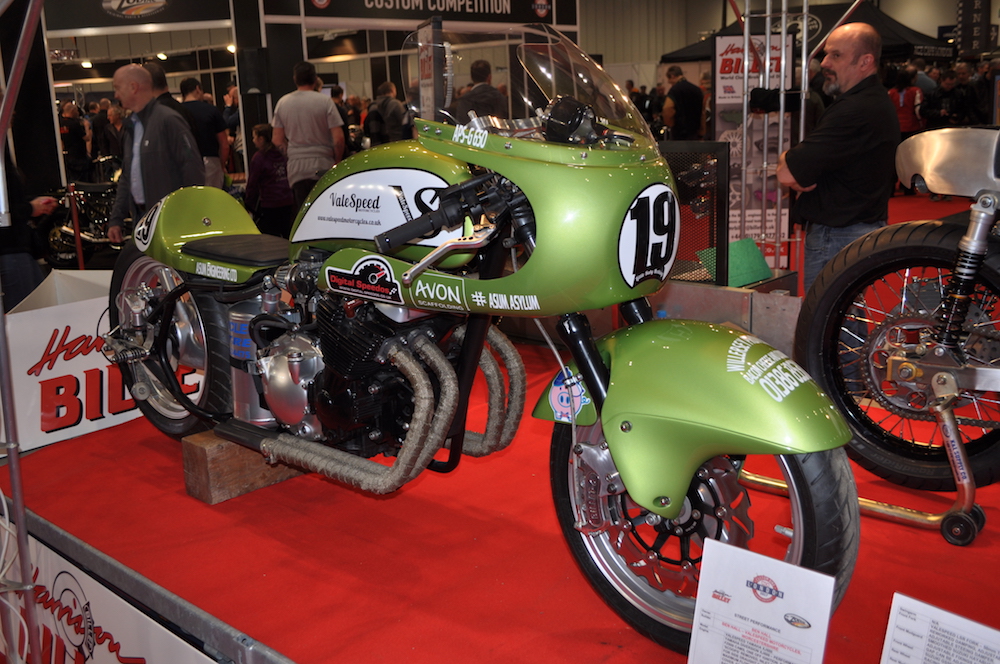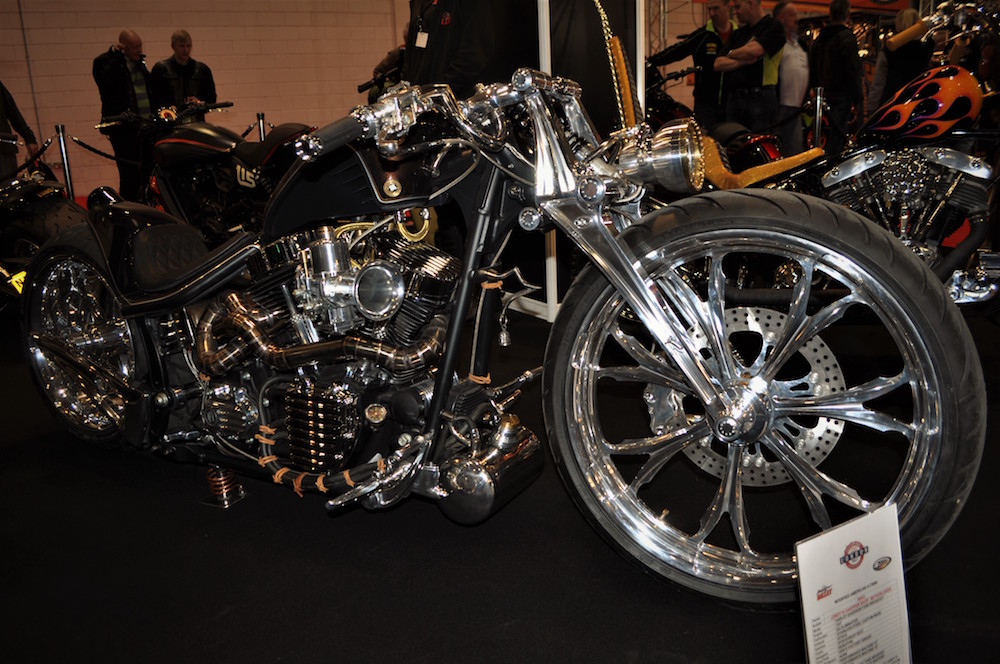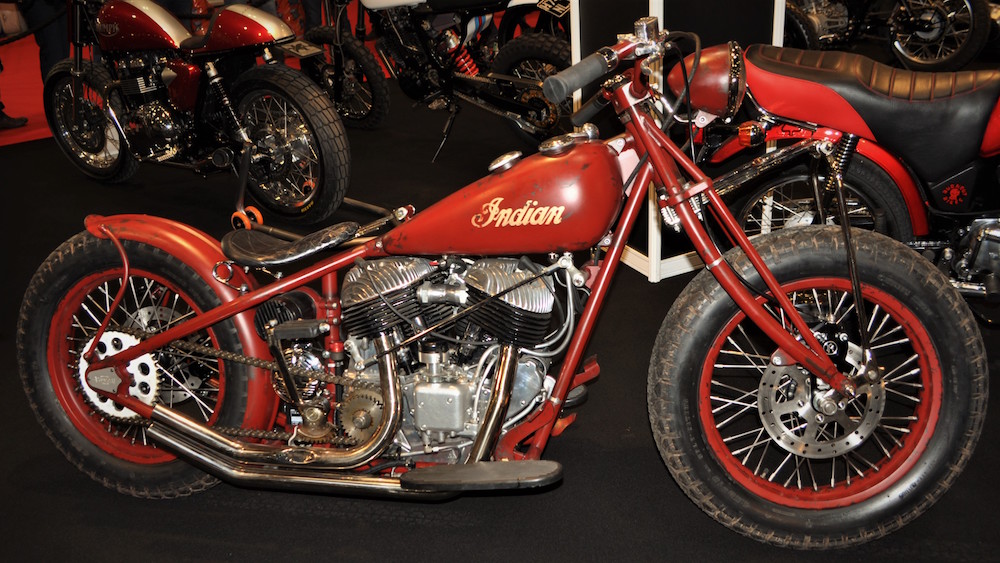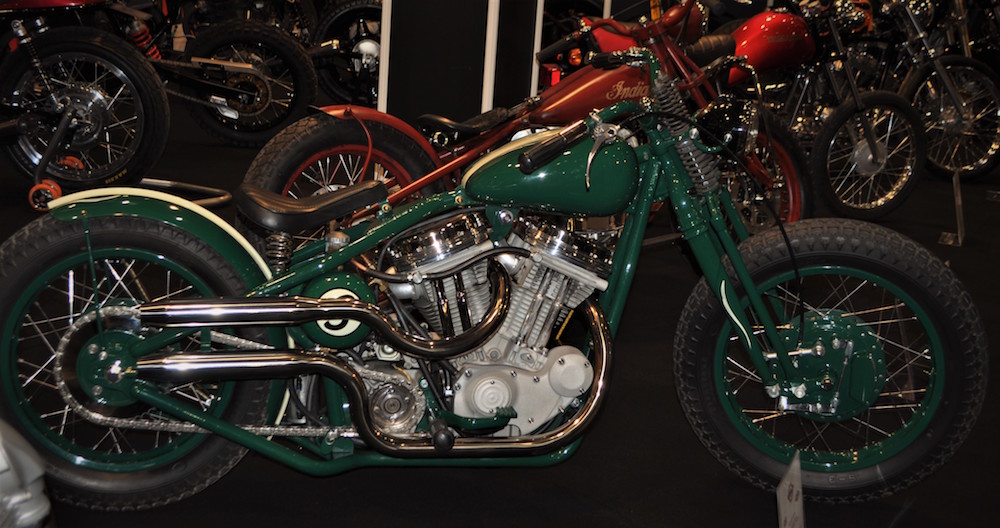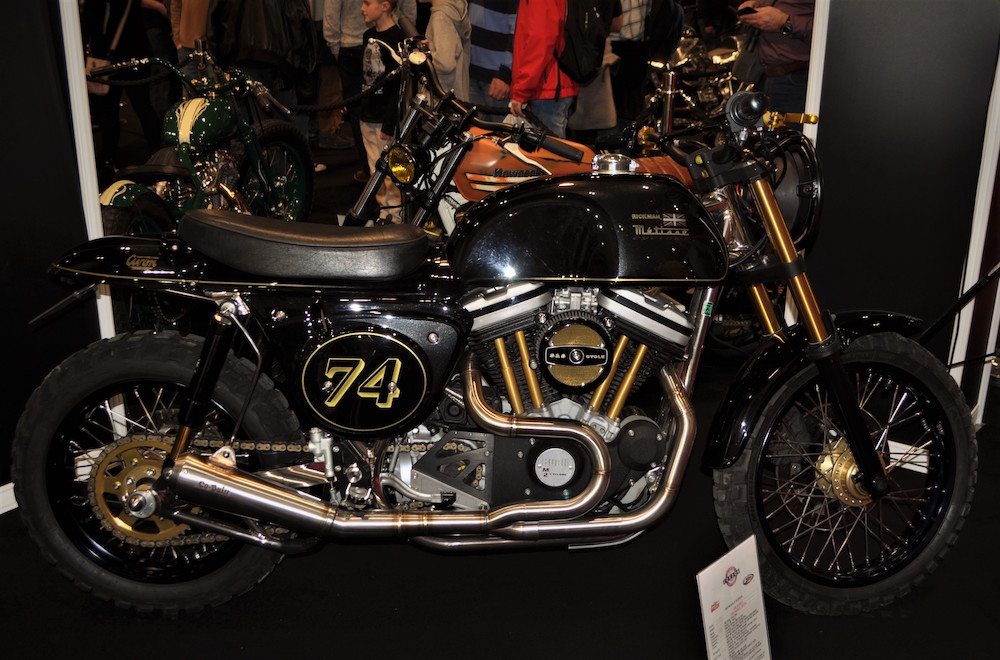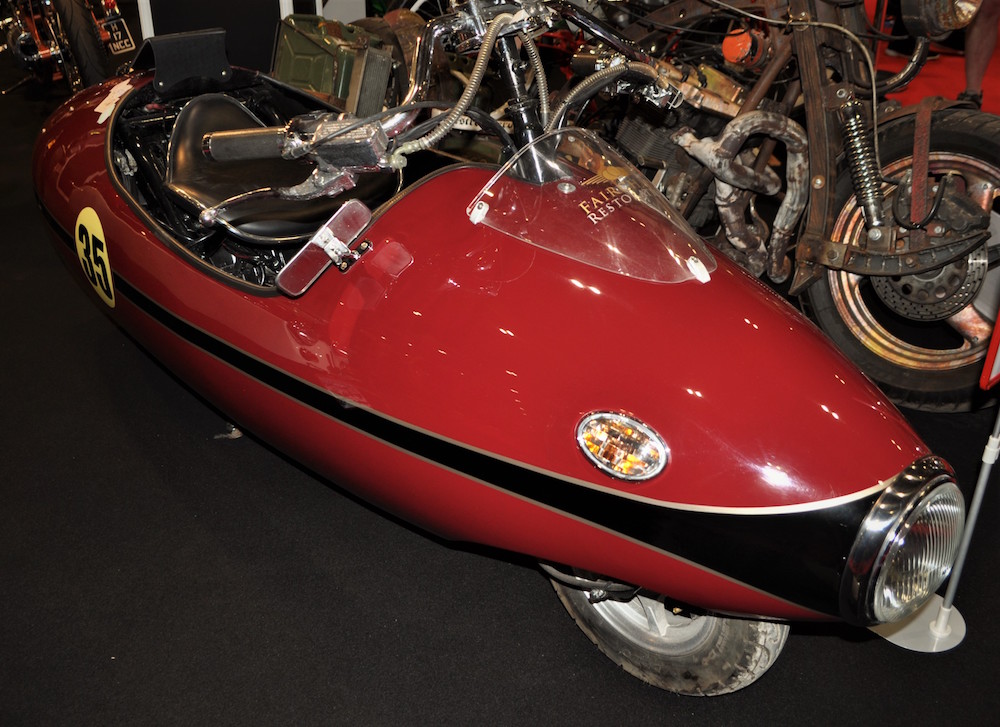 The other Buell I spotted was the unusual green Rana Quaxat, built by Lars Sundberg in Sweden. This bike is a hardtail with girder forks, complete with a rather tasty twin leading shoe front brake.
Another bike with a Yankee V Twin engine was John Gibson's Kiwi Indian, 'Torn Up'. This bike also features a hard tail and girder forks, but with a huge leaf spring sticking out in front of the headlight. The traditional red paintwork is new but 'distressed'. My missus reckons that distressed paintwork is also big in interiors (and she'd know).
Nigel Staley from Leicestershire had a brace of unusual machines at the show; one was a tribute to Kiwi land speed ace Burt Munro, built around an aircraft drop tank, while the other featured the front wings from a vintage Austin Westminster car, along with Cadillac lights and a vintage tractor seat. It's not clear how they are ridden, maybe that's a mission for Blez, our feet first correspondent.
As always there were shed loads (see what I did there?) of weird and wonderful bikes that I could go on and on about, but I probably wouldn't do the hours of work by the builders justice. Just have a look at the photos.
Getting back to the 'factory custom' thing, one manufacturer who has an enviable reputation for producing bespoke bikes and dealer fitted bits and bobs is Harley-Davidson, who were back at the London show this year after inexplicably giving it a miss in 2016.
They are once again running their 'Battle of the Kings' competition, where dealers customise a Sportster within a set budget, on the proviso that the bike can then be replicated for sale.
The five UK finalists (including my local dealer's offering: 'Uproar') were judged by a panel of experts including a number of real bike journalists and transvestite artist Grayson Perry, who has his own pink custom Harley Knucklehead.
Perhaps it's not altogether surprising then that the UK winner (and my personal favourite) was Shaw Harley-Davidson's 'Beach Bobber' 48, featuring a fat tank painted in sky blue with floral designs and bearing a worrying looking crown on the filler cap. Other styling touches included a matching skateboard deck as a skid/bash plate.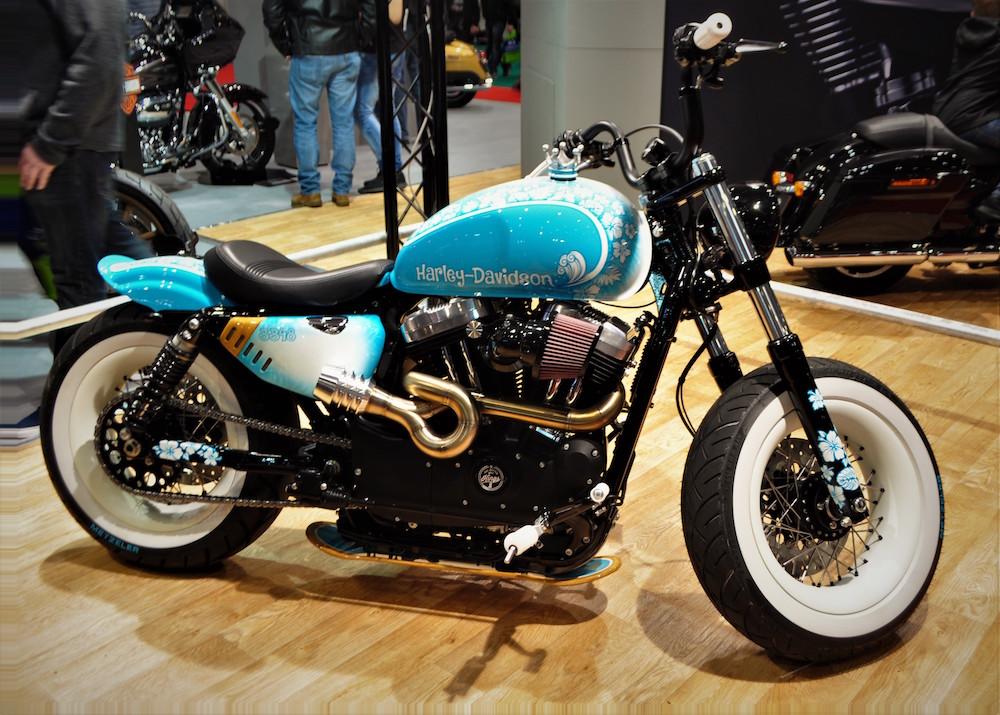 Any other business
Every time I go to some sort of trade show I am usually looking for something and hoping to get a deal at the show price. This year it was a pair of scissor motorcycle lifters (I did spot some but they weren't so cheap and I was on my bike so I couldn't have bought them anyway).
But I did buy a pair of shades. Well, a goggles kit actually. I'm not sure if I mentioned that after weeks of freezing cold weather, sleety showers and generally days where the best option is to stay under the duvet, the weather was fine, sunny, mild and dry the day I visited the show.
I was obviously feeling like summer was on its way.
With this in mind, and having been so impressed by the quality of my new Davida Jet lid, I decided to buy a Davida 74 WRS kit, which comprises a set of frames designed to compliment the helmet, with interchangeable dark, yellow and clear lenses, all of which fit into removeable rubber eye pads and come with an optional headband and carrying case. And yes, I did get a show deal.
I'll let you know how I get on with them.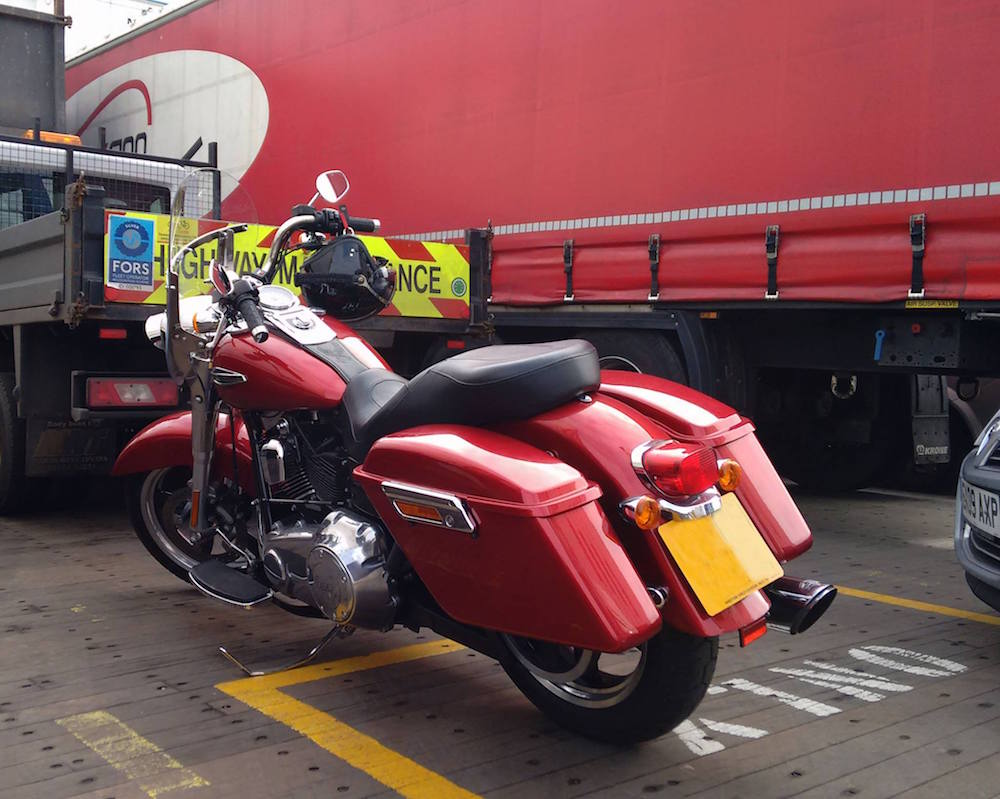 Our trip to Docklands once again included the now traditional crossing on the Woolwich Ferry, which is a great way to get across the Thames, especially on a bike – you're usually first on and first off, although on the way there we just managed to get aboard before it set off.
In case you're wondering how much I paid for the Davida shades, let's just say that they cost about the same as lunch for me and my son would have been at one of the show's catering areas. However as I suggested in my show preview, once again we brought meal deals in our rucksacks – although we did splash out on coffee a few times.
So all in all, another great show, if you like that sort of thing.
Martin Haskell
Please follow and like us: