[vc_row][vc_column][vc_column_text]
What with aborting last summer's Grand European sidecar tour in favour of a car (albeit the first four wheeler I had owned in twelve years) and then postponing the TRD Grand Anniversary Get Together on account of unseasonal weather conditions, it seemed like after four decades of year round riding – including at least half a dozen as a courier in London – I was in serious danger of losing my credibility as a 'real biker' (whatever that might mean in this day and age?).
However when I woke early on the Saturday of the rearranged weekend and opened the blinds on brilliant sunshine and a clear blue sky, I felt entirely vindicated for deciding to put the event back by a fortnight because those two weeks had seen a decidedly Arctic April mellow into a marvellous, marrow-warming first week of May.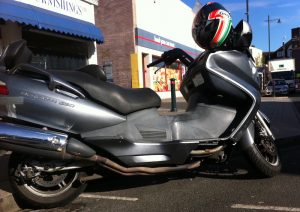 I rode the Frankenscooter – complete with its abundance of scratches, duct tape body repairs and the roughly ripped off section bellow my right foot – the few miles to Jack Lilley's Ashford showroom and rode off again shortly after on a lovely shiny Triumph America. All the way home I was congratulating myself on my connections and relishing the opportunity to bask in biking glory when I rolled into Jack's Hill cafe on eight hundred and sixty-five cubic centimetres of gleaming Hinckley hardware.
Wendy was mucho impressed and posed happily on the bike before we set off. She's been perfectly content on my Burgman ever since we met six years ago but she was really looking forward to her first trip on a shiny new 'proper bike' – she'd particularly fancied a Triumph because they've been her favourites ever since she rode pillion on her dad's Speedtwin.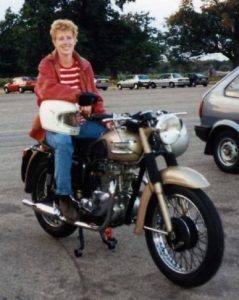 However once we hit the road, it was immediately apparent that Wendy was nowhere near as relaxed as she usually is on the back of the big Suzi. The combination of a comparatively tiny seat with no reassuring topbox (not even a cissy bar), plus a pretty heavy rucksack, made her hang on to me in a manner that I quickly realised had a lot more to do with mortal fear than amorous affection, so I pulled up on the hard shoulder on the M4 slip road and asked her if she was OK?
It was obvious just looking in her face that she clearly wasn't so I asked if she would prefer to make the journey on my shitty old scoot and the instant relief that flooded into her eyes told me everything I needed to know. We joined the M4 for two short junctions, then ran around the M25 for a few more miles and in no time at all we were back at Jack Lilley. Wendy kept apologising but I reassured her that there was no point in having a fun weekend away if it wasn't.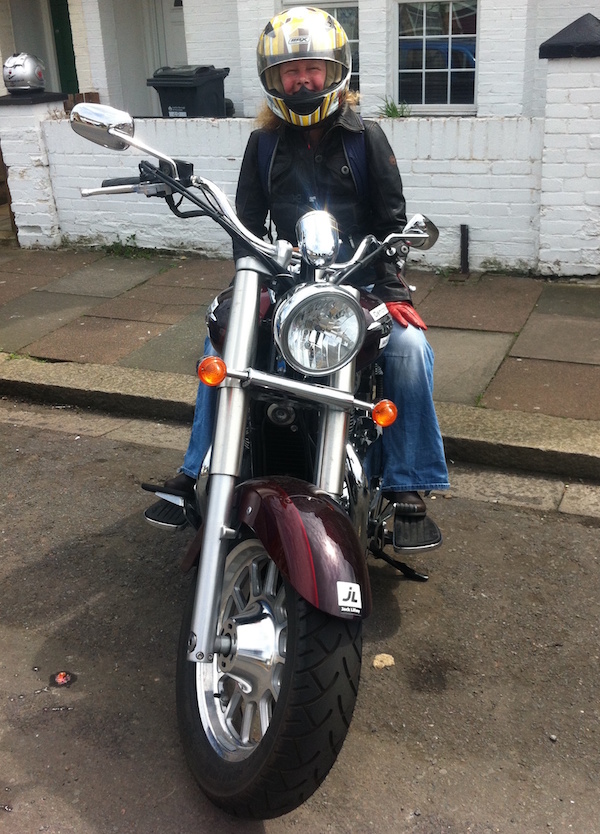 We pulled into a garage to fill up with petrol for the haul up to Leicester but someone pointed out that there was water running out under the Burgman. Although we'd initially left plenty of time so that we could take a comparatively leisurely scenic route, by the time I was confronted with the rapidly expanding puddle of coolant there really wasn't time for me to even think about calling the breakdown company so I topped up the radiator and by largely keeping it above about 35mph, which meant that the flow of air kept it just cool enough, we managed to cover the five miles or so back to where the Saab lives on my father-in-law's driveway.
We drove the short distance back to the M4 followed by the twenty miles of M25 between there and the M1 before swinging north. We had planned to ride to Jon and Ming's place in Melton Mowbray before going to Leicester with them in the evening to watch their band Bluebird Parade play, but we would have struggled to get to their house before they needed to leave so we agreed to meet them at the venue; which left us plenty of time to follow my usual biking practice of avoiding motorways whenever practical, so we turned off at Luton and stayed on the A6 all the way from there.
We'd picked an interesting day to visit Leicester because their football team was hoping to confirm its against all odds Premier League Championship that evening against Everton, so the whole city was a buzzing sea of blue and white! Including, as it turned out, the pub, where the band's soundcheck was severely hampered by the fact that it was rammed with chanting, cheering fans watching the footy!
Jon wasn't to bothered though because he's a Foxes supporter anyway and as history has noted, Leicester City did win that game so as you'd expect the shouting, singing and horn tooting went on late into the night. Fortunately the full band, complete with brass section, makes quite a noise itself so the cacophony outside didn't interfere too much with the melodious melange we were treated to.
By the time Wendy and I surfaced on a bright sunny Sunday morning, a couple of Jon and Ming's IAM buddies had turned up (one on a beemer, the other on a 'blade) to join us for the ride down to Jack's Hill Café but we managed to get separated right from the start when all the bikes shot off while we were still putting the roof down. It was no biggie though, I was perfectly content because I knew our route and I really hadn't wanted to slow the bikes down or hold them back.
We took the B6047 from Pork Pie town to Market Harborough, which proved to be twenty-odd miles of wonderfully smooth tarmac that rolled and twisted, and rose and fell delightfully; but as soon as we left Leicestershire it was apparent that the good burghers of Northamptonshire were a lot less bothered about their road surfaces!
We ran into the 'Blade pilot from Ming & Jon's while we were doubling back and forwards trying to find our way out of Northampton. He'd become separated from the others so he was happy to follow us assuming that we knew where we were going – well we do come across as very plausible! (There've occasionally been people who don't really know us, who have actually mistaken us for sensible grown-ups!)
Although it turns out that we did… well sort of. The road out of Northampton seemed implausibly small and twisty to be the correct one but sure enough it eventually took us through to the A5. Unfortunately when we got there we were further north than we'd estimated so we should have turned left rather than right, but by that time we were almost within smelling distance of a fry up so after a few miles of heading in the wrong direction I pulled a swift U turn (obviously after giving the following 'blade the 'circle the wagons' signal and looking very carefully up and down for other bikes before I did) and drove rapidly back to Jack's.
We were little more than fashionably late when we pulled in at shortly before half past the allocated time (but then again my wife and I are ever so fashionable! – see Bitz), which was still before Jon & Ming and co who rolled in shortly after on their bikes! It was really good to meet and greet the various TRD contributors and regular readers who were already there (with a special mention to Nick Lojik and his son who travelled down from Yorkshire the day before to be sure that they weren't as tardy as we were) and others who turned up later.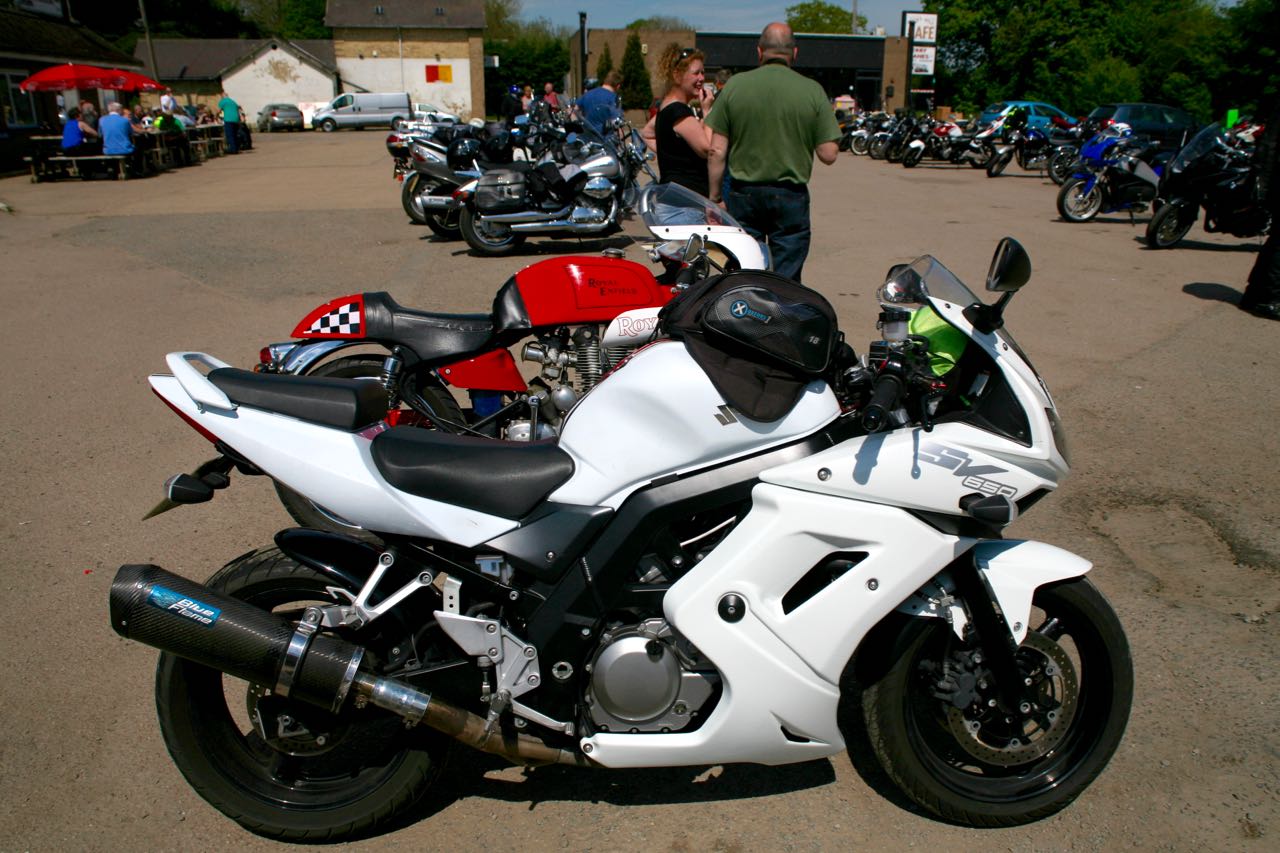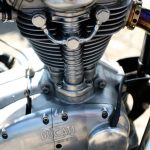 Martin's already told the story of the many interesting machines assembled in the sunshine and the full English feasting, so I won't go back over that ground again. Suffice to say that we spent a lovely lazy early afternoon with some delightful people talking all sorts – not least of course motorcycles. As usual Blez was running on BST (Blez Scatterbrain Time) and turned up shortly after the café closed on his big beast HP2, but it was lovely to see him as always and it was still some time before we left (and even then we headed to the pub Martin mentioned).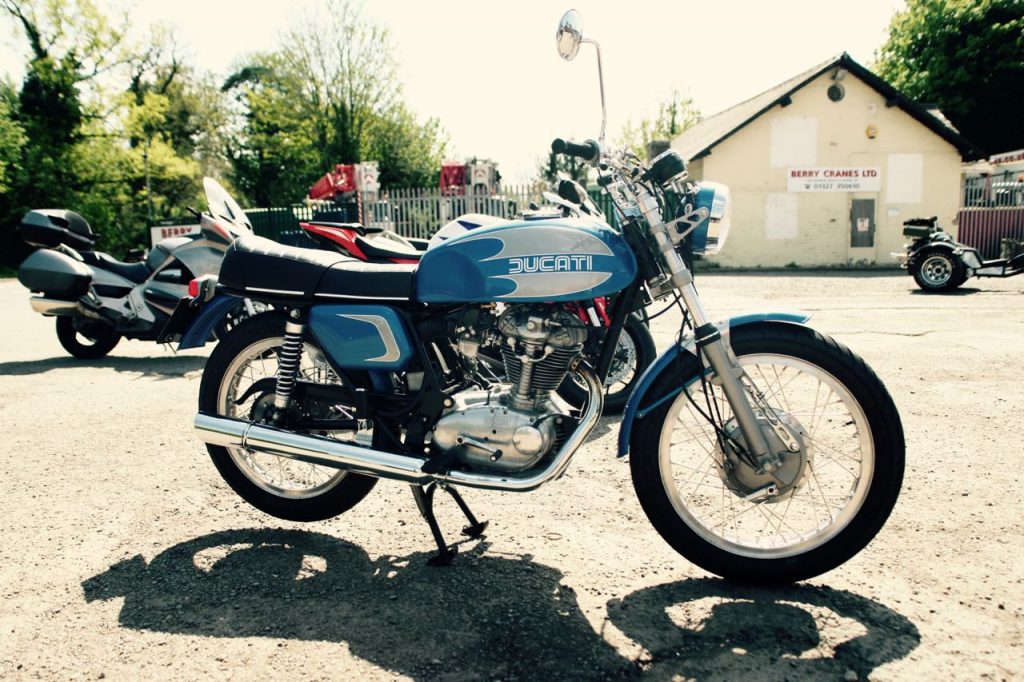 A final mention to proprietor Suzanne Capella who was working absolutely flat out in the kitchen throughout the time that we were there. When I managed to speak to her after they'd shut up shop she confirmed that she remembered the free printed magazine that they used to distribute and the retail launch that this ride out was celebrating so I persuaded her and her mother Elsie to pose for inclusion in this piece.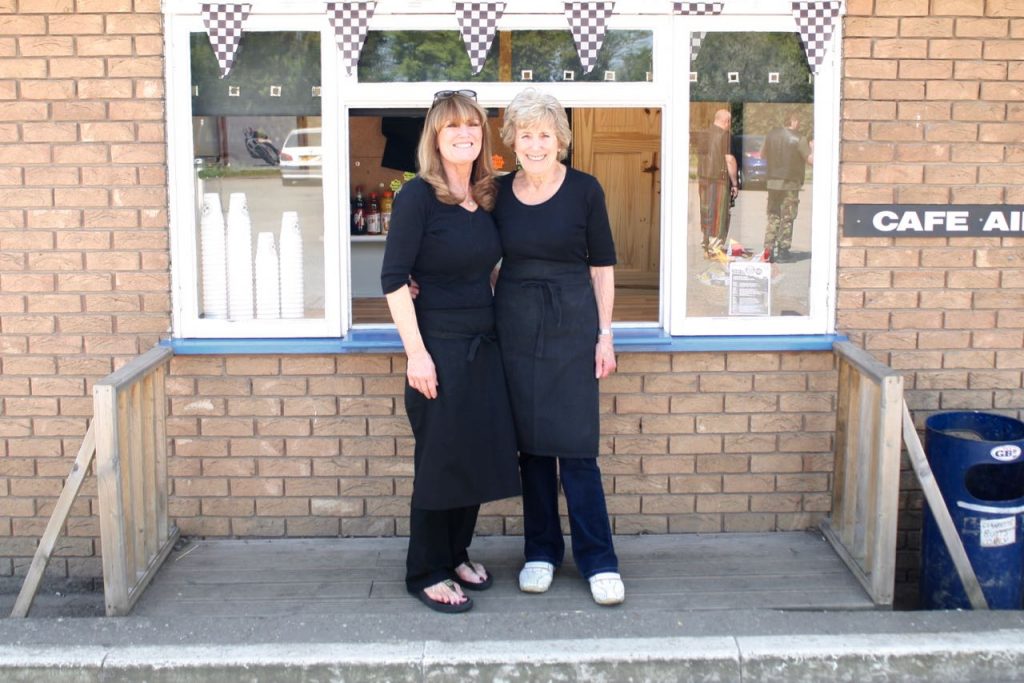 Watch out for another get together at another old TRD outlet at the other end of the summer.
Dave Gurman
[/vc_column_text][/vc_column][/vc_row][vc_row][vc_column][dt_slideshow interval="3000″ posts="back-to-jacks"][/vc_column][/vc_row]
Please follow and like us: