For a brief moment last winter I had the idea of buying a cheap sports bike for track use. Somehow I ended up driving 200km in a van to pick up a yellow CBR 929 Fireblade only to sell it again after 2 months, having parted with a couple hundred euros in taxes and insurance for the "pleasure" of riding it – on the road – for about 150km.
Then came spring and I was stuck with the Multistrada and an itching desire to get back on track: first world problems right!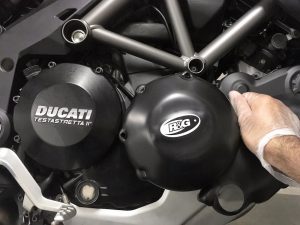 The Ducati is probably the sportiest of all the upright tourers and with the exception of the BMW S1000XR, there isn't really any competition when it comes to finding a comfortable bike that feels as much at home on a bumpy broken road as it does on track, however this one is my own bike so the prospect of crashing it and parting with my hard earned money immediately sent shivers down my spine.
Unlike more off-road focused trail bikes, the Multistrada does not crash well: the fancy Ohlins front forks are easy to damage, the engine casings and oil pump are completely exposed and the beautiful single sided swinging arm is one of the first points of contact with the pavement. Not what you would call ideal when deciding to push it a bit further on the track. Looking up some online stores and catalogues I found a few options, most of which involved some sort of metal crash bars, which were more suited to off-roading where a drop usually means a low-speed crash on a soft surface and not a potential crash and slide on the tarmac.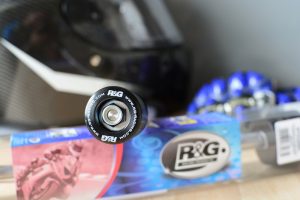 The lack of any sort of impact absorption of the metal bars, plus the additional weight and reports of them interfering with the rider's knees put me off this solution and I would still need to find a solution for the fragile fork legs and swinging arm.
As luck would have it the good guys R&G Racing stepped in to supply me with a full set of crash protectors specifically designed for the Multistrada. R&G sponsors and works closely with several racing teams in BSB and AMA and after seeing the fantastic job their kit did saving the True Heroes Racing 899s on several occasions I knew they were up to the task (see TRD #191).
The founder of R&G had his own precision engining company, when he discovered a gap in the market for high-quality crash-protectors and they have been developing their product range since 1999. They focuse on crash protectors but also make accessories like knee sliders, paddock stands and radiator guards.
R&G's sets itself apart from the competition by offering a range of model specific products instead of adopting a 'one-size-fits-all' approach. For the 2011 Multistrada S alone there are over seventy products on offer, but these are the items that I actually tested:
Bar End Sliders
Swinging arm protectors
Fork Protectors
Set of Engine Case Cover (right-hand side) and Water Pump Cover (left-hand side)
Aero Style Crash Protectors (frame)
Straight out of the box all the parts look high quality: beautifully machined from stainless steel and high-density polyethylene or moulded polypropylene. Each box comes with all the necessary parts and fittings, a simple but useful instruction leaflet and a neat R&G sticker. Needless to I now have plenty of stickers!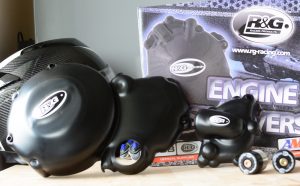 The installation procedure for all parts is quite straightforward requiring 30min to and hour for the whole lot and only a couple of simple tools like Allen keys and a ratchet with a couple of standard sized sockets. I would, however, recommend the use of good quality Allen bits and a torque wrench, especially for the frame protectors and engine covers. Trust me, the torque wrench is essential because you wouldn't want to risk over tightening those bolts on the engine's fragile aluminium threads.
Unlike most bikes the Multistrada doesn't come fitted with bar-end weights, only two small plastic caps. Replacing them with the substantial R&G sliders makes the already wide handlebars even more so I must confess and I was a bit wary that the weight would affect the feel through the bars but they don't! The bike feels exactly the same; it just looks smarter and is better protected than before.
A similar thing happens with the rest of the parts, they are absolutely unobtrusive and for the most part, they finish the bike off nicely. Yes, the front fork bungs are a bit long and skinny and if you look at them from the front they look a bit odd, but making them any shorter would probably limit their usefulness. On the other hand I quite like the way the swinging arm protector covers the previously hollow rear wheel spindle.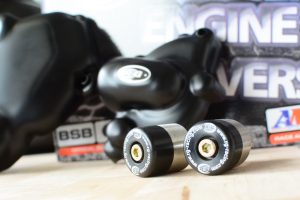 I can't say that the Aero style crash protectors improve the overall looks of the Ducati but the best I can say about them is that for the most part I don't even notice they are there. The semi-matte black colour and sleek profile manage to make them blend in. Yes you can see them (they wouldn't be very useful if they were not protruding) but they don't pop out at you at first glance. They are also smartly engineered with the HDPE top responsible for absorbing the impact and slowing the bike down by wearing instead of shattering. On the frame side, the mounts are made of steel and R&G claims they were designed to bend avoiding putting excessive stress on the frame.
I've been running the full kit for a few months now, both on road and track and everything looks as good as new. How they will survive the Dutch winter is still to be seen but given how sad the Ducati OEM fasteners are looking I would guess the R&G ones can't do any worse.
At about this point in the review I would like to claim we are so rigorous in our testing that I dropped the bike just to see how the kit would do. But this is a bike that I love so if you're looking for photos of bruised and battered crash protectors check out R&G's Facebook page where they regularly share photos of rider's mishaps.
I did however thoroughly test the ground clearance and ergonomics of the bike with protectors fitted and I can confirm that with a 1,85m rider on board there is absolutely no interference, even during knee-down cornering.
If you're looking for a set of crash protectors for your bike – be it for road or track use – have a look at R&G's catalogue, they are certain to have something specific for your bike and unlike that cheap-let's-hope-it-works internet special your mate just sent you by email, you can rest assured that it's all been properly tried and tested by hundreds of fellow riders. 20/20 hindsight is fine but when you drop your bike you'll wish you'd spent that 0,5 % of the bike's value on proper protection.
SUMMARY:
ENGINE COVERS (£93.33)
Plus:
Good fit and quality feel
Easy to install
Lightweight but strong (made of 4mm thick polypropylene)
Inconspicuous
Minus:
The oil sight window is perfectly visible but not the oil level markings, making it harder to check the exact oil level.
The screws that hold the engine cover are silver not black as the OEM and a couple of them require washers (supplied) to adjust fit. Not the most elegant solution.
Not as pretty as the original Ducati engine cover
BAR END SLIDERS (£22.08)
Plus:
Beautiful and well built (much better than OEM caps)
Likely to be very useful in a crash!
Minus
SWINGARM & FORK PROTECTORS (£29.99 and £25.83)
Plus:
Easy to install
Essential to protecting the fragile and exposed single sided swinging arm and posh forks legs and callipers
Fairly inconspicuous
Minus
The looks might not be to everyone's taste
One more thing to remove during wheel changes
AERO STYLE CRASH PROTECTORS (£74.99)
Plus:
Easy to Install
Discrete and absolutely unobtrusive
Much lighter than crash bars
Again essential to protect the whole mid section
Minus:
Not invisible
Don't have the rugged adventure style look that seems to be cool nowadays
Ricardo Rodrigues
All prices are ex.VAT. Check out the R&G website for their entire range of products.
Please follow and like us: