Following on from Jonathan Boorstein's enlightening article on the New York City launch of LEGO's Creator Expert model kit of a 2019 Harley-Davidson Fat Boy last November, I was pleasantly surprised some six weeks later to receive one as a Christmas present from a jovial bearded chap.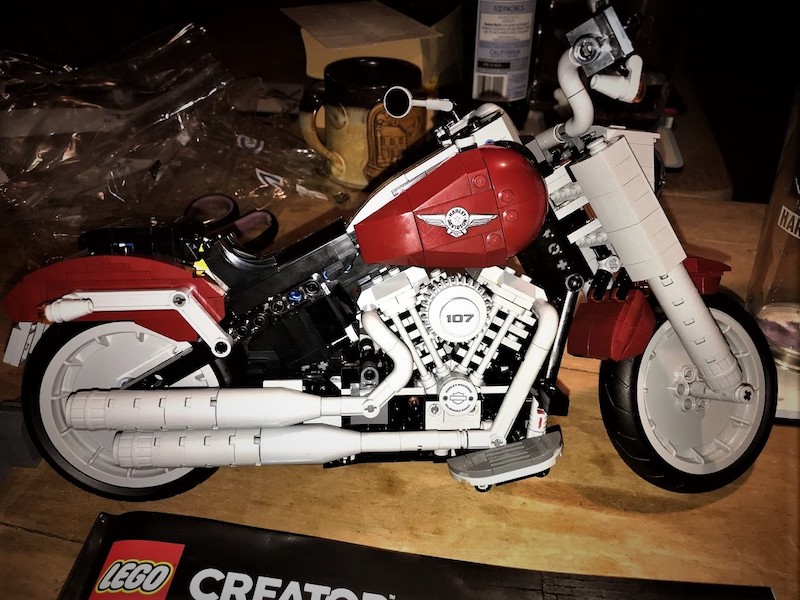 In this instance I'm referring to my son Ben, sometime companion on road trips such as the 2017 Distinguished Gentleman's Ride in Amsterdam, and to the excellent Rétro Moto Côte de Nacre rally in Normandy back in June 2019.
Ben had spotted the Lego Fat Boy on a shopping expedition and immediately thought of me, not because I have a penchant for Lego – I don't; but he and I do have many happy memories going back to when he was a small boy, when we would often spend the Christmas holidays, as well as many hours throughout the rest of the year creating fantastic freestyle models, including cars, trucks and bikes.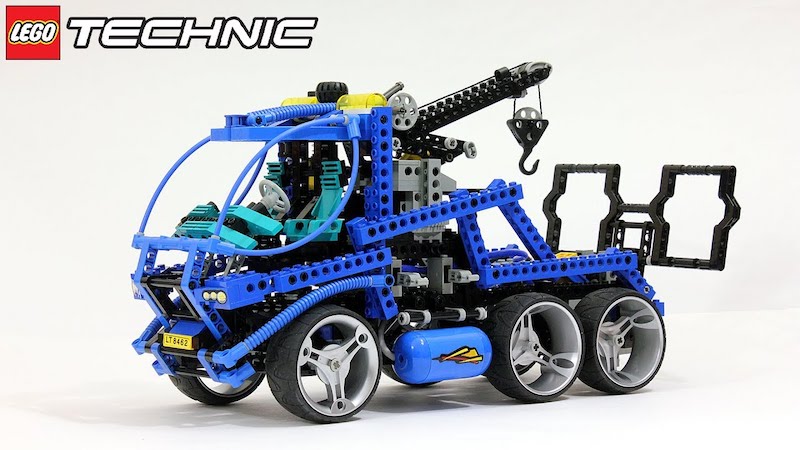 This later progressed to the acquisition and construction of a radio controlled racer (5599) the huge (in Lego terms) Ferrari F1 car (2556) and a six wheeled wrecker truck (8642) complete with steering, low profile tyres and pneumatic pump action spectacle lift. That's the bit on the back that you lift cars up with by the way.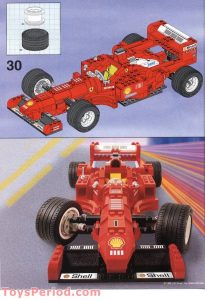 So, as you may have by now worked out, we have Lego history.
I had intended to write this piece in the Christmas holidays, ready for publication during that New Year lull, when the tree is at the recycling centre and the fairy lights that still work have been put in the loft with the tinsel and the baubles.
I did begin the process, and even mentioned to Editor Dave Gurman that I'd started when we met up with a few other Rider's Digest contributors (and other biking buddies) at The Bike Shed for Sunday Lunch in late January – back in those halcyon days when you could still go out for lunch – but then I kind of ran out of steam. The ideas were there, it was just a case getting it all written down in a reasonably coherent manner.
Fast forward to May and June, and the world is in a bit of a pickle. If that's an appropriate way to describe a global pandemic.
Coronavirus (or Covid-19 if you prefer) is affecting the lives of many, and indeed as I write this most of you have been forced to 'Self Isolate' and socially distance themselves from others for weeks on end to help prevent the spread of the virus.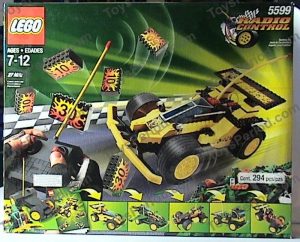 But while most shops and supermarkets were initially stripped bare of many essentials such as bread and loo rolls, I'm sure there wasn't a shortage of these particular kits, most of which are probably still available online, so this report has now become a public service, assisting with preserving what's left of your sanity – as well as a good excuse to avoid those DIY jobs you've been putting off for ages.
But anyway – I digress. The set-up we had back in the day was that I would empty the bits and pieces out all over a handy table that wasn't going to be needed for food or anything trivial like that, and then using the manual, I would identify the parts from the hundreds of tiny bricks and other assorted fittings and present them to young Ben for assembly in stages, sometimes helping with the more fiddly bits.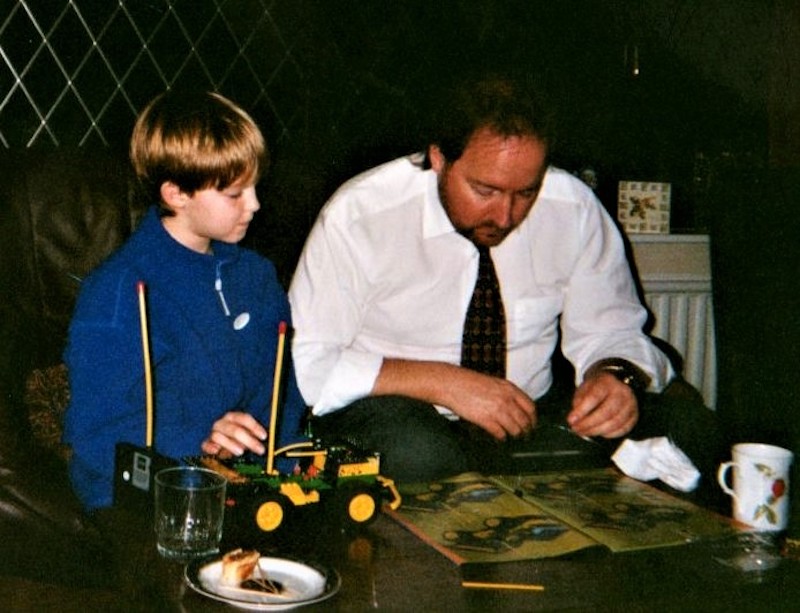 But that was many years ago. A lot of water has passed under the bridge and Ben is now 30 – and I am just over twice his age.
So last Christmas it was great to get back to a bit of father and son interaction, just like the old days except for one important change – role reversal – with Ben now reading the assembly instructions and identifying the handily numbered bags of parts, passing each bit to me to build the various sub-assemblies that make up this 13" long kit. I would tell you what that is in millimetres but it's a Harley-Davidson. Go figure.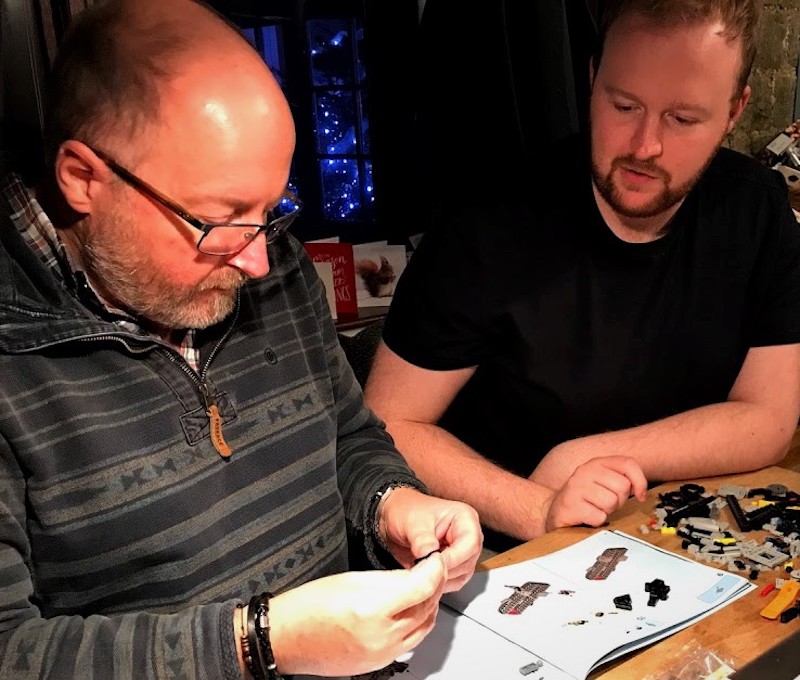 It may surprise you to learn that this Fat Boy is my first Lego kit. Ever. When I was a kid fifty odd years ago Lego was still in it's infancy in the UK; mostly used for girly(!) stuff like making houses and so forth, and what little contact I had with it brings back memories of the bricks frequently not staying together properly, meaning that creations lovingly toiled over for what seemed like hours would crumble if you looked at them in a funny way. Well, thanks but no thanks.
That's all very interesting, but this is The Rider's Digest Live. What about some motorcycle stuff?
If you're a regular reader you may be aware that for some inexplicable reason after a lifetime of riding eminently sensible and indeed practical Japanese and European motorcycles I went over to the dark side and took ownership of my first ever Harley-Davidson a couple of years ago, and despite what people may think, to date I haven't lost any body parts through excessive vibration; my machine (an FLD Dyna Switchback) can go round corners as quickly as I want it to without scraping anything, it's incredibly comfortable on long journeys and so far I haven't been overtaken by much at all.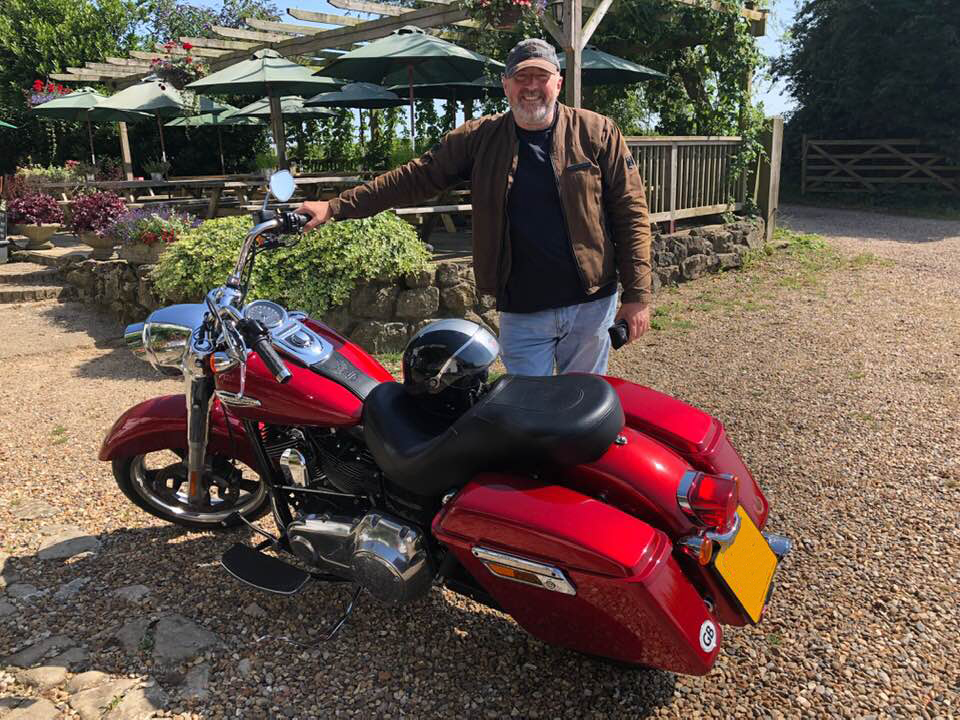 And while it is definitely not a soft tail, it is a similar color – sorry colour – to the Lego model. This was apparently close enough for Ben to decide that I would like the Lego model, and indeed I do.
As this particular machine (the Lego kit, not my Dyna) is made up of more than 1,000 pieces (as we're quoting numbers here, I can confirm that this particular model, number 10269 contains 1,023 pieces) it really is quite handy that the assembly manual, and indeed the assembly is broken into several chapters (that's a good Harley term…) and the kit itself – as mentioned – is packaged in several numbered bags. Bags of big bits, and bags of little bits – you know – the kind you find on the carpet when you're not wearing the slippers that Auntie Gert bought you.
The assembly bible also gives you a nice bit of background history to what 'hog' riders call 'The Motor Company', with 'The Harley-Davidson Story', and a two-page timeline taking you from the company's inception in 1903 right through to the current 'Live Wire' electric motorcycle.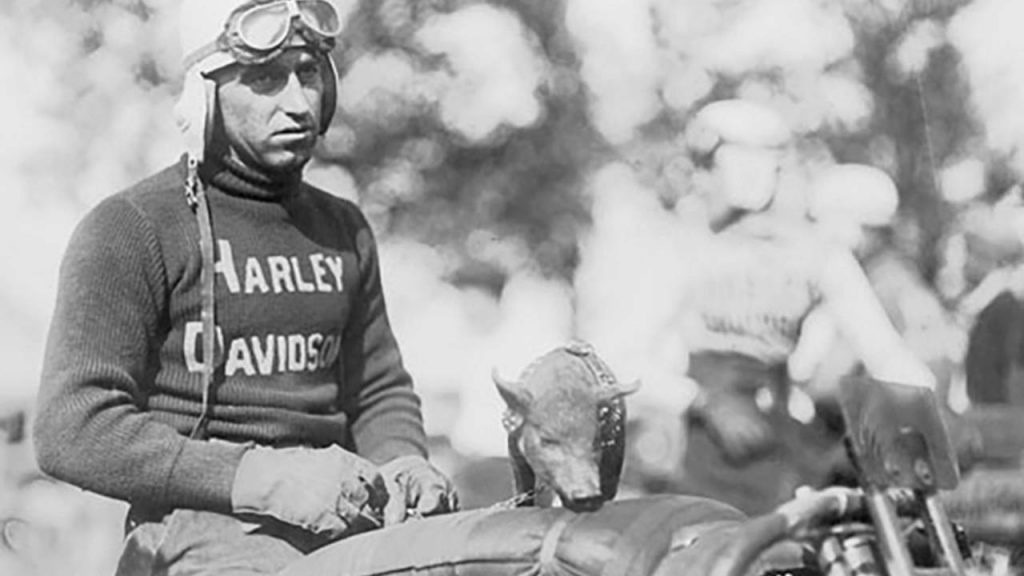 Incidentally, did you know the term 'hog' originated when Lawrence Ray Weishaar, a Class A Racing Champion in the 1910s and 1920s rode for the Harley-Davidson's 'Wrecking Crew' racing team and coined the nickname 'hog' because he carried a small pig, which was the team's mascot, around the track on victory laps. Perhaps not quite as butch an explanation as you were hoping?
Anyway, back to the assembly manual; over the page from the H-D story you get a specially written piece telling you about 25 years of the Fat Boy, an American Icon designed by Willie G. Davidson and Louie Netz in 1990. No mention of Enola Gay though.
There's even a couple of paragraphs from Mike Psiaki, who led the team developing the design of the Lego model.
If so far I've inspired you to place an order at your favourite online retailer, you'll have realised that this is not a cheap model, but then if you're using this experience as your first step into Harley–Davidson ownership, you'll be prepared for that.
As with many things in life, there is of course a downside. In this case it's that once you've miraculously managed to correctly assemble those 1,023 pieces into something that looks like a Harley-Davidson FLFBS Fat Boy, you can't really do much with it.
Except perhaps impress your friends and family by showing them the joint conrods and pistons moving through a hole in the bottom of the engine.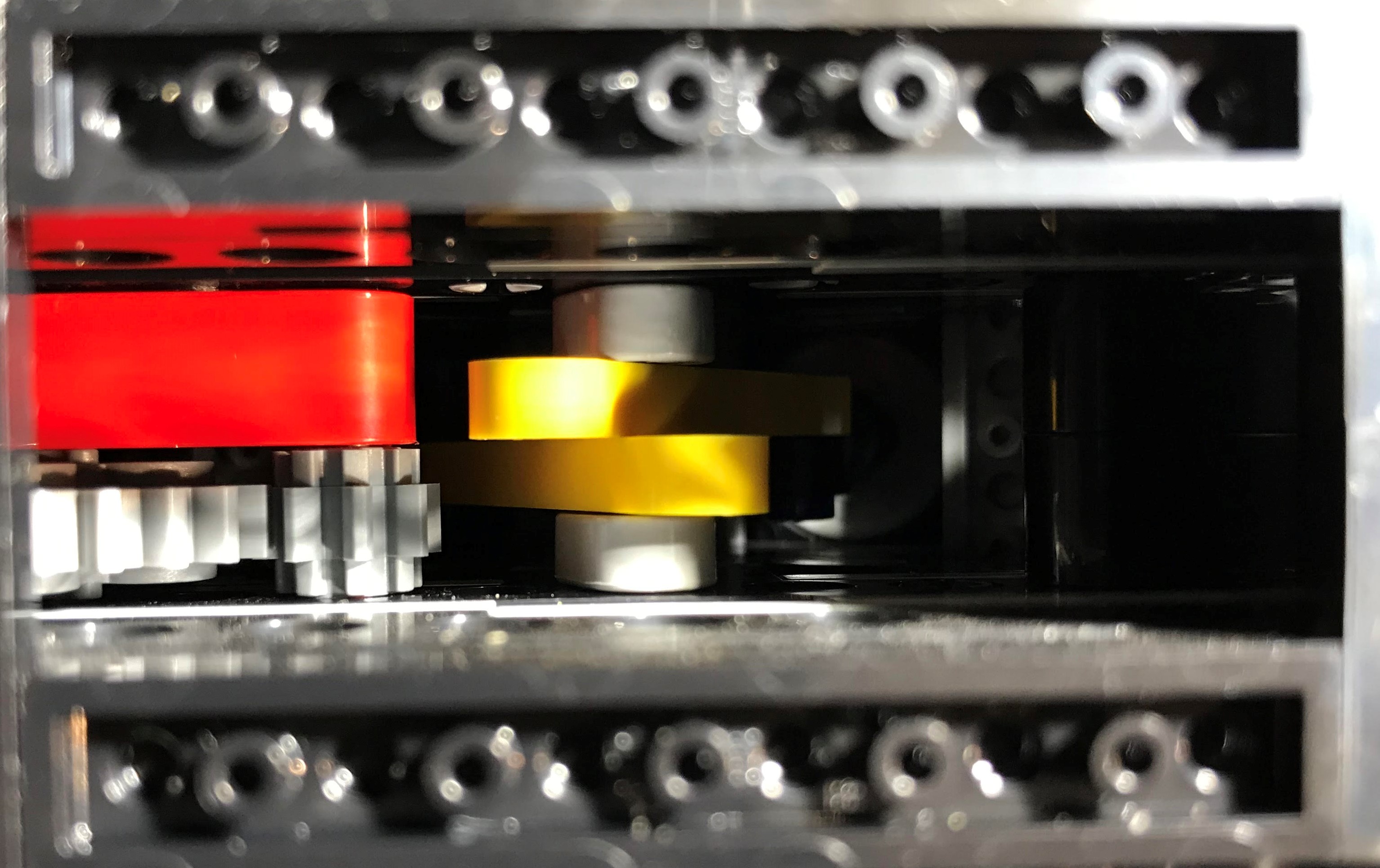 The real ones don't have that. Well not usually.
So the fact that the completed item is probably best parked on a book shelf away from little fingers (I mean children, not Donald Trump…) and occasionally used to display the moving engine internals makes it a model as far as I'm concerned, rather than a toy.
But anyway, back to 'the big build'. As mentioned, Ben was going through the extensive instruction book, opening the numbered bags of components, and tipping them in a pile on the dining room table.
I should add at this point that this was not ideal conditions under which to be building such a complex model, It was Boxing Day evening as mentioned, I'd had several glasses of wine (Ben was thankfully sober as he was driving) and we were at one end of the dining table.
A dining table otherwise occupied by my wife, my daughter, and her and Ben's respective partners playing very noisy board games.
So we used the box from the kit as a desk divider on the pretence of needing to look at the photograph of the bike for reference purposes.
The initial stages of the build are a little tedious if I'm honest.
You start with the lower frame section, on which the engine you haven't yet built sits. This is in no way recognisable as a part of any motorcycle I've ever seen, bearing more of a resemblance to a collapsed 1960s Lego house that a fly landed on.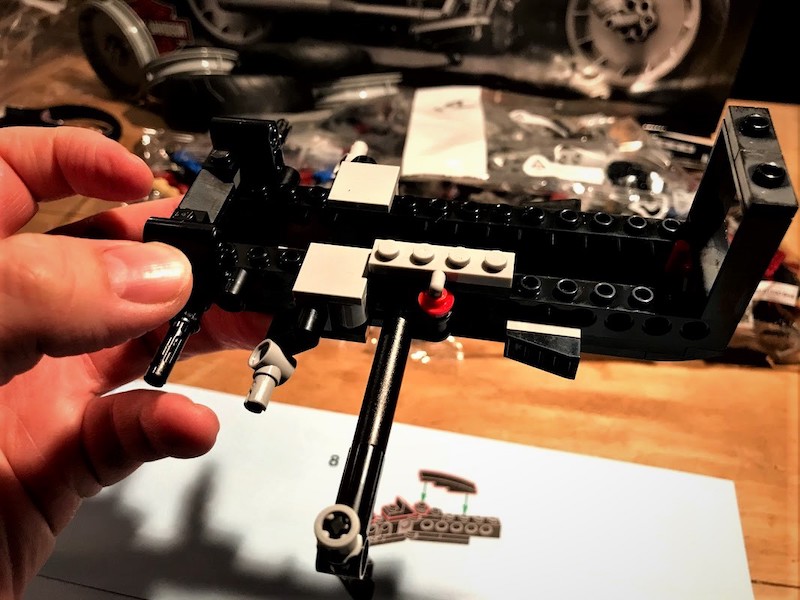 The same could be said of the engine; the fact that this kit has north of a thousand bits and the construction bible stretches to more than 150 pages is somewhat sobering, which given the state of things on that festive evening wasn't necessarily a bad thing.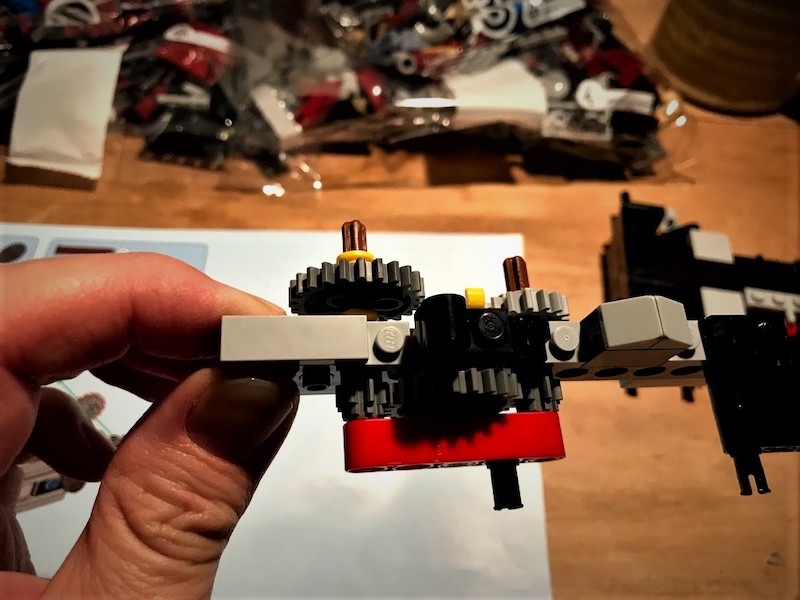 The engine and frame builds continue to resist the temptation to look anything like what they're due to become for some considerable time, in fact it's only once you start putting together the layers of components that will become the cylinder blocks that it starts to look like a Milwaukee V Twin; but before you get there you have to undergo the incredibly fiddly process of getting the cylinders to slide over the pistons. I eventually solved this problem by holding the engine upside down. Must make a note of that in case I need to do it for real sometime.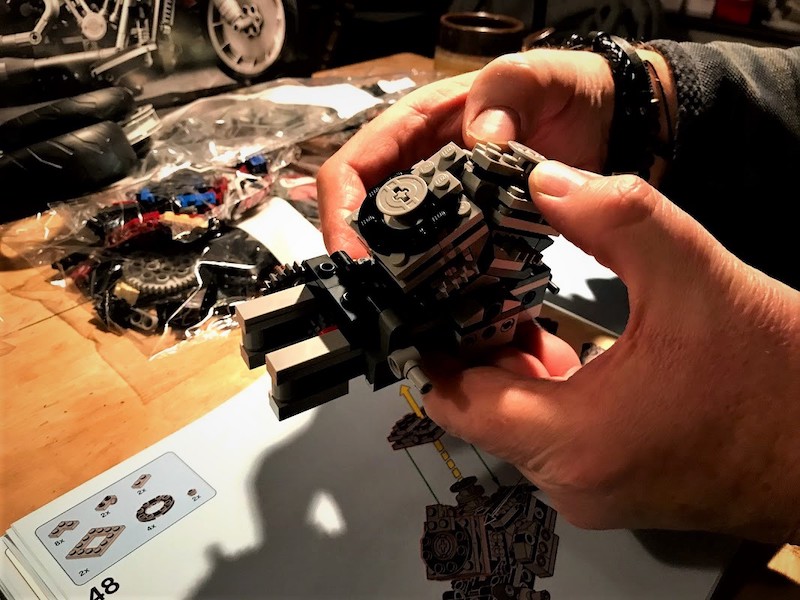 There have been rumblings among Lego purists (are there really such people?) that those fiendish Danes have been creating specialised parts for kits in order for them to make more specific models; apparently this just isn't cricket.
The Fat Boy has some of these parts. For example, the petrol tank components and the seat. And probably the tyres. There may be more but having been out of the Lego loop for more than 20 years I really haven't the foggiest what they are.
But what I do know is that unlike many modern (and very expensive) Lego kits, the Fat Boy does actually look realistic, unlike for example the model of the James Bond Aston Martin DB5, which looks like it's been rescued from a car crusher. But not quite soon enough.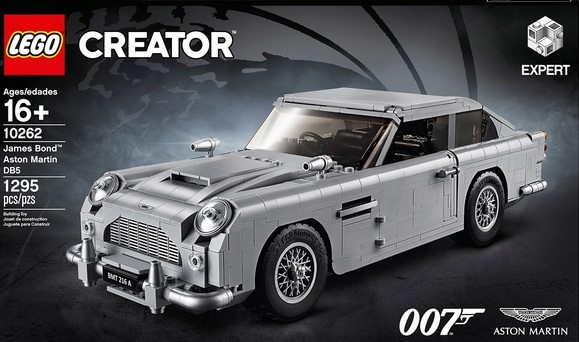 And then there's the VW 'Splitty' Microbus, which looks like a badly made birthday cake; the Bugatti Veyron is a little better, but it still looks like it left the factory a week too early.
Maybe I'm missing the point. But I think by making these model specific kits Lego have perhaps missed the whole joy of creation.
The little freestyle cars, buggies, trucks, bikes and things that defy description that Ben and I spent hours making when he was just a saucepan lid were made of entirely generic parts and a vivid imagination, it was all part of the fun.
And if they fell off the table or had a crash? No matter – just build something else.
But I'm afraid to take the Fat Boy apart, mainly because I doubt very much if I could make it into a Ducati Monster. More likely Frankenstein's monster.
I'm sure that most of the people who make this kit (and probably Airfix type construction kits too) have a quick rifle through the parts in the box to have a butcher's at the more recognisable parts, in order to get an idea of the size of the finished item. I know I do.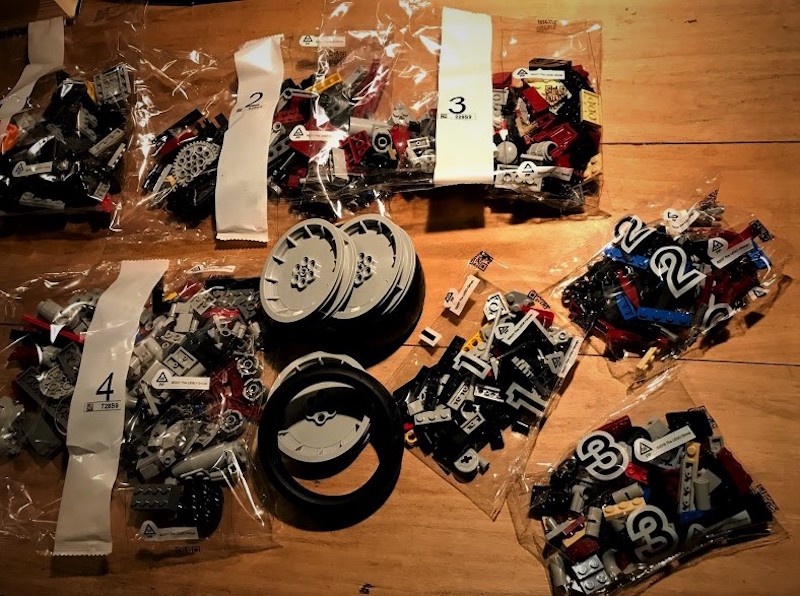 And there are three wheels. But only two tyres. Which is a clever device to achieve the width of the rear wheel, a split rim, like an old lorry.
The complications of the step by step build mean that several pages further on you discover that this bike has a gearbox. Well, that it to say it has geared drive to the rear wheel, although in fact the wheel drives the engine.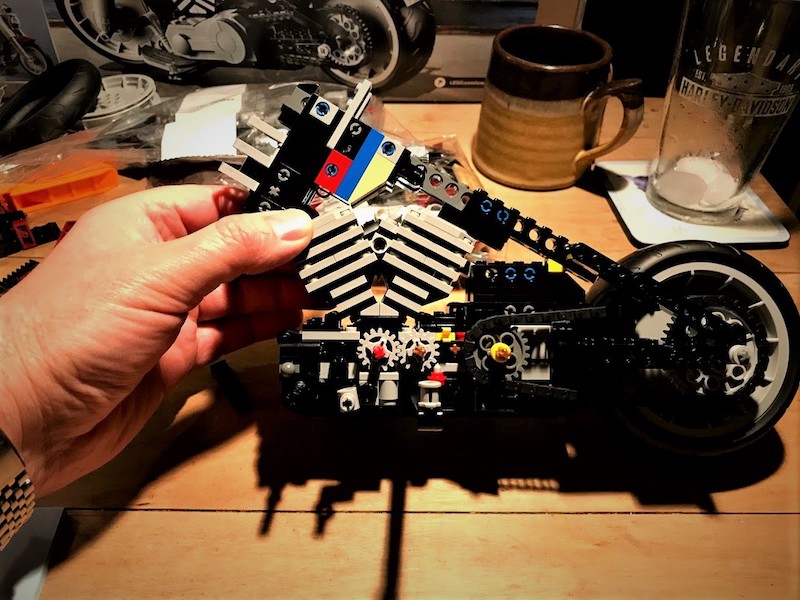 This is not the only thing that's arse about face though.
Once you've assembled the drive chain (yes, I know! It should be a belt…) pushing the bike along turns the engine over. Backwards.
But the real eyebrow raiser is that the attention to detail is a little lacking. There. I've said it.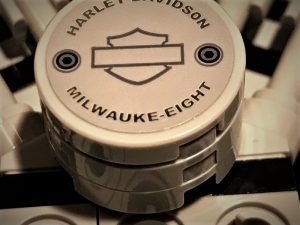 On the right-hand side of the crankcase a small roundel (the cam cover I believe) neatly bears the famous 'bar and shield' logo, and the legend 'Harley-Davidson Milwauke-Eight'.
That is not a typo. Well not by me anyway. It says 'Milwauke' with one 'e'. Willie G would be turning in his grave if he was dead, so it's a good job he's still alive.
There are other glaring omissions that I'm sure could have been easily rectified.
There's a front brake disc (rotor) but no caliper. Or even a rear disc. The suspension doesn't work. There's no belt (chain) guard. OK, I know I'm being picky here, but I'm sure it wouldn't have stretched the designers to have working suspension? I'm not asking for adjustable rebound and damping.
The tank mounted speedo is nicely accurate, since the numbers are in the same place on the clock as on my Dyna, the odometer for some bizarre reason is set at '1974'. I wish mine was as clear to read as this one.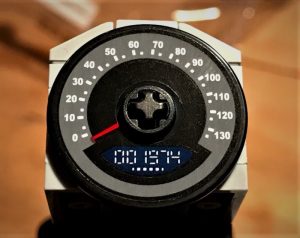 And while Lego trust you to accurately stick the little self-adhesive mirror lenses in place, along with the speedo display, tank console detail and the engine decals, the patriotic tank badges – said by some to have derived (along with the 'Fat Boy' name – a portmanteau of 'Fat Man' and 'Little Boy') from the atomic bombs dropped on Hiroshima and Nagasaki – are already in place on the tank panels.
At one point during the evening, Ben advised me that the model might not get finished that night. It was after all quite a major project, with a minimum recommended age of 16. But my general encouragement, along with helpful prompts such as "only 'x' number of pages to go" or "there's only a couple of bags left unopened", along with the fact that it was starting to look more and more like a complete motorcycle encouraged him to persevere and finish what we'd started.
And once the Lego Fat Boy is complete it is actually quite impressive. You even get a display stand to shove it on.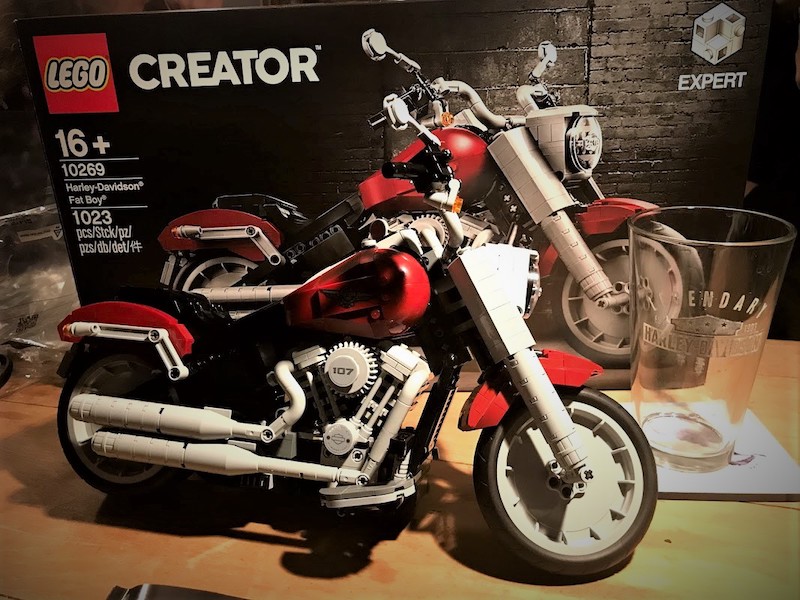 And a few spare parts. Plus there's an orange tool, which I think is for prising the blocks apart. You don't get any tools with the real bike.
As for what it's like to ride, I can't tell you.
Obviously unless you're the size of Action Man you wouldn't be able to ride the model. Well not for long anyway.
And while I've ridden many real bikes in the Harley-Davidson range, I've never managed to get my leg over a Fat Boy.
While you ponder that revelation, I can tell you that one of The Motor Company's promotions a few years ago invited riders to test their bikes via a website booking system, and I booked a ride on a Fat Boy. Because I like them.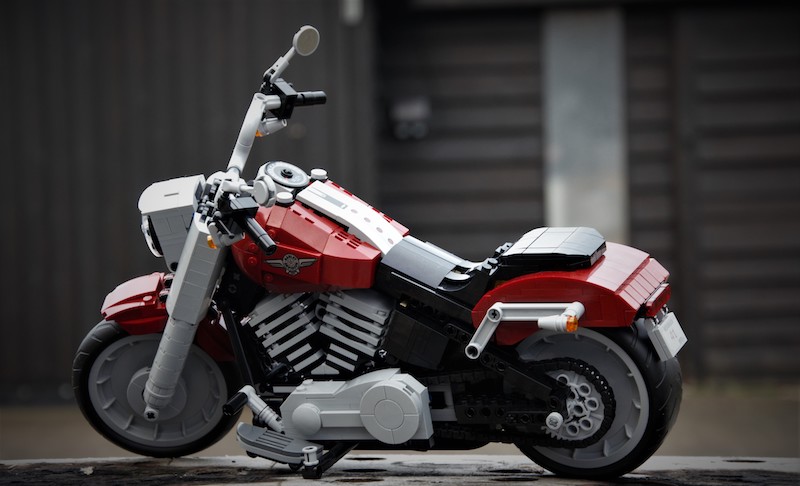 But when I got to the dealer and told them I was there for my test ride, the staff looked somewhat bemused and said that they didn't have a Fat Boy in stock, and that this wasn't the first time the booking system had had potential customers travelling many miles to test ride bikes that didn't exist.
So I ended up caning a Night Rod Special around East Kent for a couple of hours, which was great fun. But it wasn't a Fat Boy.
So here's a photo of what riding it might look a bit like if it was real. It's actually my bike, but it's a similar colour to the model.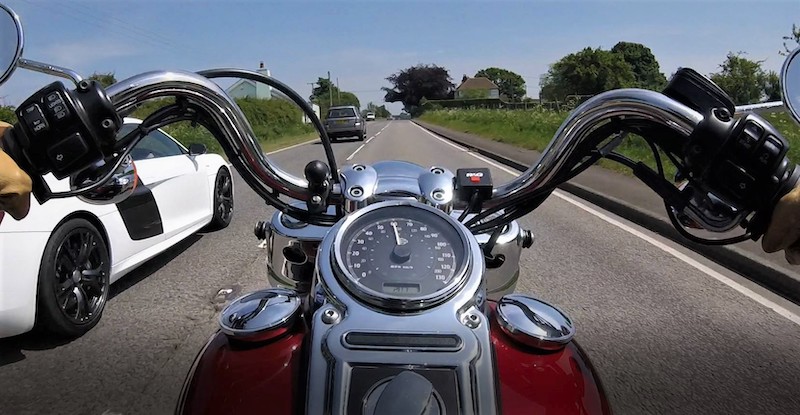 I can tell you that the Milwauke(e) Eight 107 cu in engine is a little smoother and quite a bit faster than my 103 Twin Cam, but then it does have more valves and bigger displacement.
But apart from that, the riding position looks fairly similar.
If we're still talking real life here, you could of course splash the cash and get the 114 cu in motor as an option, but I think we're getting a little ahead of ourselves here.
Unfortunately, just as there are people who don't like motorcycles, there are the poor misguided souls who don't like Harley-Davidsons, which is their choice and their problem. Sometimes people see the perceived image of the bikes and the riders, and don't look much further.
But I would urge anyone who has a full motorcycle licence to take a Harley out for a ride for a couple of hours. It's quite straightforward, just go to your local dealer, they'll help you out.
You might hate it. But at least you know what they're all about, and you can continue to criticize, but with more authority and experience.
Of course, you might not want to ride a Harley or for that matter any type of powered two-wheeler, if that's the case then the Lego Creator model 10269 could be right up your street. Which is handy if you're still in lockdown.
Martin Haskell
Please follow and like us: