Riders' Lives ~ Caroline Jeffrey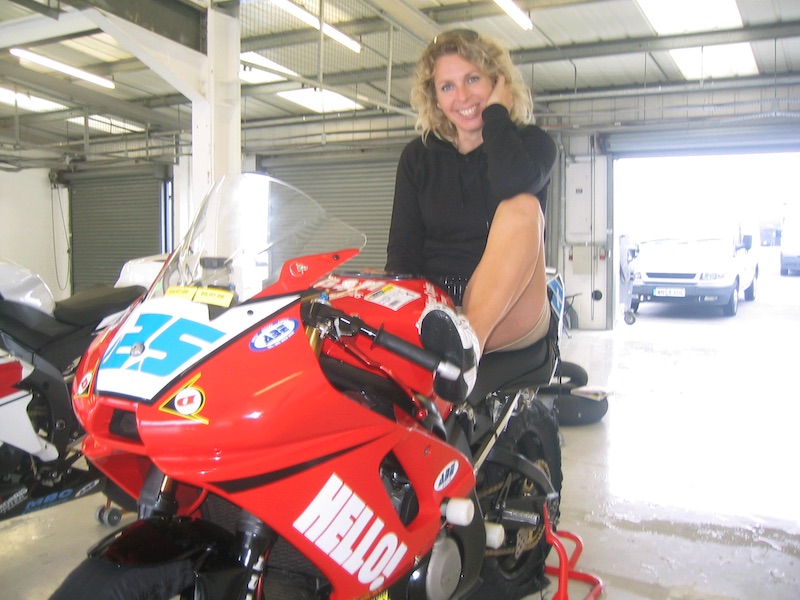 1. What was your first motorcycling experience?
Boyfriend taught me to ride his Honda XR400 off road and I just loved it. I got on and just didn't want to stop! But oh that kick-start!!
2. What is your current bike?
Yamaha R6 YZF 2005 Black. I have just had it sprayed up in a modern version of Barry Sheene's AKAI Yamaha YZR500. It looks wicked
3. What bike would you most like to ride/own?
Ducati 998
4. Hairiest moment on a bike?
Tried to go OVER a roundabout two weeks after I passed my test, going too fast! Lucky for me only my pride hurt
5. What was your most memorable ride?
Going to Donnington GP this year at the last minute, late Saturday night, tent packed, open road!
6. What would be the ideal soundtrack to the above?
The impossible Dream by Andy Williams
7. What do you think is the best thing about motorcycling?
Spontaneous adventure!
8. What do you think is the worst thing about motorcycling?
Nothing else gets done when the sun is out!
9. Name an improvement you'd like to see for the next generation?
More awareness given about motorbikes for car drivers and better road surfaces
10. How would you like to be remembered?
As someone you'd like to be lost with
Please follow and like us: