Summer gloves by Tucano Urbano
As any experienced rider will tell you, if you're going to ride a bike regularly all year around and you want to be anywhere near remotely comfortable, it's essential that you have the right kit.
If you get caught in an unexpectedly heavy shower on a typical summer's day and get soaked to the skin, it's not very pleasant but it's hardly the end of the world either; but if the same thing happens in the bleak mid winter and it's snow that's discovering the limitations of your 'waterproofs' it can be a far more unpleasant thing altogether – not to mention downright dangerous when your core temperature starts to drop.
Although over-heating isn't quite as critical as exposure, it can still have a profound effect on how much you enjoy your ride when the weather becomes more favourable.
I realise that there are many riders out there who stick rigidly to the All The Gear All The Time mantra, irrespective of how hot they get or how much they sweat at anything less than the national speed limit; personally I favour maximum comfort at all times over the extra layers of security for those – hopefully – rare occasions when it all goes Pete Tong!
Consequently when I asked Tucano Urbano if they would like to send me some of their Aero and Gig gloves to test, Ivan at their communication agency cautioned me that neither of them were protective gloves and offered to send me some 'proper armoured ones'. I reassured him that although I come from considerably further north than their gloves do, in the height of summer I'm more inclined to dress the way Mediterranean riders do, rather than the full metal jacket approach that seems to have become the norm in this country.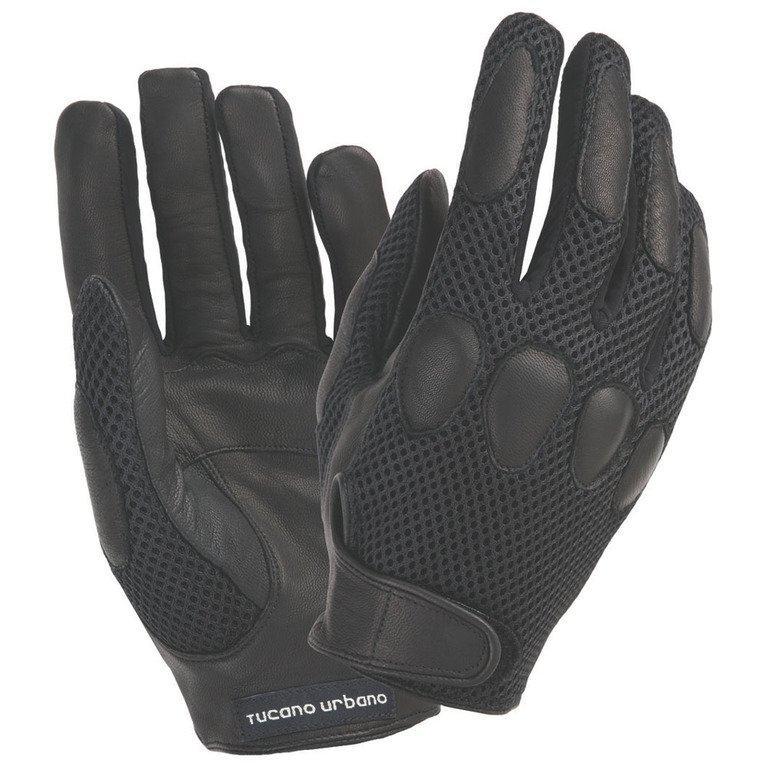 And when the gloves arrived they were exactly what I had in mind. It's strange that both gloves, but in particular the Gigs, look a lot more substantial in the pictures than they do in the flesh. I don't mean this as any sort of criticism though because as I said above, they were precisely what I wanted – they're just a whole lot softer than they look.
The Gigs are the most wonderful tactile butter-soft tan leather and they fit like a golf glove or the sort of driving gloves that you'd expect a chap in a flat cap to wear while he's driving his MGB GT! When people say that something "fits like a glove", these are the kind of gloves that they have in mind. And for all you peeps who can't be arsed to take them off to use your Galaxy, the Gigs have smart phone friendly tips on the thumb and first two fingers.
The Aeros are made of ever so slightly less supple black leather, but they still mould to the hand beautifully and they're incredibly comfortable. It's hardly been warm enough to trade them for the Gigs any day so far this year but the mesh on the back promises genuine cool-hand comfort if and when the temperature finally decides to soar.
A pair of Aeros will cost you £29.99; while the sumptuous Gigs will knock you back £54.99
Dave Gurman
See the Tucano Urbano website for further details.
Please follow and like us: