Harley-Davidson is a motorcycle manufacturer that could never be accused of resting on its laurels.
If you check out TRD 193 you'll see the results of their 'Battle of the Kings' – a global competition in which individual Harley dealers each customised an 'Iron 883' Sportster in a style that could be replicated and sold on to their customers.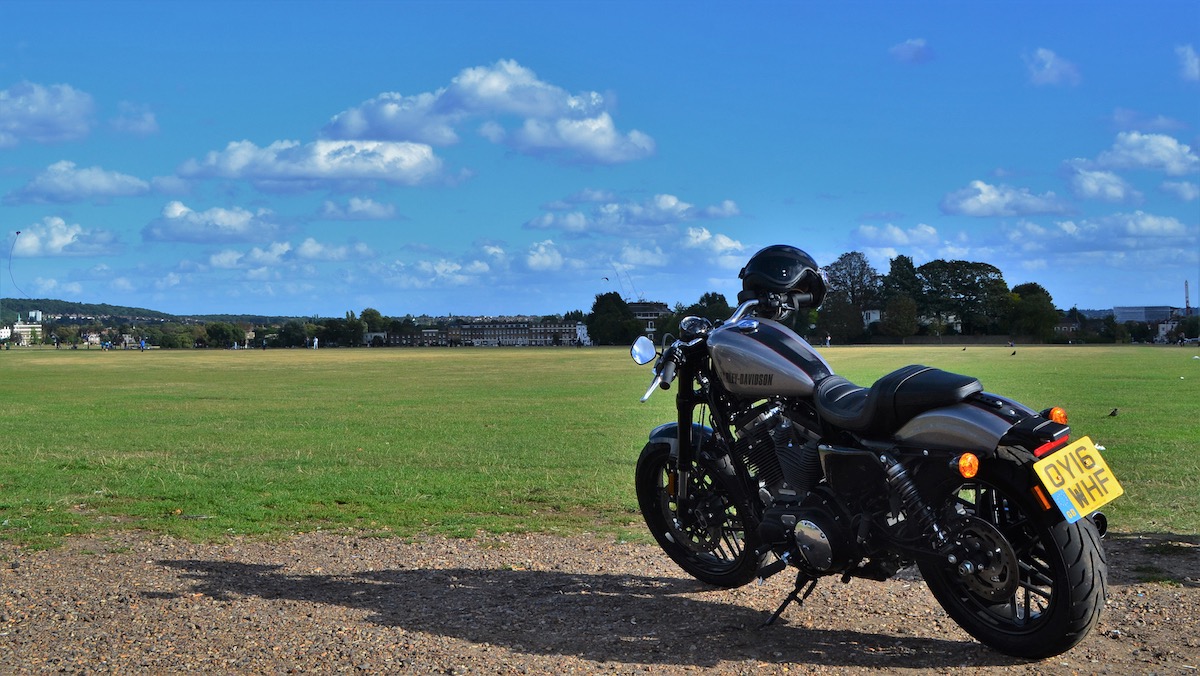 Cynics might of course argue that while the Sportster remains one of H-D's most popular models, it is basically a 30-year-old engine in an outdated frame. A comment I read recently opined that the 'Battle of the Kings' was simply H-D trying to 'put lipstick on a pig' – anything to keep an old design rolling out of their showrooms.
But even if that's true it seems to work well enough for Royal Enfield and with R&D and tooling costs being astronomical you'd probably be doing the same if it was your company – if it ain't broke don't fix it perhaps?
Of course, as anyone who attended their local 'Distinguished Gentleman's Ride' in September will attest, the good old Harley Sportster is still very much the 'hog du jour' – mainly due to the fact that you can accessorise and customise it almost beyond recognition, either at home in your shed – or as it comes out of the crate at the dealer.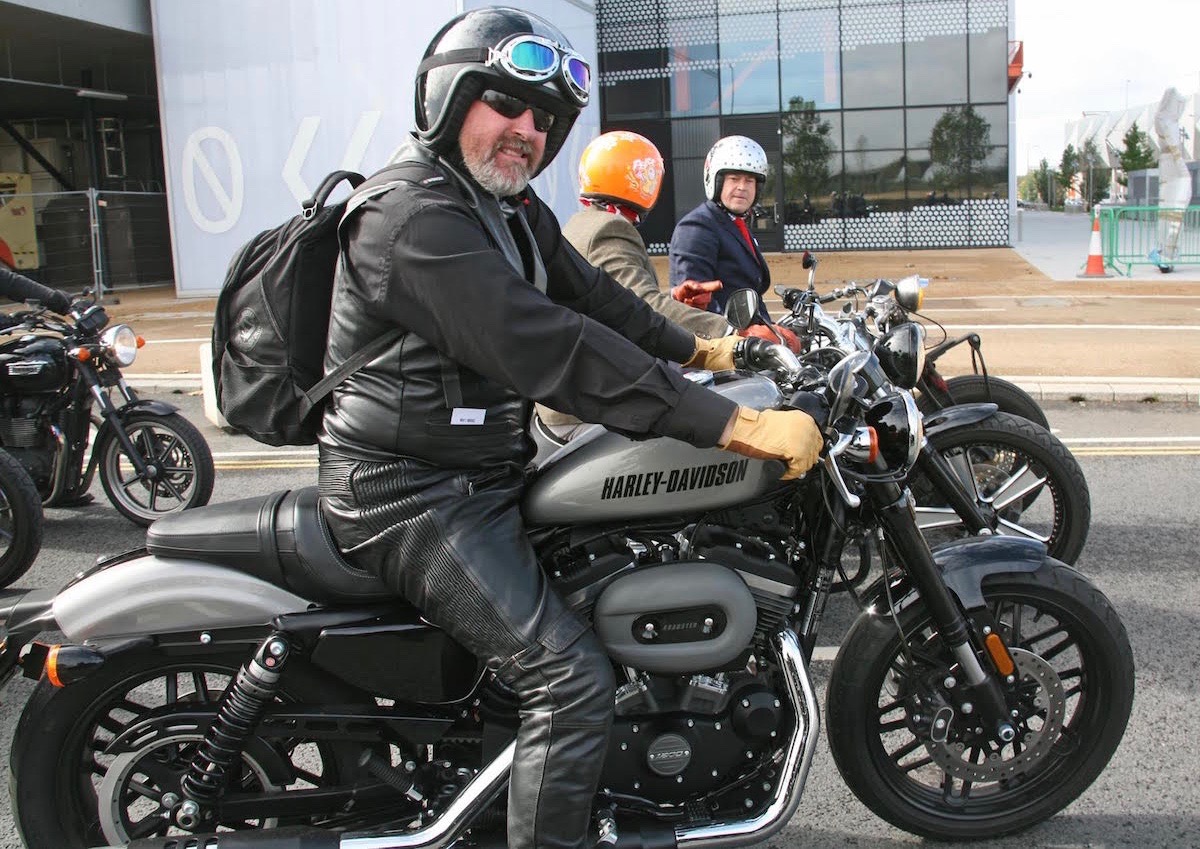 So perhaps it's a good thing that the manufacturers themselves are making the effort, and constantly reinventing this little bike.
OK, I'm sorry for calling a bike that is either usually an 883 or a 1200 'little' – especially if you're currently trying to get your full fat, unrestricted motorcycle licence and your current bike is a 125, but the Sportster is – physically – a small motorbike.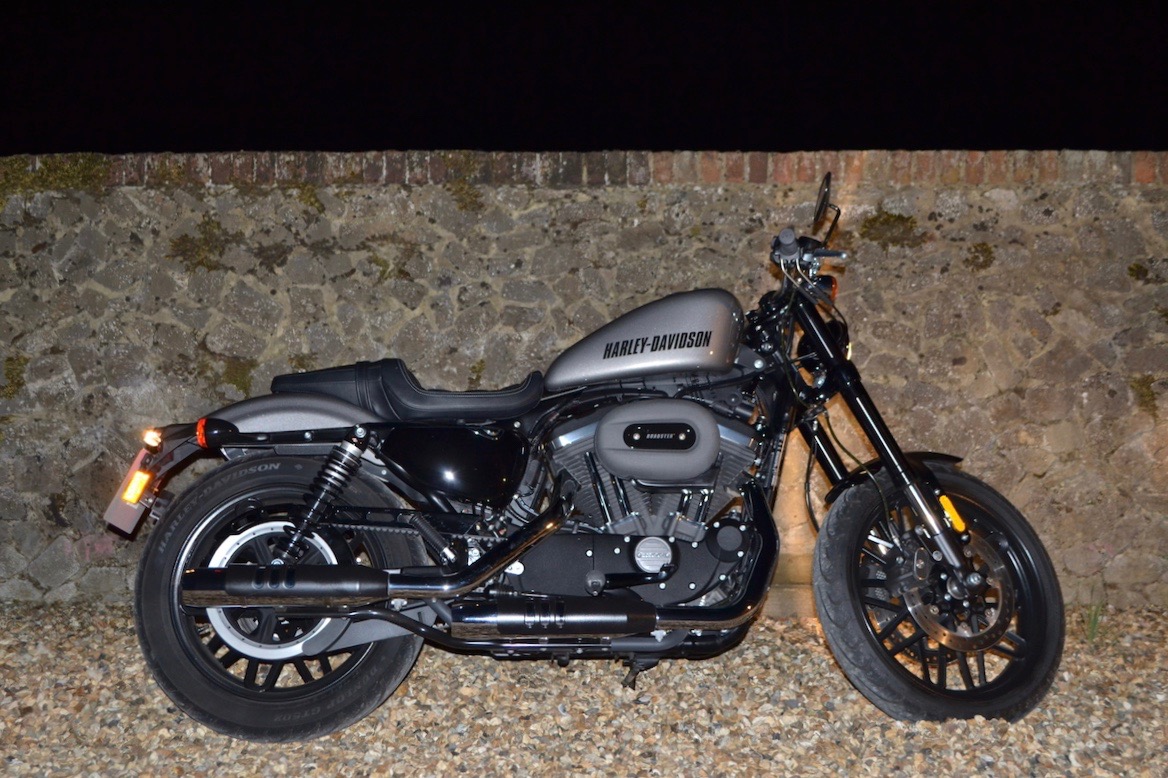 And I'm not going to pretend I know loads about the various engines – I don't. But I do know that the Evo engine in the Sportster, in all its various forms and sizes is completely different to the Twin Cam 103 cubic inch in engine found in the larger Dyna and Tourer models. And now there's even the four valves per cylinder 'Milwaukee Eight' 107 cubic inch engine, which compliments the 114 cubic inch eight valve 'twin cooled' motor which is also available.
In old money that's 1,750cc and 1,870cc respectively. Perhaps the latter was inspired by their rivals Indian, whose 'Thunder Stroke 111' engine weighs in at a hefty 1,811cc. One-upmanship? Who knows.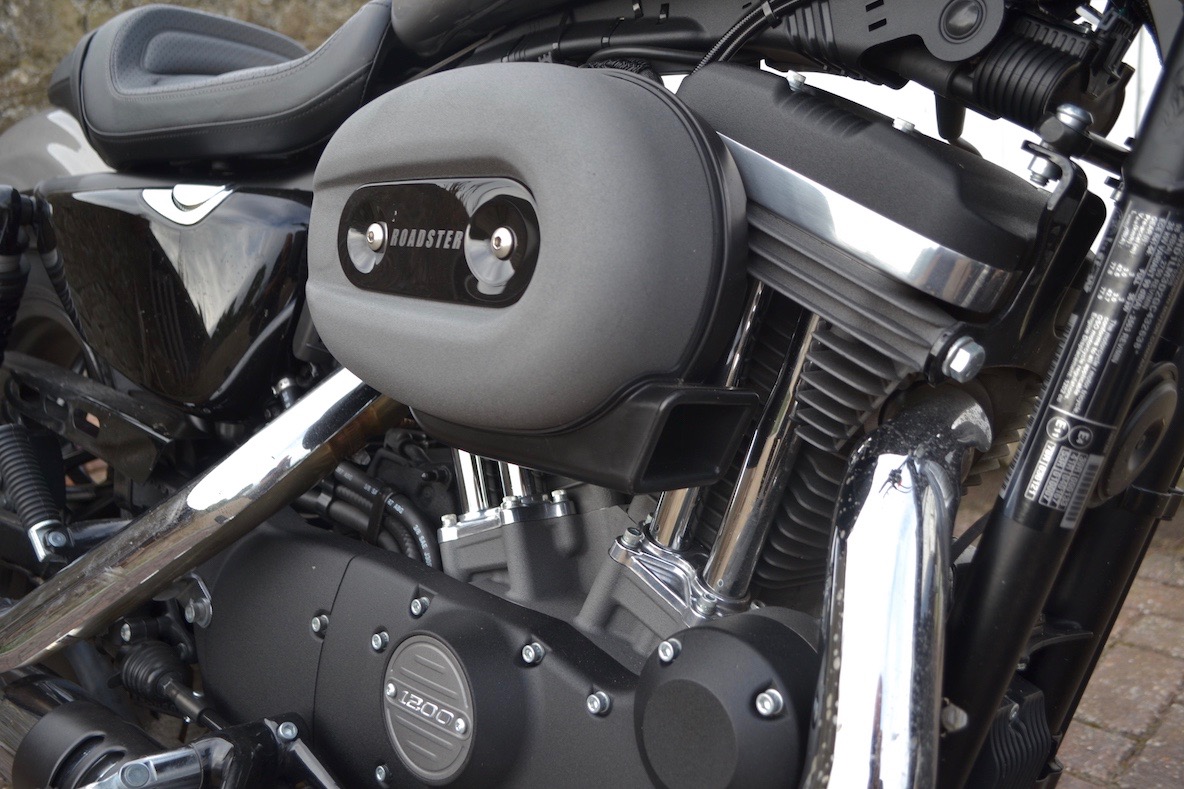 Where was I? Oh yeah – I was talking about the Sportster before I got side-tracked by the behemoths; the XL1200 is an altogether more nimble affair.
However, small is not necessarily a bad thing, which is what I've had to explain to several people in my lifetime; it opens up the world of larger capacity bikes to people, er, well, people… People who are… OK. Short. There, I've said it.
The Shortster, sorry, Sportster can have a saddle height of just 26 inches, with several other models, such as the new Softail Slim way down there at just under 24 inches, less than two feet.
Which brings me conveniently back to the XL1200CX Roadster, which doesn't only have a particularly low seat height – 30" – but the peg position also allows people with a more minimal inside leg measurement to reach the pegs and also reach the ground when they come to a halt. Which always helps.
But this can be something of an issue when you have a 34" inseam like I do.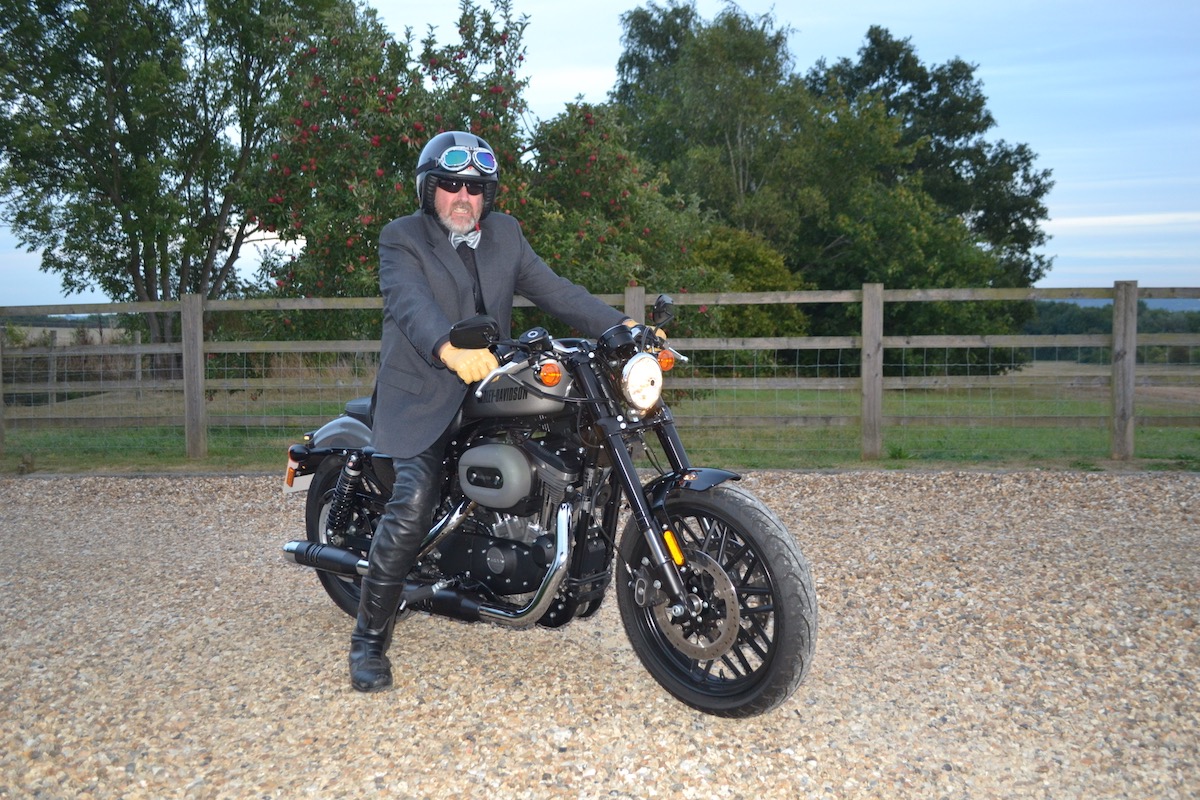 (Incidentally, if you're thinking about getting a bike, but you're not really sure whether it will suit you – and you don't want to suffer the indignity of trying one for size at your local dealership – click on this great site that turns you into a crash-test dummy and sits you on the bike of your choice. Unfortunately, the XL1200CX doesn't seem to feature yet, but hey ho.)
So anyway, if you're still reading this, you'll probably want to know what the Roadster is like.
Well first impressions are good, but don't just take my word for it, several people commented on what a good looking bike it is, tastefully finished as it was in silver-grey with a central black stripe (Billet Silver/Vivid Black) on the tank and rear mudguard, edged in a tasteful red pinstripe. The minimal front mudguard, which is more of a token gesture, was finished in a deep glossy black.
The wheels were a glossy black lattice of cast aluminum (sic), which while perhaps initially looking like an easy clean option compared with traditional spoked jobs would probably start to look grubby when the brake dust builds up.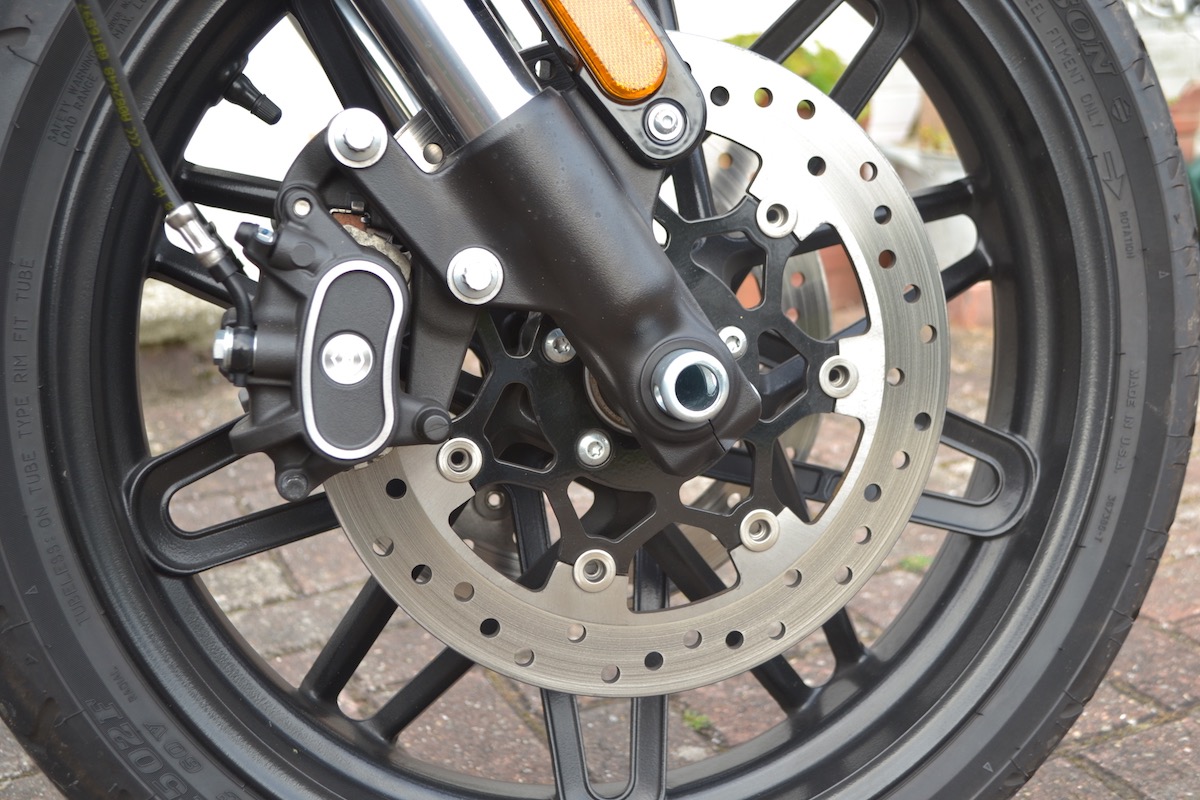 And with a brace of floating 300mm discs and twin piston calipers at the pointy end you're likely to encounter a fair bit of that horrible black crud, but at least you won't have to deal with chain lube at the back. Call me old fashioned but if you can't have shaft drive, a rubber belt is the next best thing.
The belt also makes the power delivery smooth through the five gears, but try as I might I couldn't get gear changes to be anything other than notchy, even though the action was fairly rapid when accelerating.
I found the gears to be very tall – first was good for 35-40mph without the need to change up – and despite the fact that the Sportster box has only five gears – unlike the bigger motors which have six – I never found it to be a problem and was often surprised on the motorway to discover that I was still only in fourth.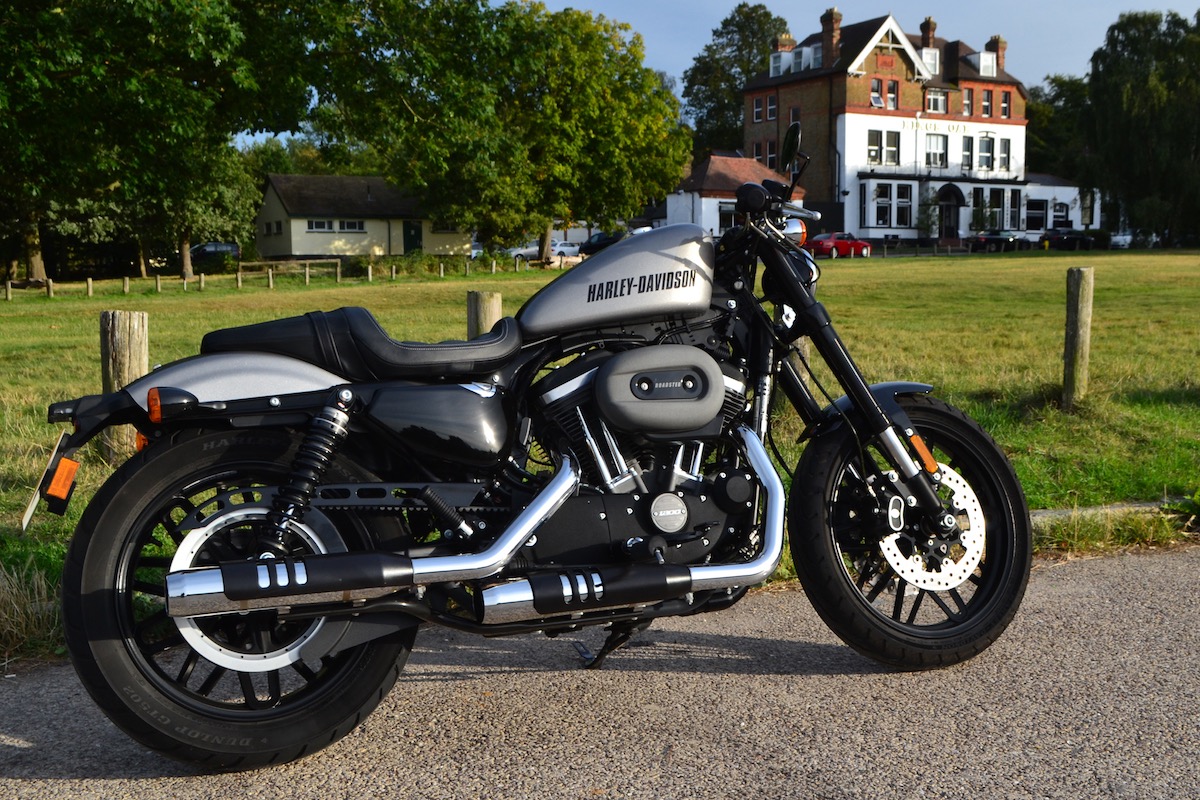 More about the gear change later, but talking of acceleration, on a small bike built around a 1200cc motor you'll usually be first away from the lights, and in the presence of family hatchbacks you'll be quite the rebel. Or maybe I should say a quiet rebel.
As with all standard Harleys the exhaust pipes on this machine are pretty muted, which pleases some, but for me half the fun of a big V-twin is the rich burble you get when you press the starter.
The Roadster comes with a pair of shorty chrome tapered mufflers clad with stylish laser cut black heat shields, which not only stop you burning your leg, but might also help prevent the leg of your oversuit from melting onto the deep, lustrous chrome.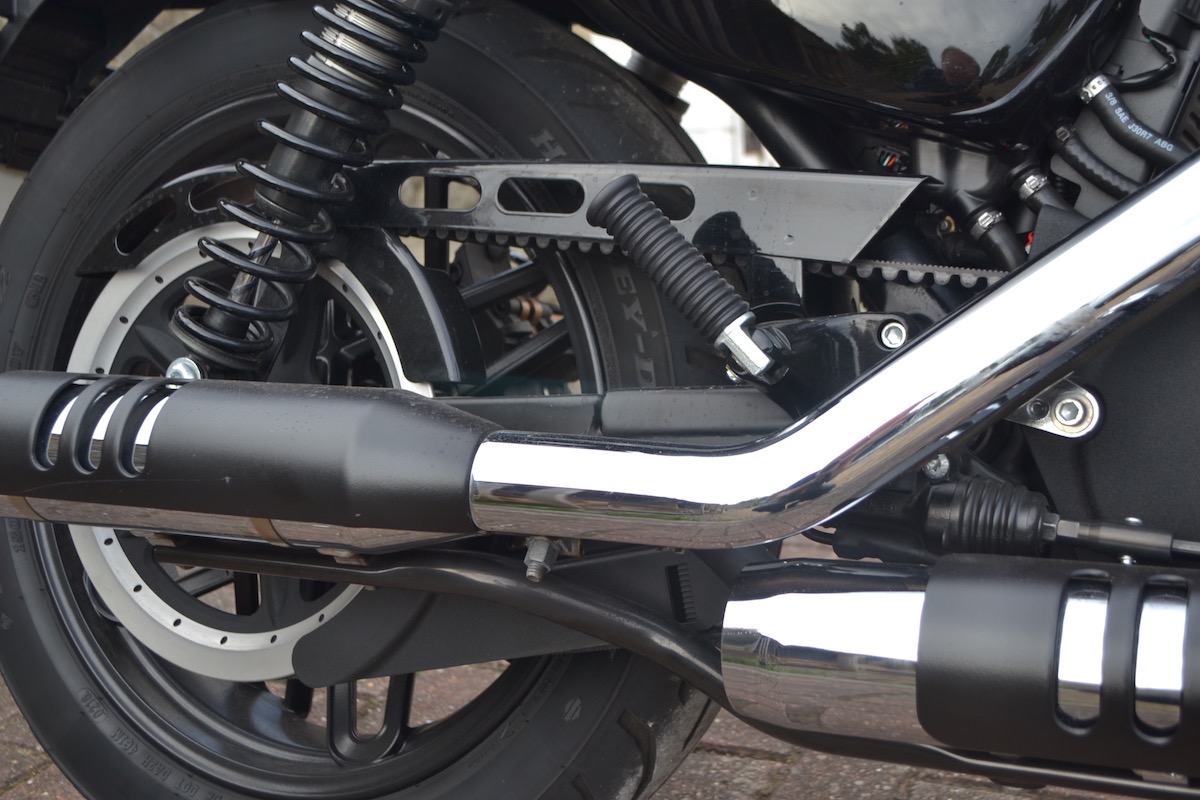 Don't get me wrong, the exhaust note sounds nice, especially when you're giving it some beans; it's just not quite as noisy as I was hoping for. Yes – I know I'm immature.
But let's face it, Harley-Davidson are not about to start sticking anti-social pipes on stock bikes.
Especially when they comply with State and international legislation, plus of course they and their dealers stand to generate so much more revenue when customers opt for a stage one tune when they buy the bike – maybe they can even include it all in the 'on the road' price, which ensures that your new bike is just that little bit more individual by the time the number plate is fitted.
Available options include paintwork, seats, bars, pegs, tanks, grips – pretty much the whole bike in fact. I don't have any statistics, but I'm willing to bet that few bikes roll off the forecourt in stock trim.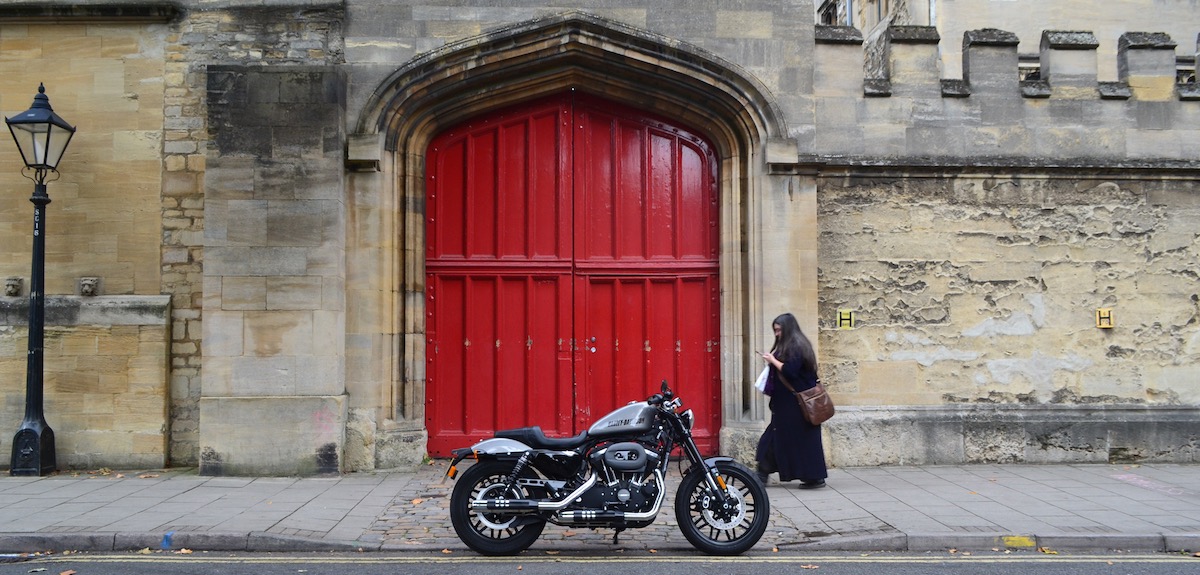 In theory, by using the available options and extras you could end up with a bike that's exactly the same as somebody else's, but with hundreds of genuine H-D and aftermarket options available you'd probably stand more chance of winning the lottery. Well, you might have done before they added more numbers.
But even as I write this a major manufacturer has just released a new 'custom' variation on one of their parallel twins, called the 'Bobber'. It would enable you to arrive at The Bike Shed in (fairly) unique style without having to make a grainy video featuring man buns, dirt drag races and angle grinder sparks. Unless someone else arrives on the same bike, which unfortunately is pretty likely.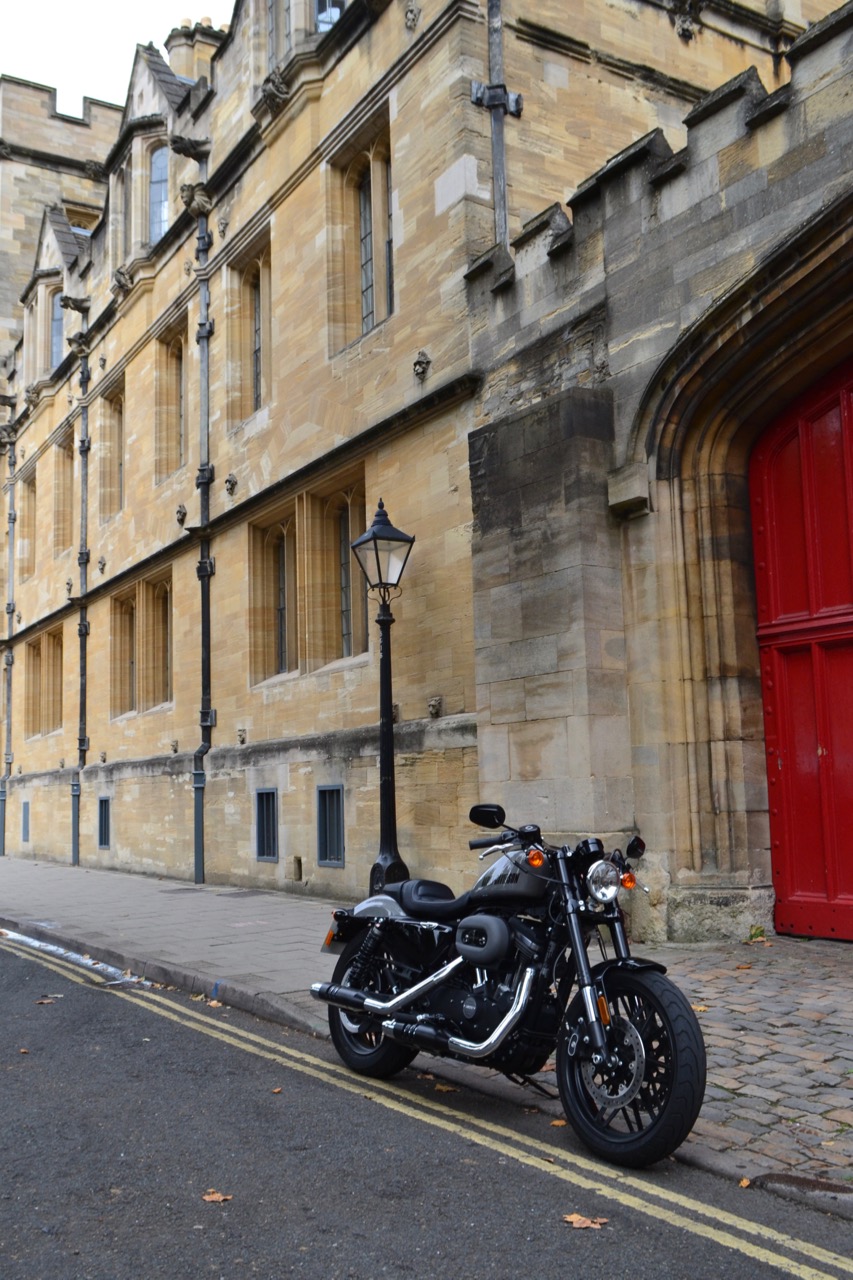 Of course, if it's individuality you're after, with the Harley-Davidson Roadster you've got a head start on most of your fellow Sportster pilots, as it's quite a radical departure from your usual hawg.
This one doesn't have kicked out forks, acres of chrome, high bars or a fat rear tyre.
The steering head uniquely offers 43mm USD forks at 28.9° rake with a trail of 140mm, compared to the standard Sportster which has more traditional forks at 31.1° and 145mm respectively.
This little Harley does exactly what it says on the tin.
Add a sporty seat, flat bars, a lean angle of around 31° and rear-sets, and you've got a pretty racy little package.
OK, I was joking about the rear-sets. Sadly.
There are a few issues I had with the Roadster. Firstly, the footpegs.
They seemed to be in the same place as the standard Sportster, sort of halfway along the crankcase, so neither 'forward control' or where you might expect them to be say, on a Triumph roadster – somewhere around the swing arm mount.
I know this, because one of four very different Harleys I rode in succession was a Sportster Superlow 1200T a few days before I collected the Roadster, and I found it cramped. The bars were restrictive and the pegs – sort of shaped like bicycle pedals – were right where I wanted to put my legs when I came to a halt.
Cue bruised shins and the odd moment of panic when I couldn't quite get my feet down quickly enough.
Disappointingly the Roadster's pegs seemed to be in the same place, right where my legs wanted to be. Maybe I was the problem. Maybe the pegs wanted to be right where my legs were. Either way round, it was awkward until I sort of trained myself to get used to it.
The riding position also created problems when I tried to do a 'feet-up' U-turn, as the wide, low bars were hitting my knees.
It's almost as though one half of the design committee wanted a proper 'head down, arse up' riding position, while the others were keen to hang on to a semblance of the traditional Harley-Davidson stance.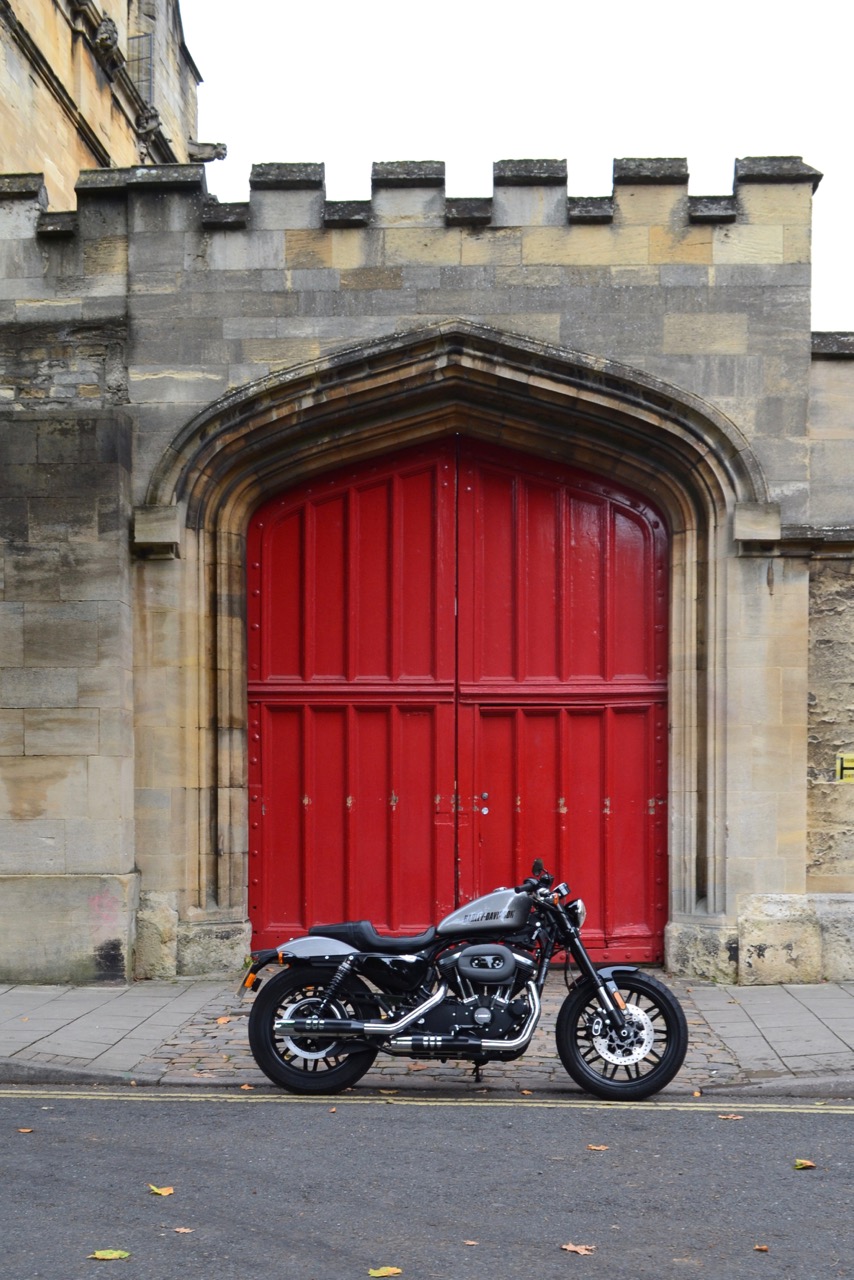 But that's not all. The footrests on the Roadster are fully hinged like pillion pegs and sort of 'out there' – a bit wider than I thought they needed to be, due to a rather nicely engineered pivot, which meant that my left boot was frequently sitting on the hinge, with the sole resting on top of the gear lever, so I had to consciously move my foot to the correct position every time I wanted to change gear.
The same thing happened with the right peg and the brake pedal, but to a lesser extent, as I tend to rely mainly on the front brake.
This was also a little painful and cumbersome when it came to wheeling the bike around, giving me the perfect opportunity to recite my small but perfectly rounded collection of profanities. I may have even called the Roadster a 'cowson' at one point as I almost tripped over, nearly dropping it.
It was therefore easier to fold the pegs right up out of the way. This could however be a bit of a pain if you're wearing bike boots – the ones your leathers tuck into, which caught on the peg at one point, folding the left footrest right up. Inconvenient when you're racing a Transit away from the lights.
The mirrors were sexy little black numbers, similar to those fitted to other H-D family members with far more extravagant bars, which make perfect sense of the four inch stems. But not with flat, low bars.
I had a great view of the tops of my gloves and my forearms in the teardrop shaped heads. And at one point on the A40 in the Chilterns a small bump in the road caused the right-hand mirror head to swivel down and rest on my glove. It was quite touching really, and it looked a little sad…
But hey, let's keep things balanced here – in the centre of the wide, comfortable bars a neat touch on the clamp is the legend 'Milwaukee, USA', a casting that also nicely holds a bank of warning lights, and the single black faced dial, which in the general sports roadster tradition is a tachometer (or rev counter to you or I).
Two things here: I believe the Sportster family, along with the Dyna, Street and V-Rod bikes are actually built in Kansas, Missouri. But that doesn't sound quite right.
The other – as I'm sure being a law-abiding citizen you will already be asking yourself – is 'where's the speedo'?
In fact, I found myself asking that quite a lot. I knew where it was, it was an LCD display in the bottom of the dial, but most of the time I could barely see it.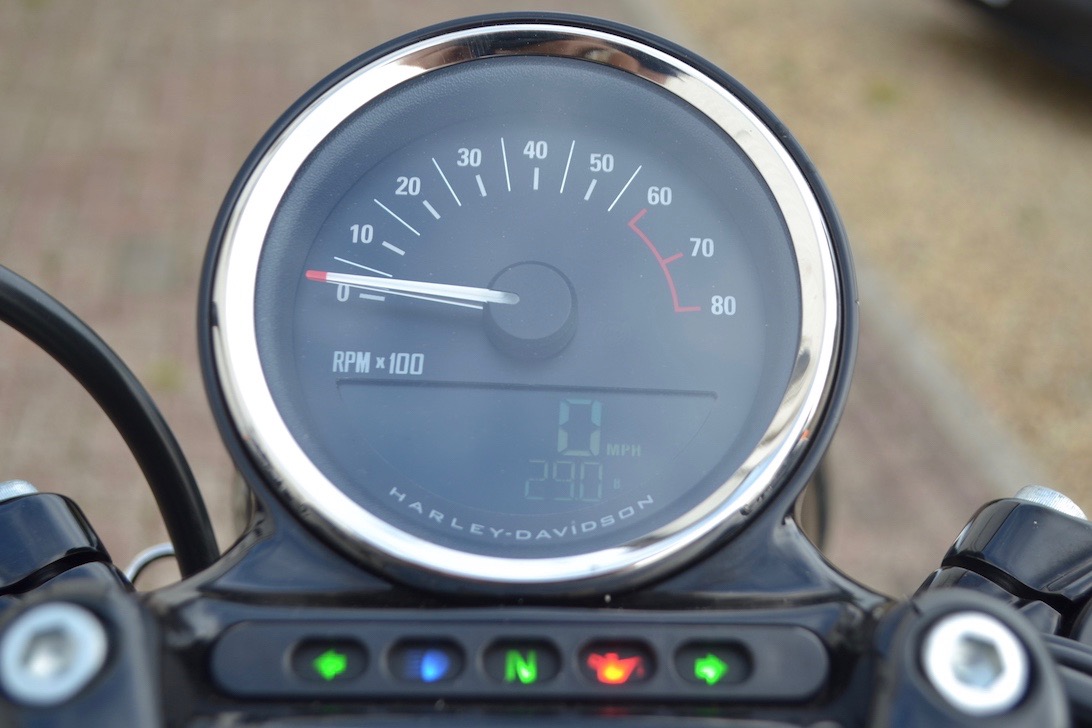 Fortunately the weather was mostly good while I had custody of the Roadster, which meant there was plenty of available light, but this, along with the tasteful grey LCD display, and the fairly laid back angle of the dial made it very difficult to see how fast I was going.
At one point I even tried working out my speed from the position of the rev counter. Not ideal.
There's also a gear indicator, trip counters and a fuel range countdown in there somewhere, but you can't easily see them either, except when it starts getting dark, and the LCD display magically comes to life with a yellow backlight.
Just below the tacho sits the basic but effective 'Bates' style headlight, fixed in place with a single bolt clamp at the bottom, which also makes adjustment nice and easy. If you've got some imperial tools that is, as all the nut and bolt sizes on these bikes come from the days of the Industrial Revolution.
Moving towards that sparsely padded saddle, a traditional Sportster 'peanut' fuel tank is perched high on the backbone of the bike, and is a design that you either love or hate. I can't say I love it.
And while it's bigger than the original Sportster tank at 3.3 US gallons, (about two and three quarter imperial gallons/twelve and a half litres) you should see about 120 miles between stops. However, the fuel light comes on much sooner. In fact, on the DGR, which was mostly first and second gear, I was looking for fuel after less than 80 miles!
At the rear end of the bike the mudguard has been brutally cut off – the look of which is something of an acquired taste. Stateside they get a side mounted folding license (sic) plate, but in Blighty we have to put up with the big yellow plate and a little number plate light hanging off the end of the mudguard.
There's no rear light as such, the nifty little LED indicators also act up as tail and stop lamps.
If I had to sum the Harley-Davidson XL1200CX up in one word, it would have to be 'pleasing'.
It looks neat, and an important thing for me is that it looks like a Harley; it's not trying to look like something else.
There is a rather annoying (to me) modern trend for some manufacturers to make sort of 'tribute band' bikes. Bikes where even seasoned riders can't really tell who made them without having a closer look. I'm sure you know what I'm talking about. Giant trailies that might be a GS or quite possibly a Tiger. Or maybe even something else.
And of course, Harley-Davidson have more than their fair share of impersonators. But they say that imitation is the sincerest form of flattery, and while H-D have plenty of critics, nobody could accuse them of making bikes that look like anything other than a Harley.
And despite my misgivings about the seat, footrests, speedo and the tank size, the Roadster really grew on me over the few days I was riding it. For my final trip on the bike, I detoured to Oxford to take a few last snaps before heading back to Gloucester, where all H-D's press bikes live.
I found a suitably scenic place to stand the bike, and as I crouched down to get the right camera angles, I became aware of two Japanese lads copying my every shot with their smart phones. I got down on one knee, so did they. I stood up – likewise. I even stood on one leg at one point.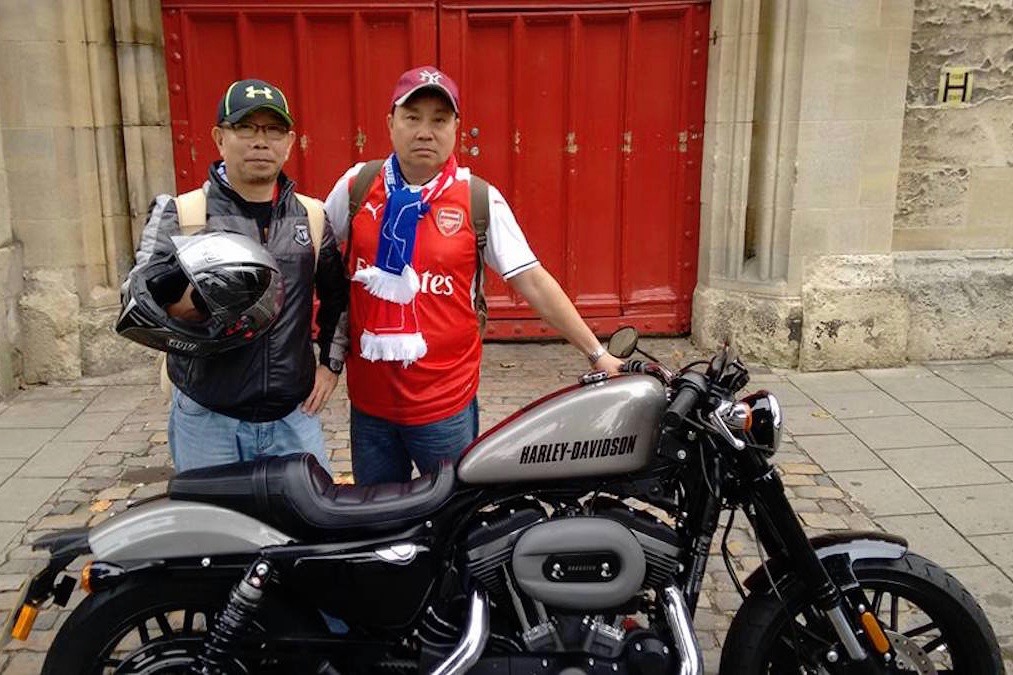 The thing is, they loved this bike. They couldn't speak English, but they knew the words 'Harley' and 'Davidson', gesturing to me to start the engine. They were very happy when I photographed them (with their phones) sitting on the bike. I got the feeling I'd made their day.
As I headed west from Oxford across the Cotswolds, the heavens opened, and I stopped to put my oversuit on. But the wet roads didn't cause any problems for the Roadster, it felt very surefooted, with just the right amount of useable power. My spirits were far from dampened.
Earlier in this piece I alluded to riding four different Harleys in the space of a fortnight, which came about due to a very unexpected turn of events.
A few days before I was due to collect the Roadster I was obviously extolling the virtues of American V twins over dinner, as my long suffering wife Jude (who realised a long time ago that a) I'm not getting any younger, and b) I've always had a soft spot for Harleys) suggested that I should buy a Harley. Yes, that's right. Buy a Harley. I nearly fell off my chair.

After I'd checked that she wasn't pulling my leg, we paid a visit to my local dealer, where we saw a very tidy looking 2016 XL1200 Superlow Sportster, complete with removable screen and saddlebags.
A 40-mile ride confirmed what I've already told you about the physical limitations of the bike, and a sudden bout of cramp in my right hip told me that the riding position wasn't for me.
Back to the drawing board – or in this case, the dealer. I found myself in the bizarre and for me 'dream-like' situation of looking round a Harley-Davidson showroom at the various (second-hand) bikes for sale, and dismissing them for various reasons: too small/don't like it/too many miles etc.
Our collective gaze fell upon an immaculate 5-year-old 103 cu in Dyna Switchback, a sort of DuoGlide inspired retro styled bike with hot rod cast wheels and the ability to convert from a tourer to something resembling a Fat Boy (my favourite) and then switch back (hence the name) in a matter of seconds.
A test ride soon confirmed that the bike was supremely comfortable, pleasantly torquey and also pleasingly loud, thanks to a Vance & Hines exhaust. The deal was done, with a lump in my throat I traded in my old Beemer, and arranged to collect my bike on my birthday.
The main reason I was borrowing the Roadster in the first place (that's the one this test is about, keep up!) was for the London Distinguished Gentleman's Ride, but after establishing that I couldn't take delivery of the Switchback in time for the ride I was forced to drive over to Gloucester to pick it up, which meant that I would need to squeeze two Harleys into my tiny garage.
But worse was yet to come. Having collected the Roadster and successfully completed the DGR, I was then due to collect my new bike the following day. But while carrying out the MOT test the dealer discovered a nail in the rear tyre and decided to replace it. So they loaned me a full fat Street Glide Special tourer instead.
So with a brand new Roadster sitting in my garage I spent my birthday riding around (in the rain) on a huge Harley tourer, which was also brand new.
Getting the pair of them into my six-foot-wide garage was quite interesting, and involved the judicious use of 'hipster blocks' under the stands to get the bikes a little more upright.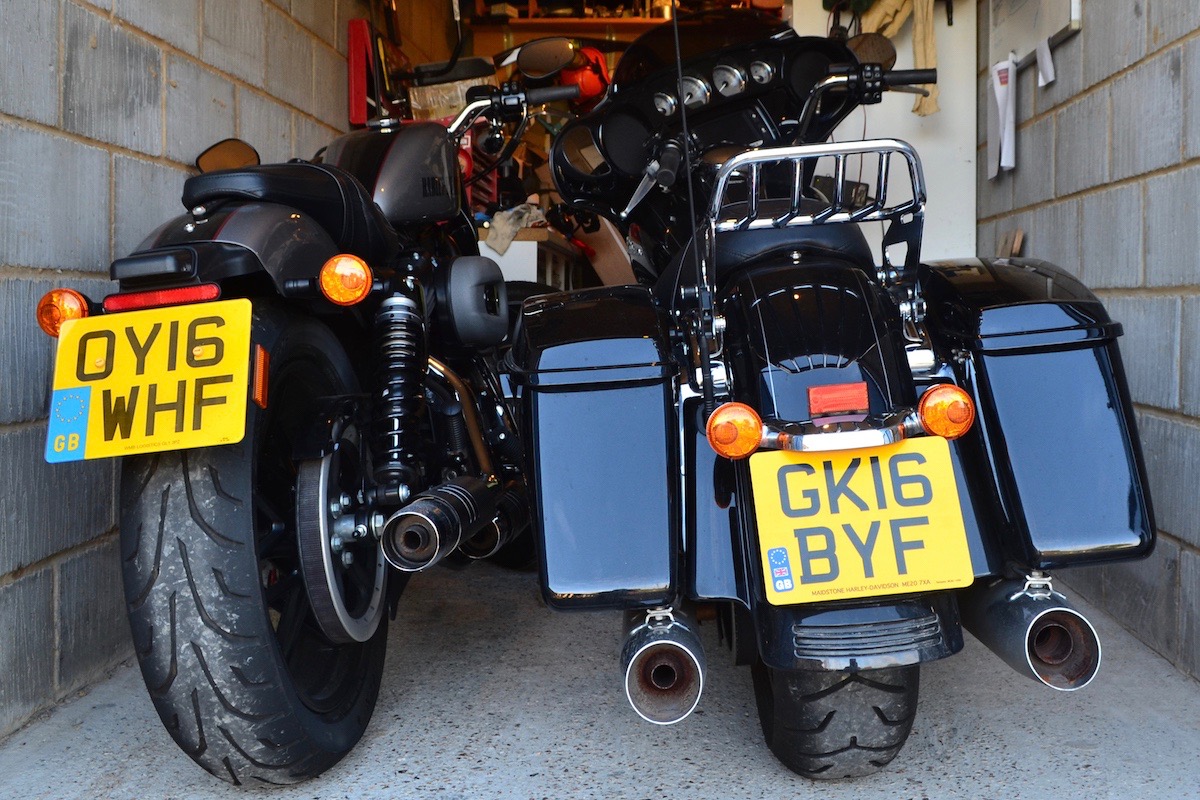 As a result, I now feel qualified to comment on the 'three degrees' of traditional Harleydom, which may or may not prove to be a useful guide for the beginner.
As previously mentioned, the Sportster and indeed the Roadster are slim and torquey, using the Evolution engine (with the belt drive on the right side and five speed gearbox) in both 883 and 1200cc sizes. The saddle height tends to be low, and the machines are the lightest of the three types.
A good entry point into H-D ownership.
The Dyna line (according to the H-D website) "is where custom style and unruly attitude meet the road-gobbling power of a rubber-mounted 103 cubic inch HD V-Twin engine."
The Dyna has the bigger motor and a six-speed box (drive belt on the left) in a medium-sized frame, the only downside for me is that you ideally need an extra knee in your left leg to enable you to reach your foot behind the huge primary chain case to hook the 'jiffy stand' out, enabling you to park your bike.
And finally, Esther, the tourers, the blue whale of the H-D range. These previously featured the same 103 cubic inch engine as the Dyna, but now have the bigger eight valve partially liquid cooled lumps I mentioned earlier. Some models also have a strange frame geometry that sets the forks slightly astern of the steering head to aid stability. But at least the jiffy stand is easier to reach.
So, there you go, Harley-Davidson's range of motorcycles in a nutshell.
Except for the new tiddler known as the Street 750, and the V-Rod range.
Getting back to the Roadster, it's something of a radical departure for Milwaukee.
It's a tight and torquey sports bike that's not going to set the world on fire, but maybe you want to get away from the ubiquitous plastic clad Universal Japanese Motorcycle.
Perhaps you have a desire for a bike that knows what it is and is not trying to imitate its competitors.
If you like Harley-Davidsons but you're not ready for a cruiser, the Roadster could be right up your street.
Martin Haskell
Please follow and like us: