Gigi Montrose "Speed" motorcycle jacket
I have been riding motorcycles since I first passed my test in 1976. In all these intervening years, I have had to put up with badly fitting men's motorcycle clothing. I am a fairly small woman and even extra small men's jackets have wide shoulders that end somewhere near my elbows. More recently, manufacturers have recognised that women ride motorcycles too so they brought out ranges of pink items that we were supposed to be thrilled with. Whilst I do not want to look like a man, this woman does not ride in pink! Luckily, things are changing.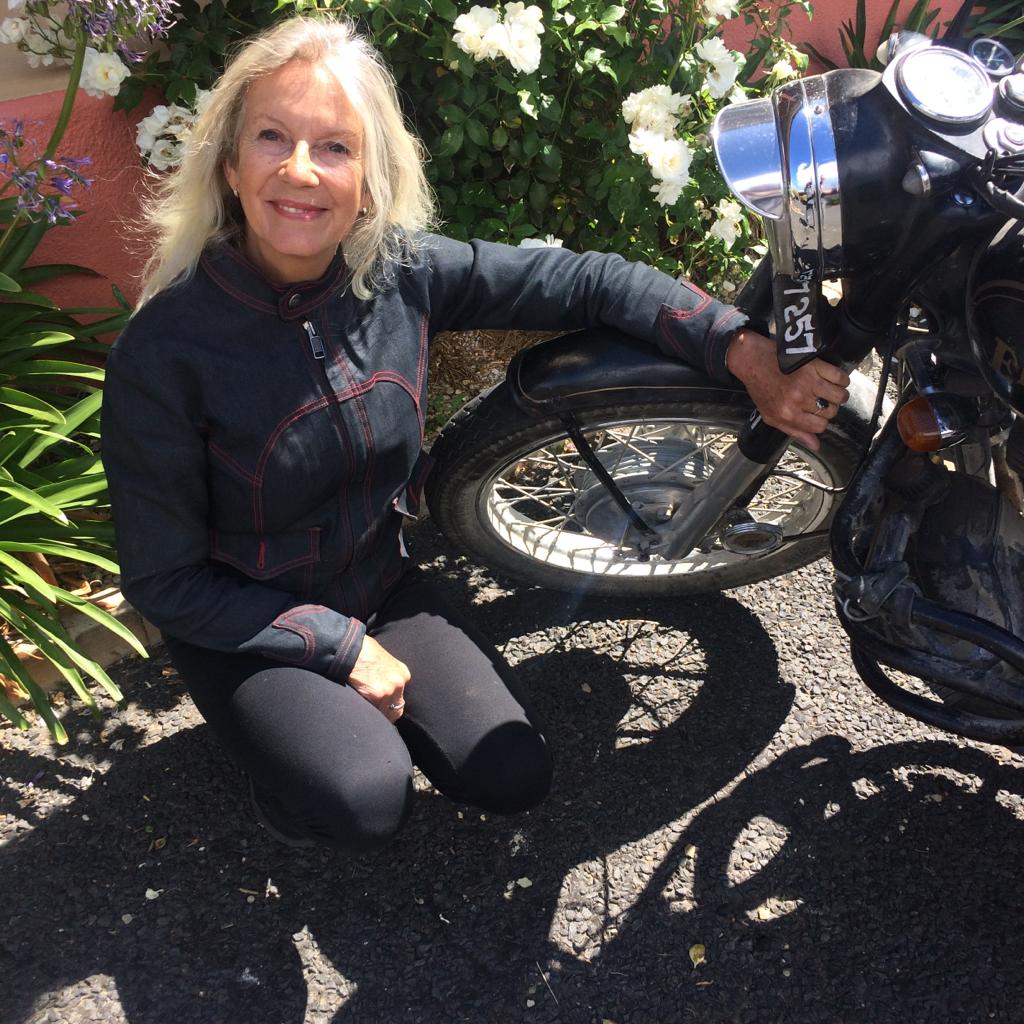 I came across the Gigi Montrose range and my eyes opened wide. Not 'girlie' but fitted.
My usual jacket had got lost shortly after my arrival in Australia for the six-month trip I was there for. This jacket fitted my requirements so I started to put my order in.
An online size-guide would have been useful but an email to the 'contact us' facility giving my measurements came up with a prompt reply and my order went in for an extra small size. It arrived in Melbourne, Australia from Los Angeles within days.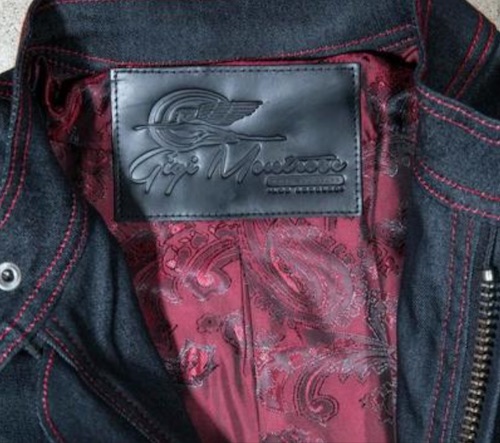 I gasped as I took it out of the box. The first thing I noticed was the rich dark cherry-red satin lining with a tasteful paisley design. I had never seen anything like it. Even the sleeves are lined with it, making it easy to just slip on and off. The top-quality denim jacket has the same red stitching around the pockets, buttonholes and seams and defines the shapely cut of the garment. A really elegant touch is the lower part of the jacket at waist level where it flares and dips a little making it slightly longer so the jacket doesn't ride up. Definitely classy. A sturdy no-nonsense YKK zip gives the jacket a perfect fit and despite having an abrasion-resistant lining throughout, it does not look or feel bulky. I love a round-neck collar so was delighted that this jacket has one with a press-stud fastening.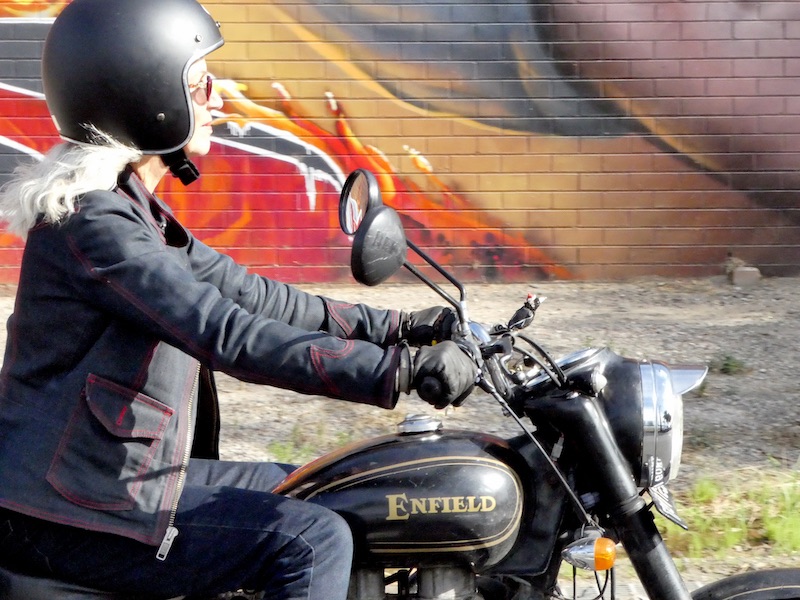 Unlike other jackets I have owned, the "Speed" is fully lined with DuPont Kevlar ® aramid. I was on my way to Tasmania in late Spring and decided this would be the time and place to put the jacket through its paces. I have a history of adventure-riding when appearance was the least of my concerns and was now wary of spoiling my "Speed" on dusty dirt roads. It looked and felt so wonderful, I hardly recognised myself in something that actually fitted.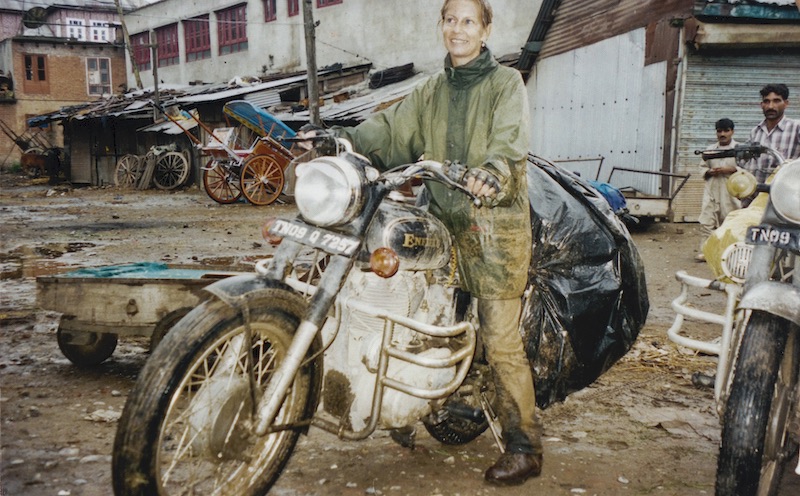 I rode onto the ferry from Melbourne to Tasmania with my battered old 500cc Enfield Bullet, looking a bit incongruous wearing something so smart and, with such a beautiful lining, I left the jacket open to expose it.
The good weather was slow to pick up and I was happy to have something warm around me. When the sun did come out, I didn't feel too hot either. It was comfortable to wear all the time, for stopping to have a café lunch or to lean over a fence and watch the dogs at sheepdog trials at a country show. For once, I did not feel like a scruffy biker but an elegant motorcycle rider.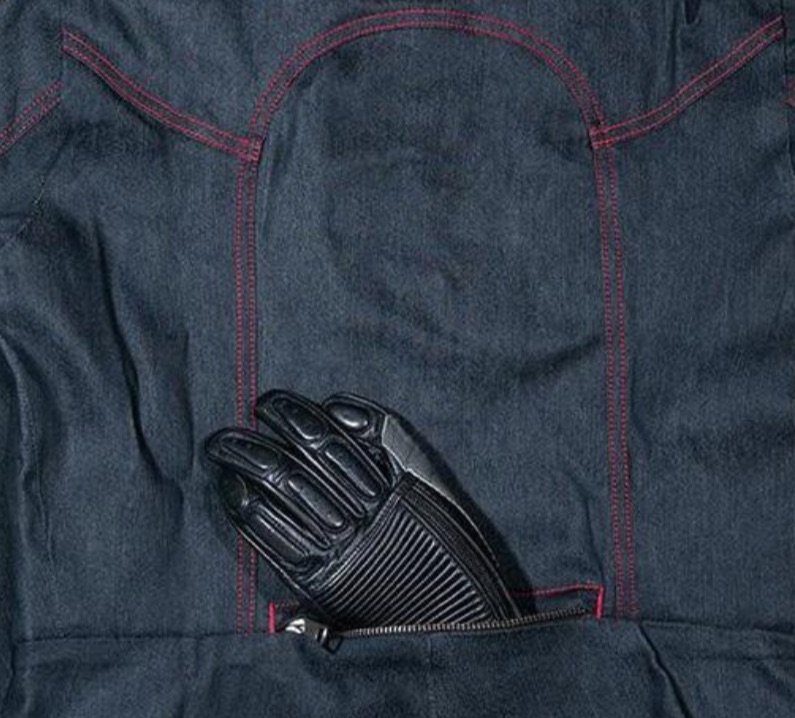 The pockets are easily accessed and just spacious enough for keys and mobile phone. There is a much larger pocket cleverly made at the rear of the jacket, which is useful for a wallet, gloves or notebook.
Six months later, now back in the UK, it still looks as smart as ever and, due to the stretch qualities it possesses, it has adapted itself to my shape. It got wet from sea-spray on a small ferry to Flinders Island, one of the Furneaux Group of islands between the Australian mainland and Tasmania. But the marks left by the salt in the sea-water sponged off thanks to the protective wax coating of the indigo denim.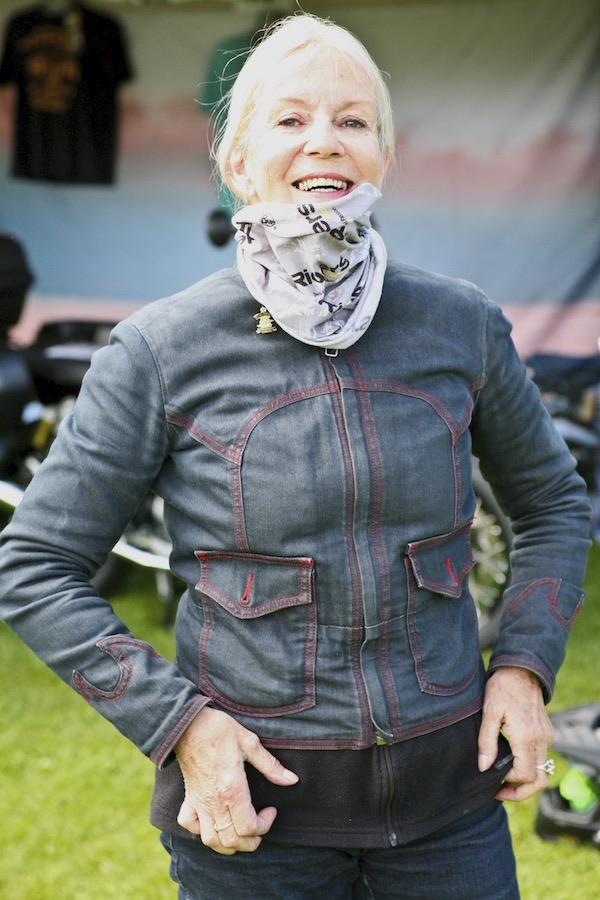 As it isn't bulky, it folds up small enough to fit inside my helmet, which was useful when having a walk around to explore in hot Tasmanian sunshine. It is such a stylish jacket that I wore it when I was off the bike in the evenings when it became a bit chilly – something I wouldn't have done with any other motorcycle jacket I have owned. When I'm not riding I don't want to look like a biker.
A cuff fastening would be a useful addition to prevent cold air from going up the sleeve unless gauntlets are worn. I had only my summer gloves and on chilly days would have closed the cuff if I could have. Also, an inside collar chain or leather loop for hanging the jacket up would be useful.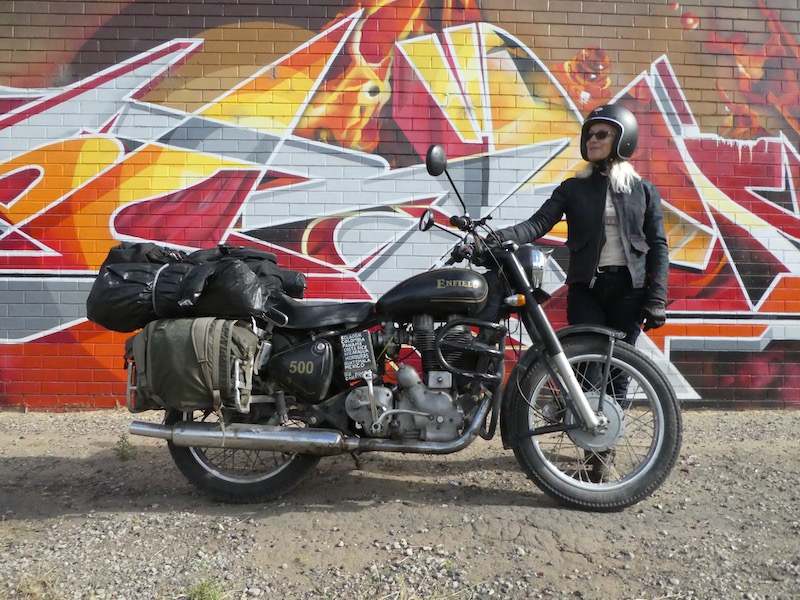 I did not ride the bike through mud or sand as I normally do but the jacket kept me warm and dry in drizzle and I didn't feel too hot even though the Australian summer temperatures rose to the high 30s. It fared very well on Tasmania's dirt tracks; a good shake at the end of the day leaves the jacket clean again.
It won't be warm enough for an English winter, and even the summer since my return has been cold but once the weather gets warmer I shall certainly wear it here. It is a beautiful jacket on or off the bike.
Oh… did I mention the rich red lining?
I have also subscribed to the Gigi Montrose website which is full of good news and stories about women riders. Thank you, Gigi Montrose.
Jacqui Furneaux
Thanks to Leigh Wilkins of Traverse for permission to use his photographs
Gigi Montrose "Speed" jacket £362 (US $475; Australia $654.)
Available in five sizes from extra small to extra large.
Available from www.gigimontrose.com
Jacqui is the author of "Hit the Road, Jac! – Seven Years. Twenty Countries. No plan."
Available from Amazon. Kindle, Audible and Shuvvy Press.
Published in the US by Road Dog Publications. www.roaddogpub.com
Please follow and like us: