The universally accepted truth about supermotards is that you can't ride one for more than a few hours at a time and you certainly can't tour on one – that would just be impossible. This is because they are incredibly uncomfortable and have fuel tanks smaller than a size zero model's arse. No good at all.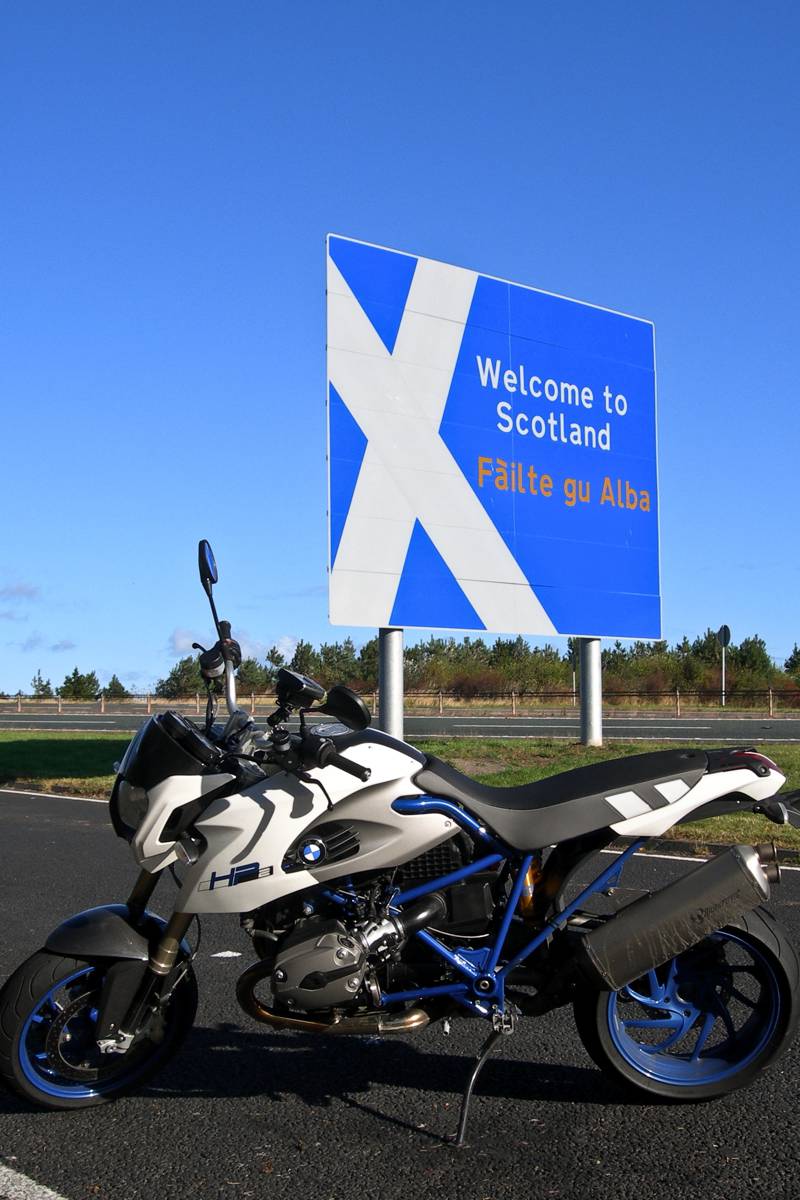 And now there is a new breed of bike out there, the giant motard. Ducati call theirs the Hypermotard, BMW have trounced them in the name stakes with Megamoto and KTM aren't messing about with their 950 Supermotard (I'm looking forward to the release of an Ultra Classic Motard by Harley Davidson any day soon); and if they're all Mega motards, they must be the same but more so. So less fuel range and seriously uncomfortable? To find out, I rode BMW's new HP2 Megamoto from London to Edinburgh for lunch.
BMW have been making quirky and even sporty bikes for several years now, so it should come as no surprise that they have finally gone all out and produced something as bonkers as the Megamoto. This is a stripped down, bare-knuckle fighter, you don't mess with it; you get on, get your head on, and get gone.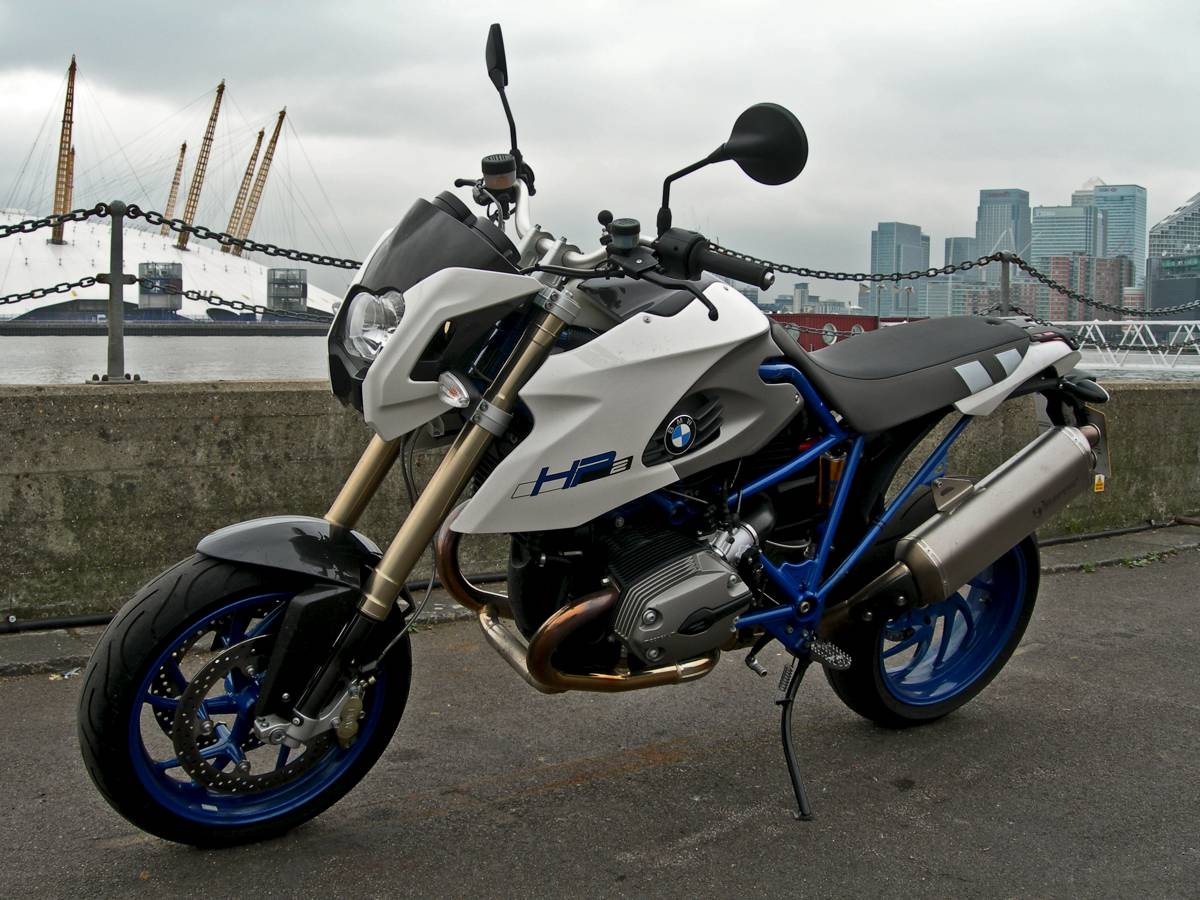 The HP2 moniker means that it's twice as saucy as any previous BMW. This bike doesn't take you from A to B; it obliterates roads and distances like a steam hammer smashing rocks. Subtlety is not an option. Mention heated grips and it will punch you on the nose. You ride the Megamoto large, elbows held high, chin up and great gobs of attitude. It's so big. That was the most often uttered comment from other bikers and they are right, everything about this bike is over the top, from the bright white, Californian dentistry paint-job to the biggest Akrapovic in the world.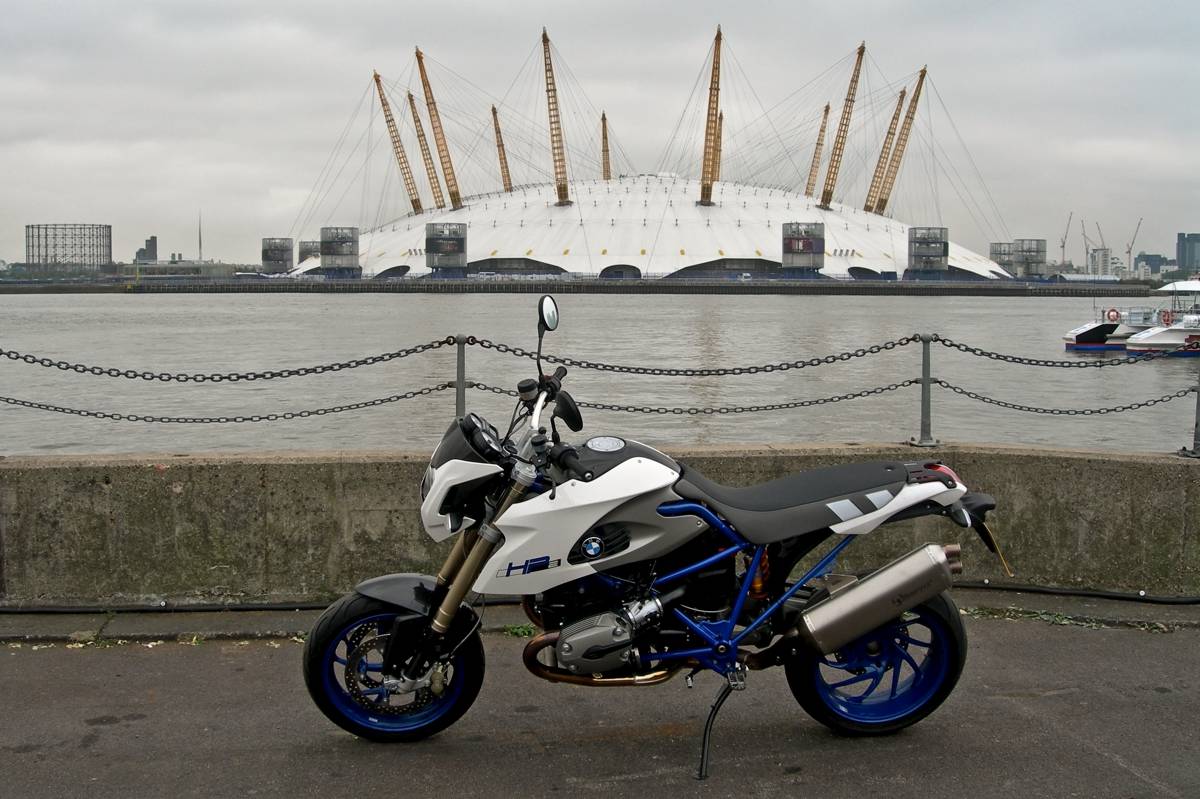 I've had the bike five days already but not had the chance to escape London where it feels like a caged animal, so I took it to container city where people live in steel cages and think it's cool. The HP2 is huge fun in town but far too much so and far too tempting to be much too bad. If ever a bike needed one of those new fangled power mode buttons, this is it. I consider pulling a plug lead off but the growling warns me off. I park the bike outside the house and it shouts at my neighbours, there is just no stopping the Megamoto. Did I mention the brakes? You can take your radial this and radial that and shove it up your underseat, this bike has brakes that work with no fancy race-bred trickery or electronic frippery, the lever is like an iron bar, two fingers is all you need in any situation here.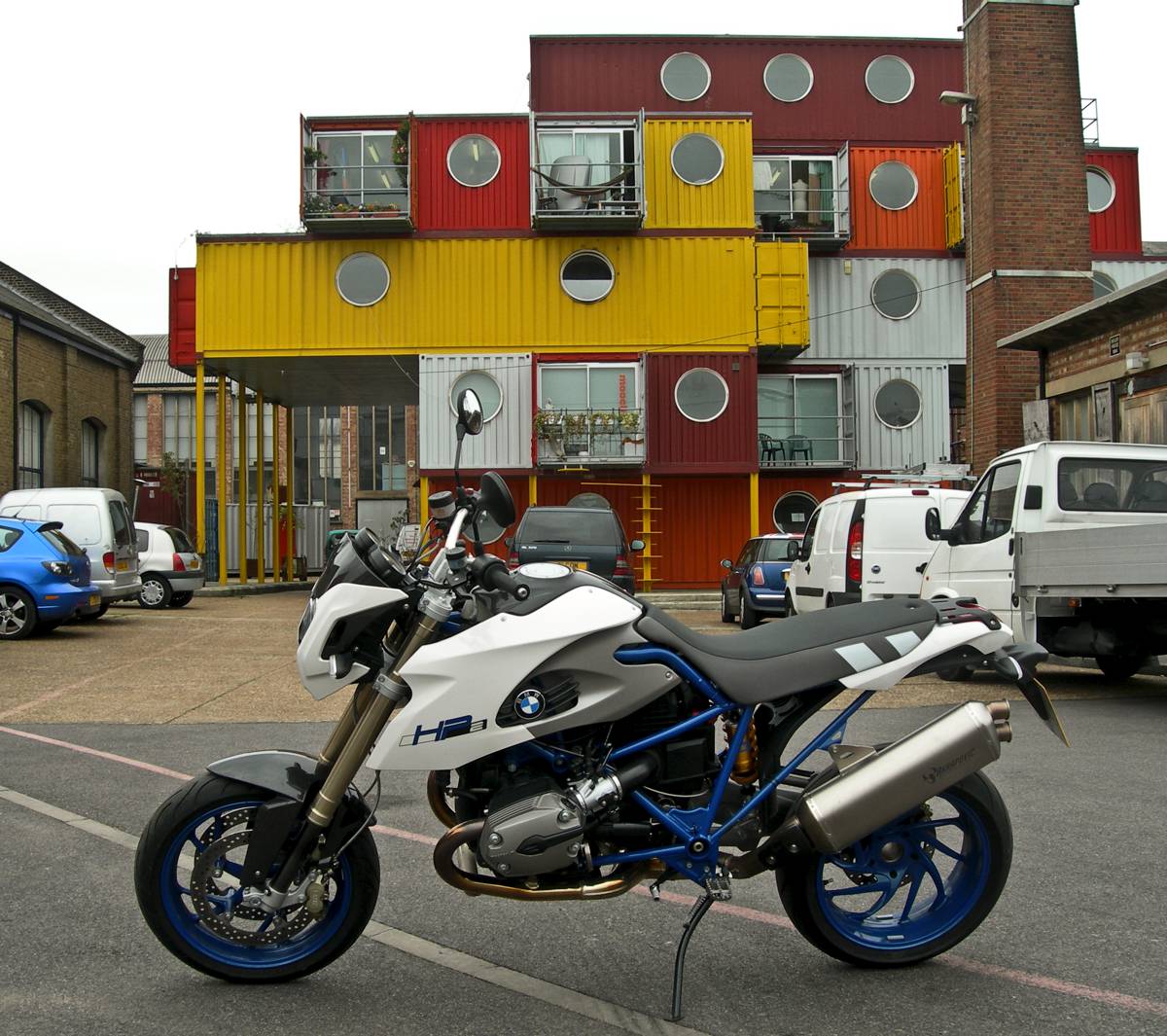 Let's ride. I'm up later than I planned but I'm ready to leave by 7am since there is no chain to oil and no luggage to pack, this bike doesn't do preliminaries. I've got all day so there's no need for motorway sadness and before long I'm living it up on the A roads of the home counties. Megamoto senses my comfort zone and counters by putting the fuel light on. Hang on, we've barely started yet, I've covered less than 70 miles and I need to stop for fuel? I fill up and decide to push my luck before the next stop and sure enough the next fuel station is reached, under power, 110 miles later. Ignore the fuel light, it's on all the time, this bike is an attention whore.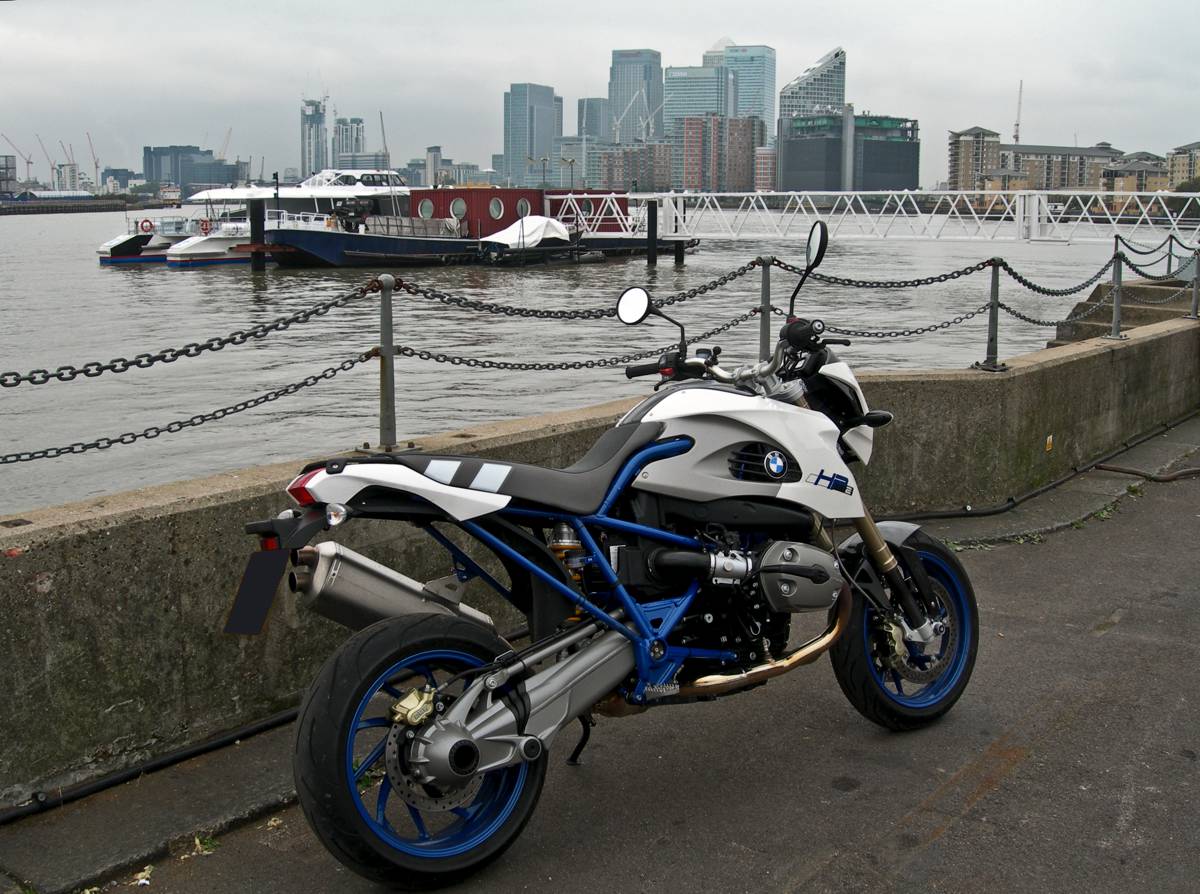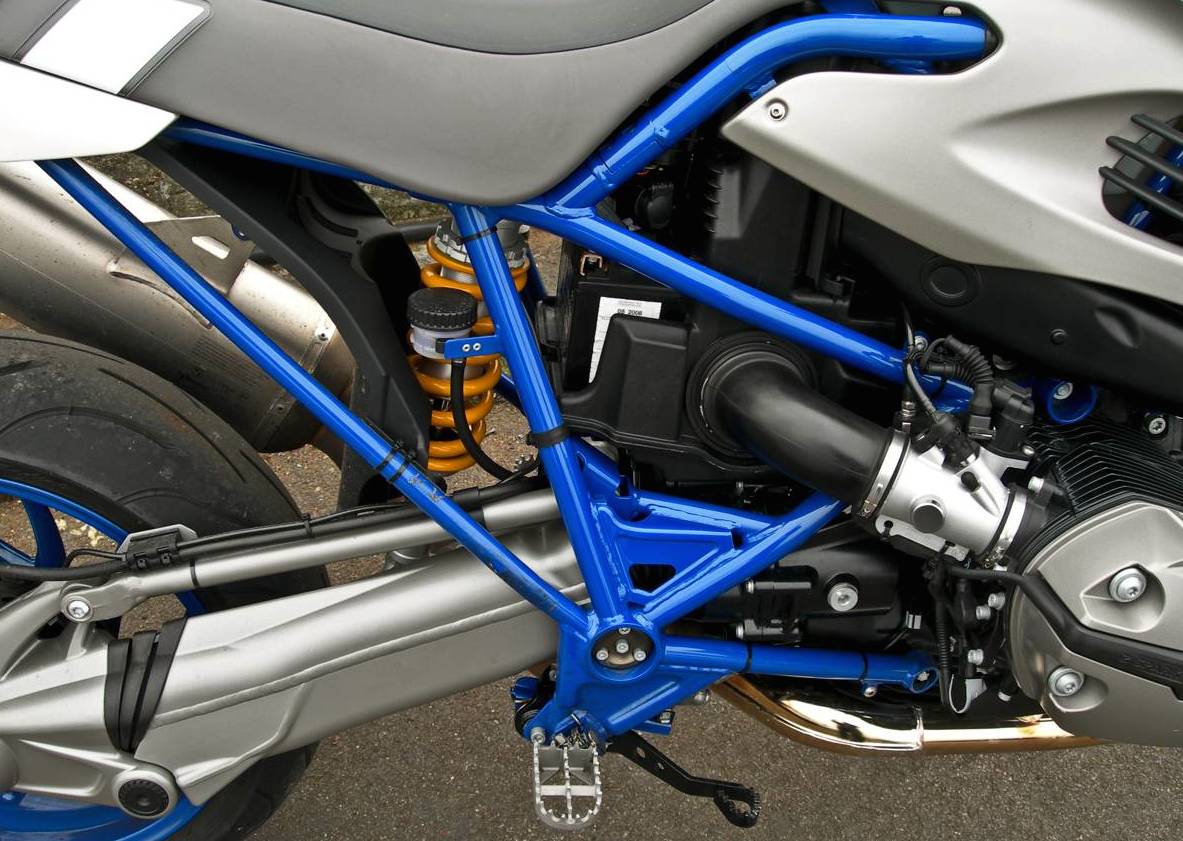 I've not planned a route, I'm just riding north, focussing on the riding, not where I'm going so I'm slightly surprised when after what seems like no more than a few hours, I pass a large rocky outcrop off the shore to my right, signposted as Holy Island. I pass the Scottish border at midday, at which point I've already decided that BMW will not be able to account for one of their Megamotos from now on. This is just a hilarious motorcycle to ride and I'm buzzing so much that when I stop outside the Hard Rock café in Edinburgh for lunch at 1pm, I fully expect them to roll out a red carpet and give me the VIP treatment. It makes you feel that special. The waitress asks where I've come from today and seats me next to a cabinet containing Ringo Starr's leather jacket. Very Rock 'n' Roll. So it's two o' clock and I've got all afternoon, I'll head southwest through the Borders and before long I'm looking at the Irish sea in Solway Firth.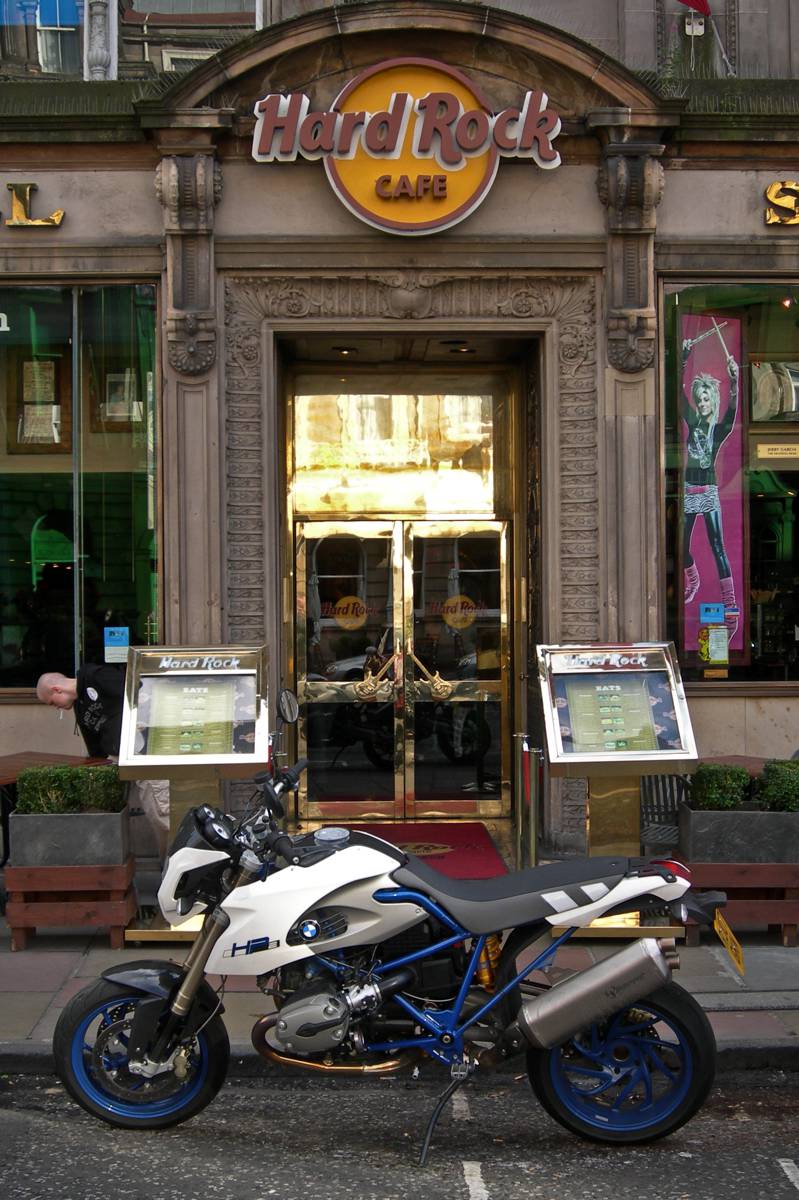 If you want to ride a bike in a beautiful landscape with perfect roads and no traffic, just head for any of the extremities of this island in the autumn. But you can't take a Megamoto, there are only thirty coming to the UK, they cost slightly more than Amy Winehouse's bad habits and I've stolen this one, so that leaves only twenty nine, all of which have been bought by the Sultan of Brunei since nobody else can afford them. Rare? There are more dodo's mixing it with the Trafalgar Square pigeons than there are Megamotos.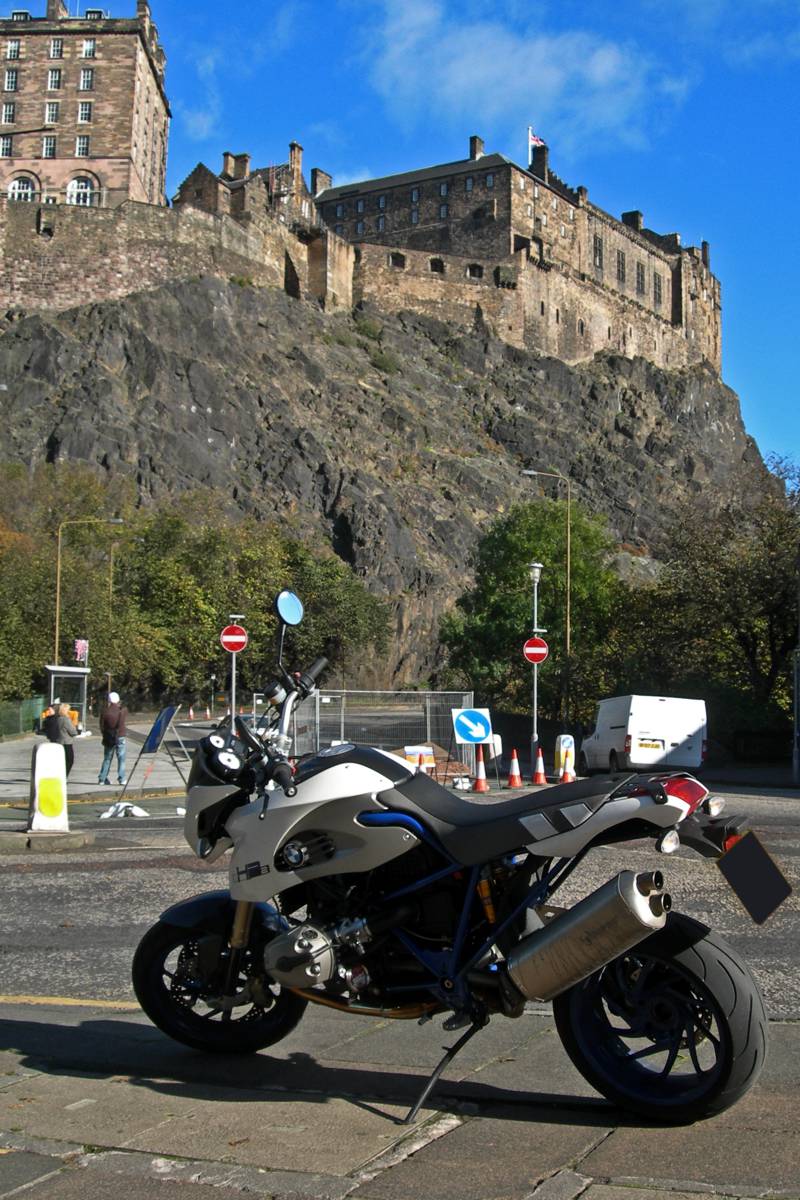 So, it's mid afternoon and I'm on the west coast of Scotland with a fleet of petrol tankers following me, the world is my oyster. I head for the Lakes and marvel at the lack of rain, but find it more extraordinary that I've covered five hundred miles since breakfast, it's 4pm and I'm ready for more. This is truly addictive and I don't wanna go to rehab. I wanna go to the Yorkshire Dales, stop on the way at Kendal (mint cake for me, gallons of super-unleaded for MM) then into the Dales. Sheep are strange creatures and when one of them decides to greet the approaching, bellowing white behemoth as a long lost relative by bouncing happily into the road yards in front of me, I'm thanking BMW for those brakes and a certain amount of off road ability.
I stop for a suddenly much needed smoke and ponder English law. This bike is technically a working vehicle so does that mean I'm not allowed to smoke on it? Should I dismount? I consider various arguments before awarding myself a case dismissal on the grounds that the bike has no provision for a pillion, so I cannot be affecting any others with my smoke. Then there's the fire risk, but since the fuel tank is invariably empty, this too seems irrelevant.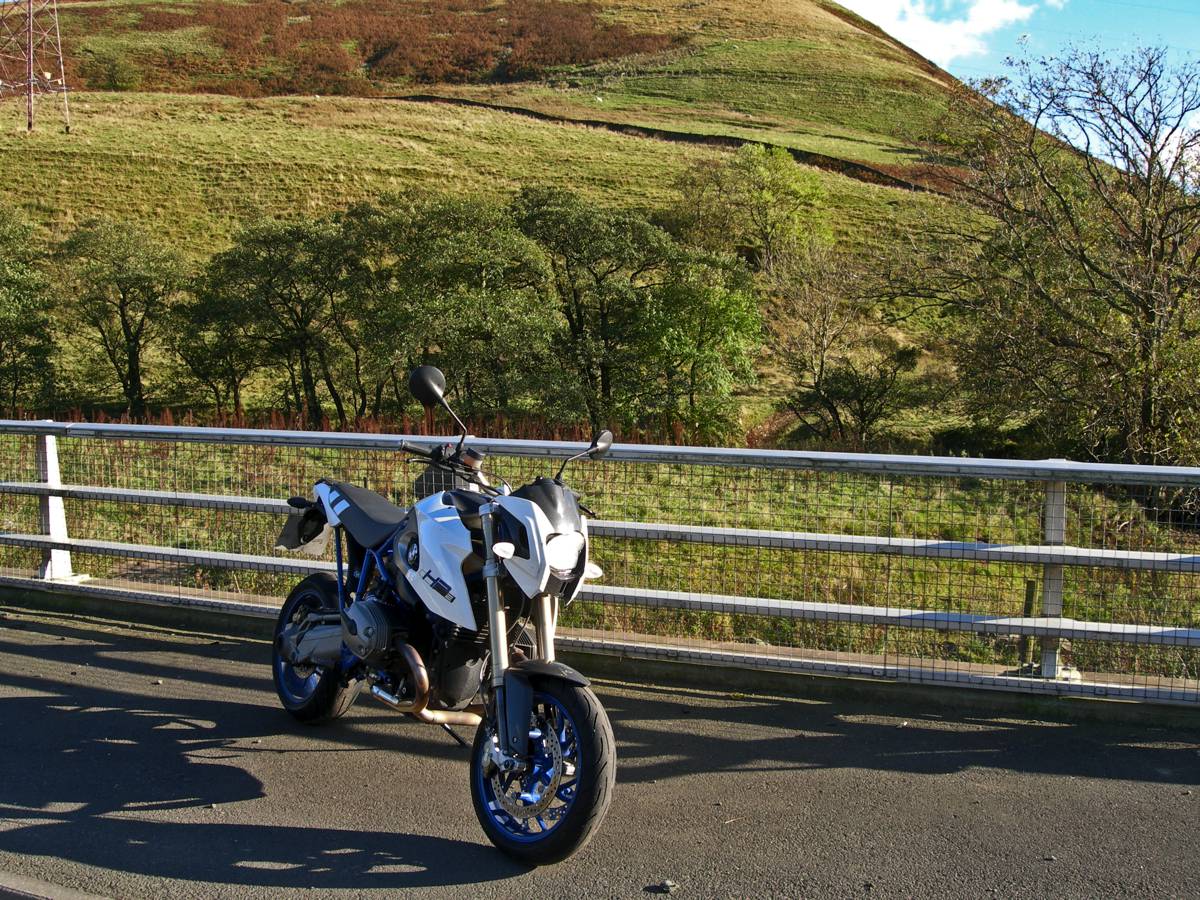 I'm staying with friends in Huddersfield where I arrive at 7pm. Twelve hours after leaving home I've ridden nearly seven hundred miles on a bike that one most certainly cannot tour on. This bike just doesn't make any sense at all. Perfect.
When did bikes ever need to make sense? What's sensible about riding to Edinburgh for lunch? Why is it so expensive? I'm fairly sure that the build cost of this bike is less than that of a R1200GS, BMW's best selling bike ever, which is stacked to the gunnels with clever suspension, electronics and all manner of expensive kit. The Megamoto has a frame, made of steel, not unobtanium, an engine, which BMW already produce and have done for the past seventy years or so, and some wheels. That's about it — they don't even offer any options. It could be priced very reasonably, then everyone could have one.
Ah, light dawns on naïve scribe, most people that ride the GS use them to commute to work and for the odd Sunday afternoon bimble. None of them ever go off road and there is never anything except a small pack of sandwiches in those panniers. If the HP2s were cheaper, all of these people would have bought a Megamoto instead as it's actually a far better tool for the job. That's why it's so expensive, it has to be, else nobody would ride anything else, sales of the GS would collapse and when Ewan and Charley want to ride to the moon, they'll have to go knocking on KTM's door again.
If you see a bike that looks like a Megamoto, but is matt black and has no number plate, it's definitely not one and it's definitely not me riding it (huge apologies to Vines BMW of Guildford, who are minus one motorcycle and after they were so incredibly helpful too).
Rod Young
BMW HP2 Megamoto £12,595 OTR*
*This first appeared in issue 124, January '08
Please follow and like us: