"Can you ride it?"
The woman was looking at a life size model of a 2019 Harley Davidson Fat Boy made entirely of LEGO bricks.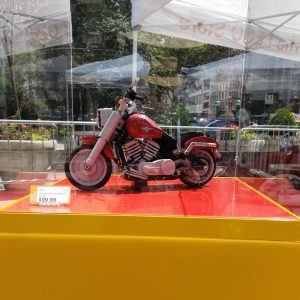 I was impressed by the LEGO model and sympathetic to her question. My generation of little boys was brought up on LEGO, Lincoln Logs, and Erector Sets, among other such toys. Some kits also included motors to make whatever you built move. Why shouldn't this one?
The attendant explained to the woman who asked the question that she couldn't ride the model because it had no engine. However if she wanted to look at a motorcycle she could ride, there was a real Harley Davidson Fat Boy twenty feet away. That assumed she could make her way past a circle of young and middle-aged men taking pictures of the 2019 Fat Boy.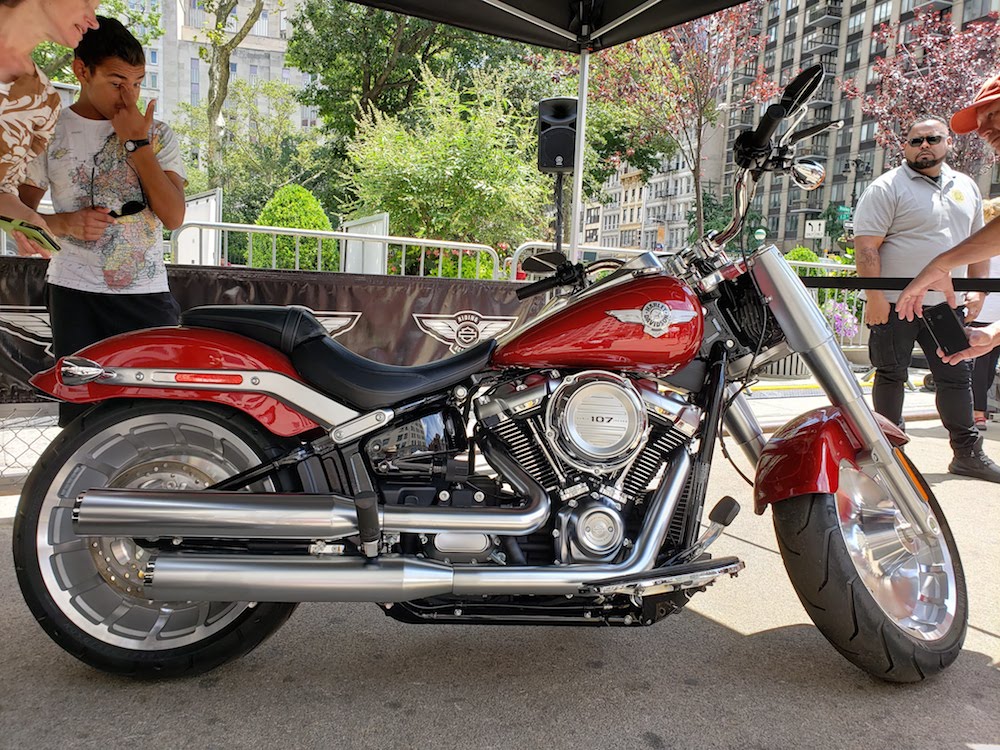 The event held in New York's Madison Square was for the launch of LEGO's Creator Expert model kit of a Fat Boy. You could buy one across the street, at LEGO's Flatiron shop on Fifth Avenue and 23rd Street for $99.99 (they're about eighty-five quid here – Ed). While the life size model took twenty-five people 865 hours to assemble 69,569 pieces into a non-functional motorcycle, according to the attendant, the kit has a mere one thousand pieces or so and is presumably a solo effort, however long it takes. There are experts and there are Experts.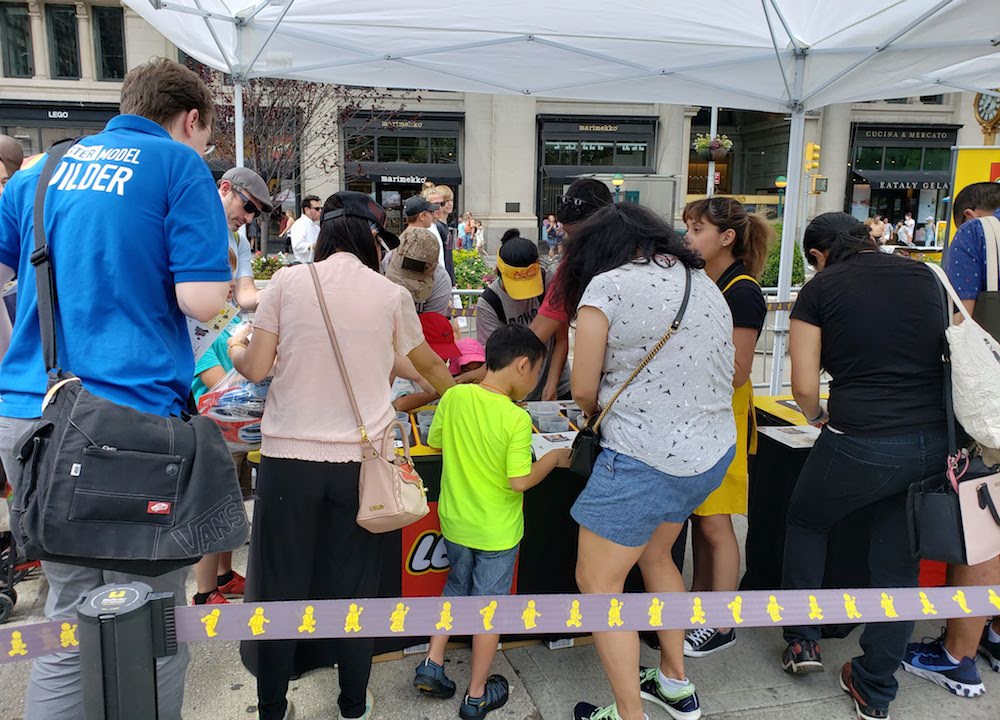 Translating the Harley – with its "wicked" red paint scheme, teardrop tank, and dual exhaust pipes – into LEGO form was the responsibility of Mike Psiaki, whose title is 'Design Master'. As for the co-branding effort as a whole, Brad Richards, Vice President of Styling and Design at The Motor Company, noted in a press release that LEGO "inspired the imagination and creativity of many of us at Harley-Davidson from a young age, including myself".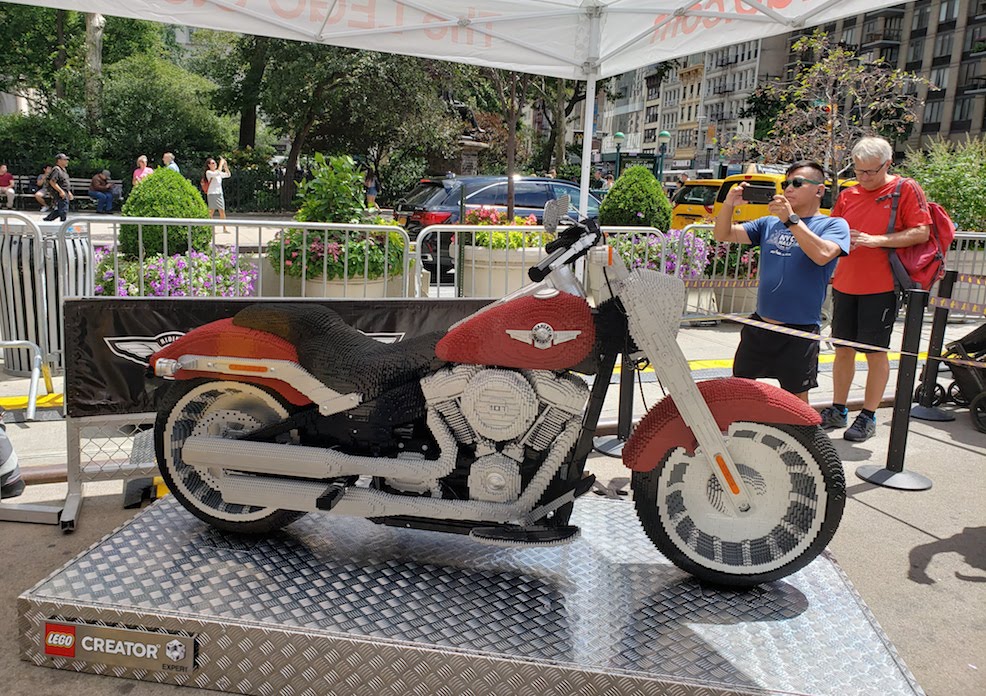 Of course, successful co-branding requires the whole be greater than the sum of its parts. While the 88-year-old Danish company enjoys a positive image, Harley-Davidson is on shakier ground. Its fortunes are on a downturn and, with part of its image being the ultimate American brand, it may face further economic complications in the age of Trump.
Nor is the Fat Boy LEGO's first motorcycle "build", although it is the first with an actual marque and association. For some reason, the Nimbus, a Danish marque that ceased production around 1960 and now enjoys a worldwide association of vintage riders, was not on LEGO's radar screen.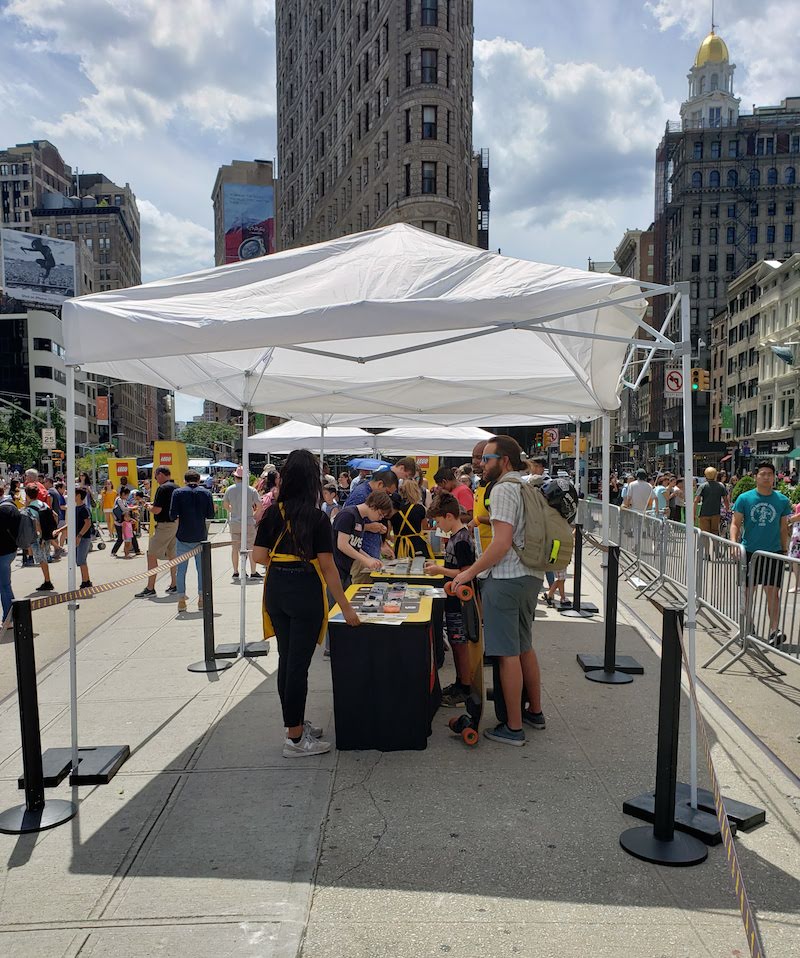 I turned up at the event shortly after it was scheduled to start in a corner of Madison Square known as Flatiron Plaza, which is across one street from the Flatiron Building and across an avenue from the branch store in New York. It was already mobbed by children not yet old enough to meet the recommended age range for the model. However, they were happily lined up to grab bricks from a number of trays to build something they could.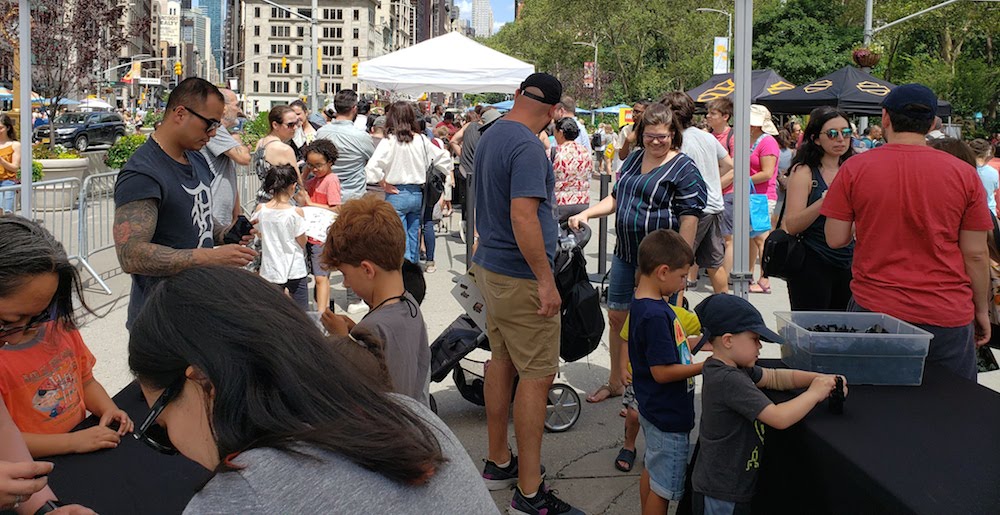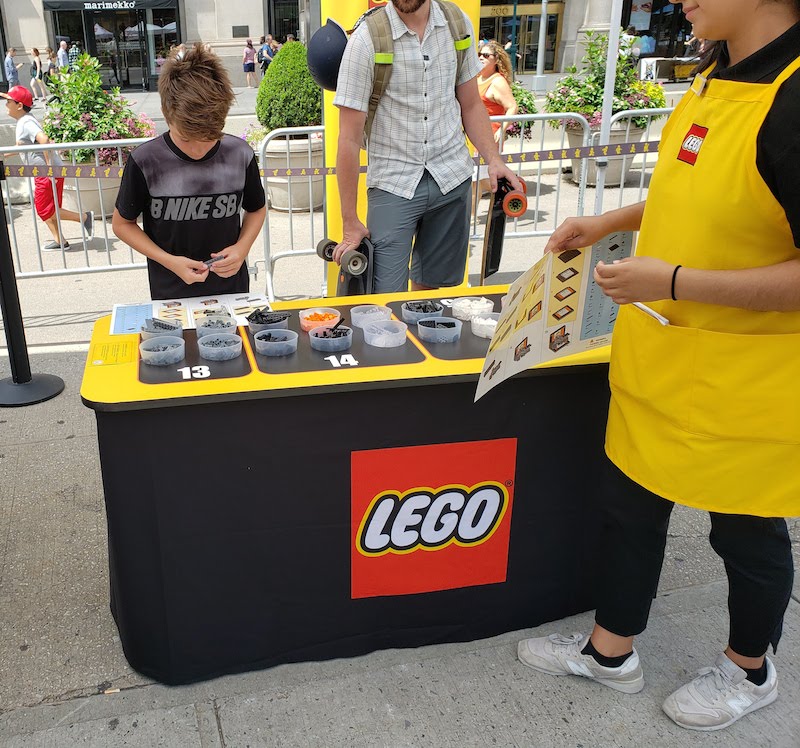 A polite comment to one of the staff about all the children elicited "I'll get to build all day" as a response, delivered with leaden enthusiasm. One infant, strapped to his mother's chest, kept trying to grab LEGOs with both hands and feet. I didn't know little toes could do that.
There were more fathers than mothers, more boys than girls. More fathers were drawn to the real motorcycle, while boys favored the LEGO version. How many, if any, crossed Fifth Avenue to the store to buy a Fat Boy kit is not known. When I looked, it was all but empty of customers.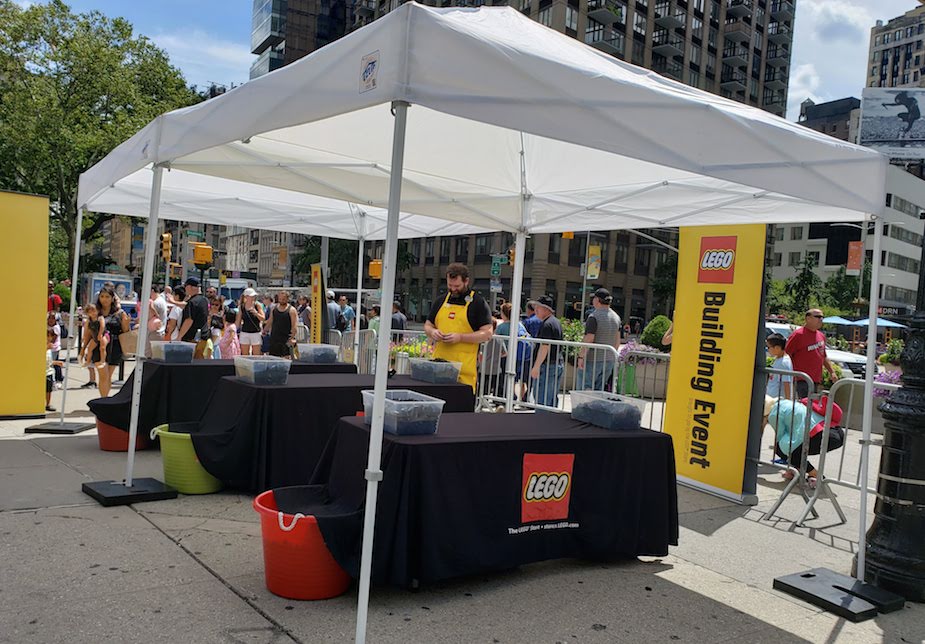 As for real motorcycles in action, the only one zipping by the launch while I was there was a Ducati Scrambler.
Jonathan Boorstein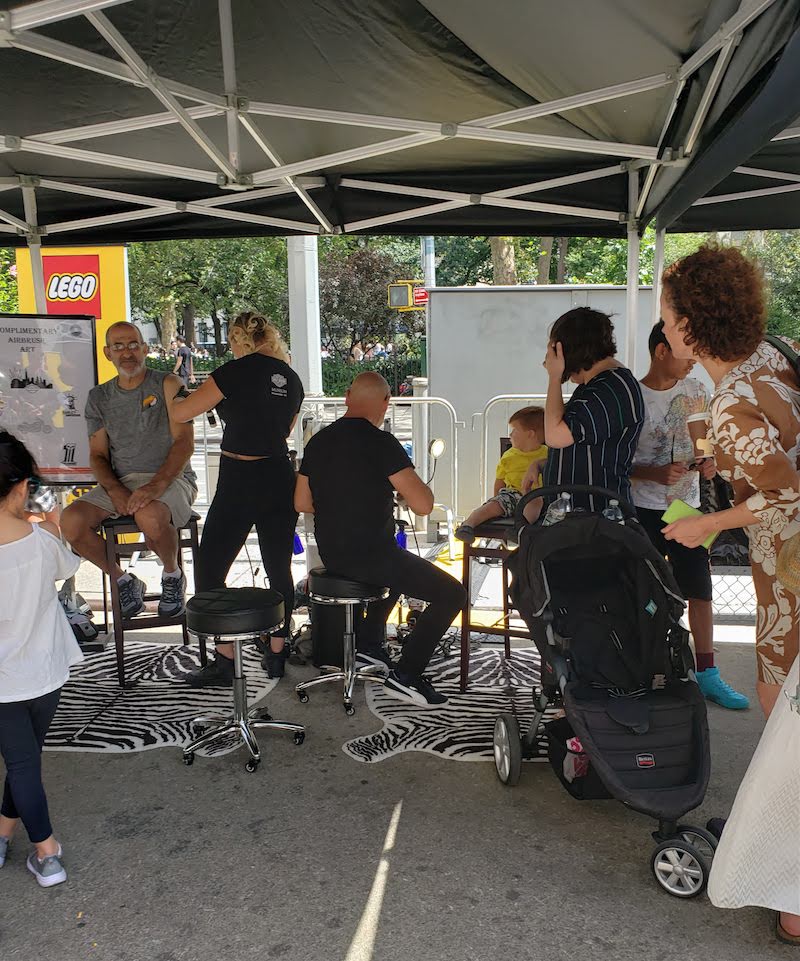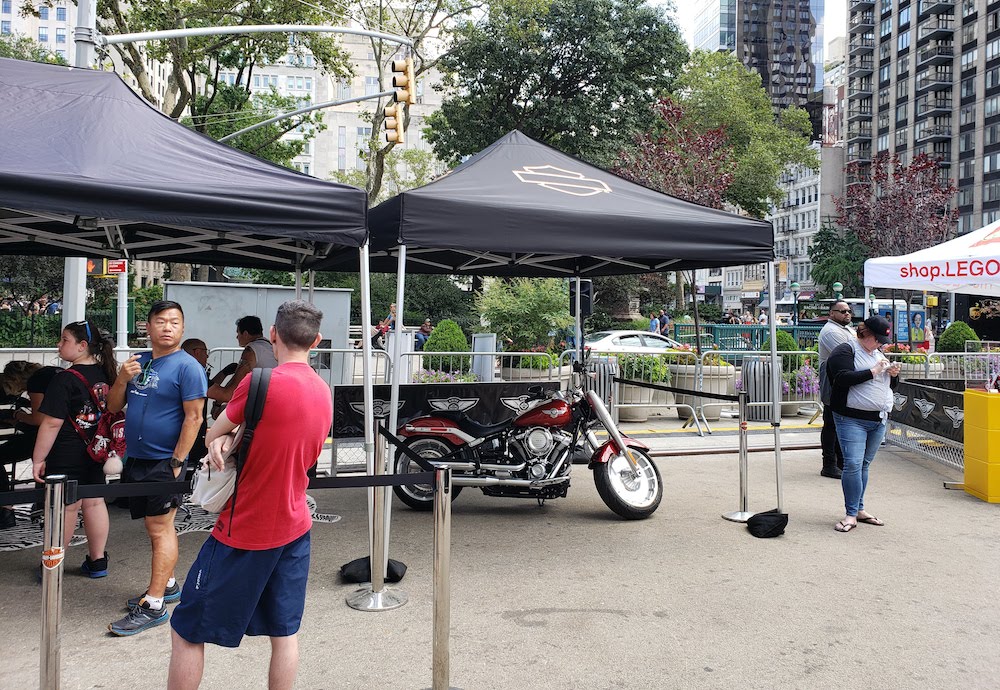 Please follow and like us: