It could be said that the Norton Motorcycles brand has had something of a chequered history over the past 125 years.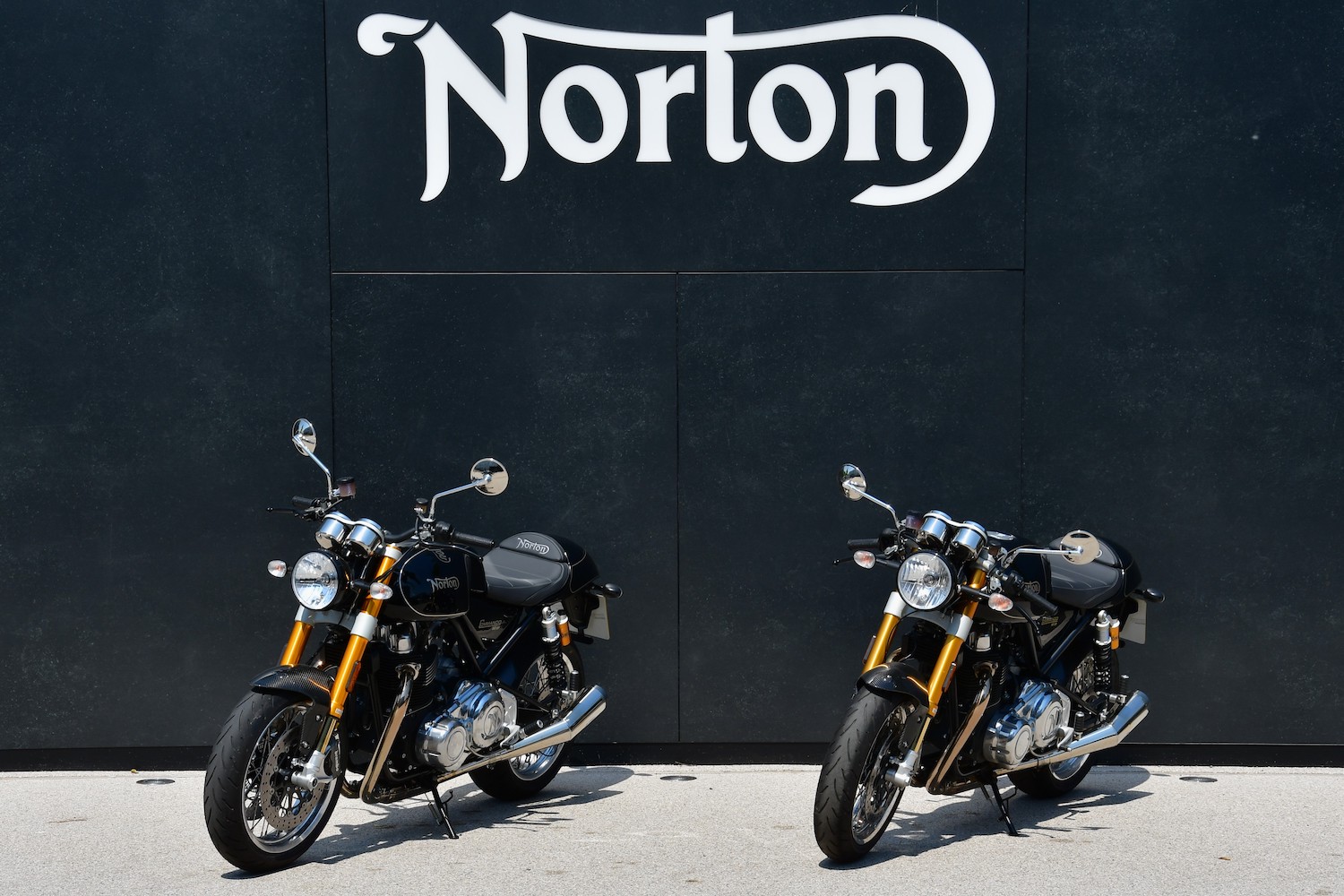 The company was originally started by James Lansdowne Norton in 1898 in Bradford Street, Birmingham, just six and a half miles from where the company is now based. Since those days there have been various tales of success and failure along the way, possibly the most notorious of which was during the Stuart Garner era.
In 2008 Garner acquired the brand and the rights to develop a new machine, loosely based on an original design concept by American Kenny Dreer – the 961 Commando. This new machine featured a 961cc air cooled parallel twin, with a 270° crank as originally found on the Yamaha TRX 850, but also used these days on the latest Royal Enfield 650 twins among many others.
What's so good about a 270° crank I hear you ask. Well, it apparently removes the inertial torque when both pistons are in parallel, like a 360° crank, or the inherent vibrations caused by the 'one-up, one-down' 180° crank. I'm not going to argue the point about whether that's good or bad, but suffice to say, Yamaha adopted the 'crossplane' crank principle for the R1 in 2009, and that seemed to go OK.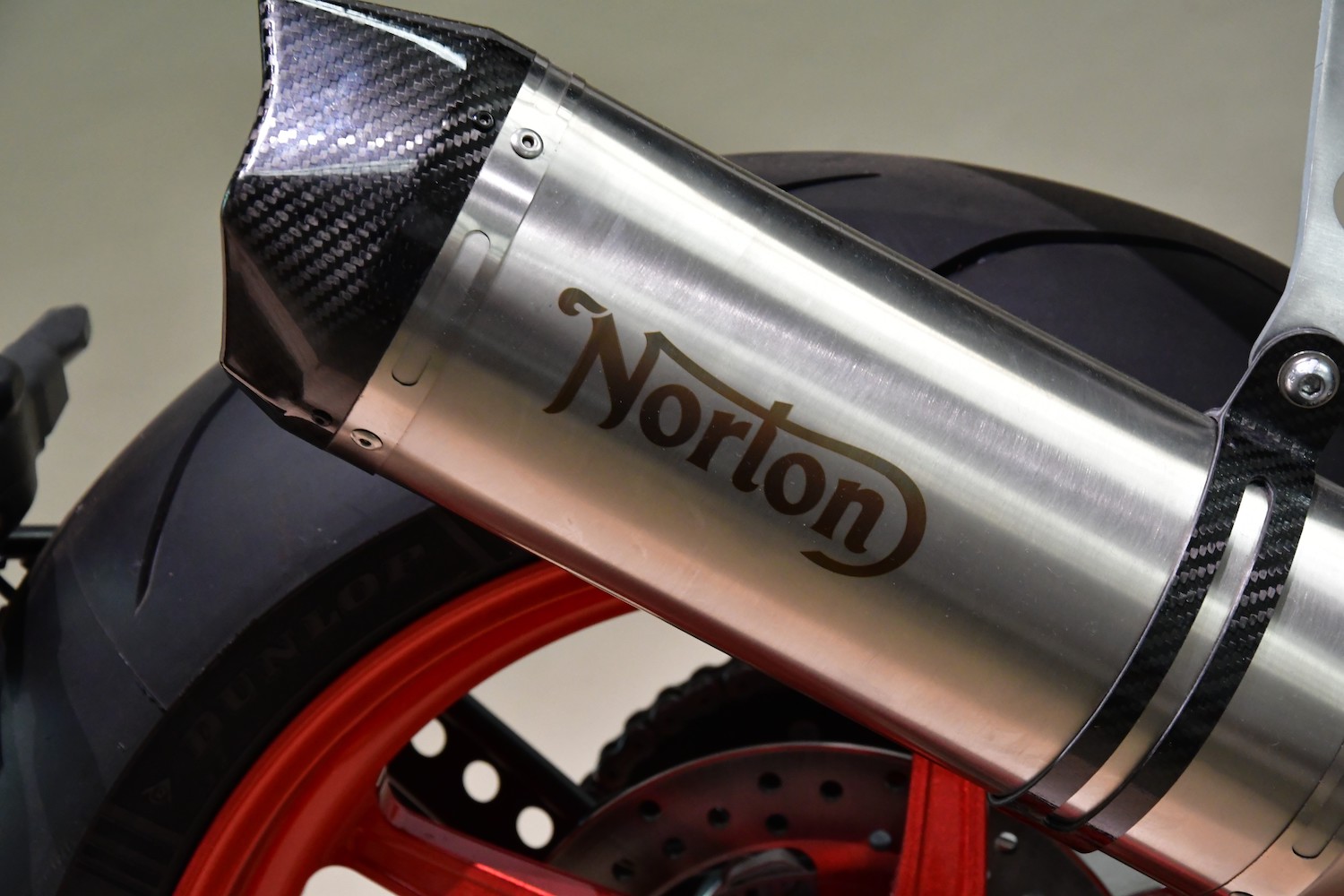 But I digress; while Stuart Garner succeeded in resurrecting the brand and creating a modern take on the Commando, it would be fair to say that by 2020, things had gone seriously wrong, and amid a maelstrom of financial irregularities Norton Motorcycles went into administration. While it's tempting to drag over the coals of what happened, enough has been written about that chapter already. If you're curious, Google is your friend.
I'd like to focus on the positives and tell you about the new company.
In April 2020 it was announced that India's TVS Motor Company had acquired the business, and less than two years later they opened a new production facility on the site of a former John Lewis distribution depot in Solihull. You can watch a video of the construction process here.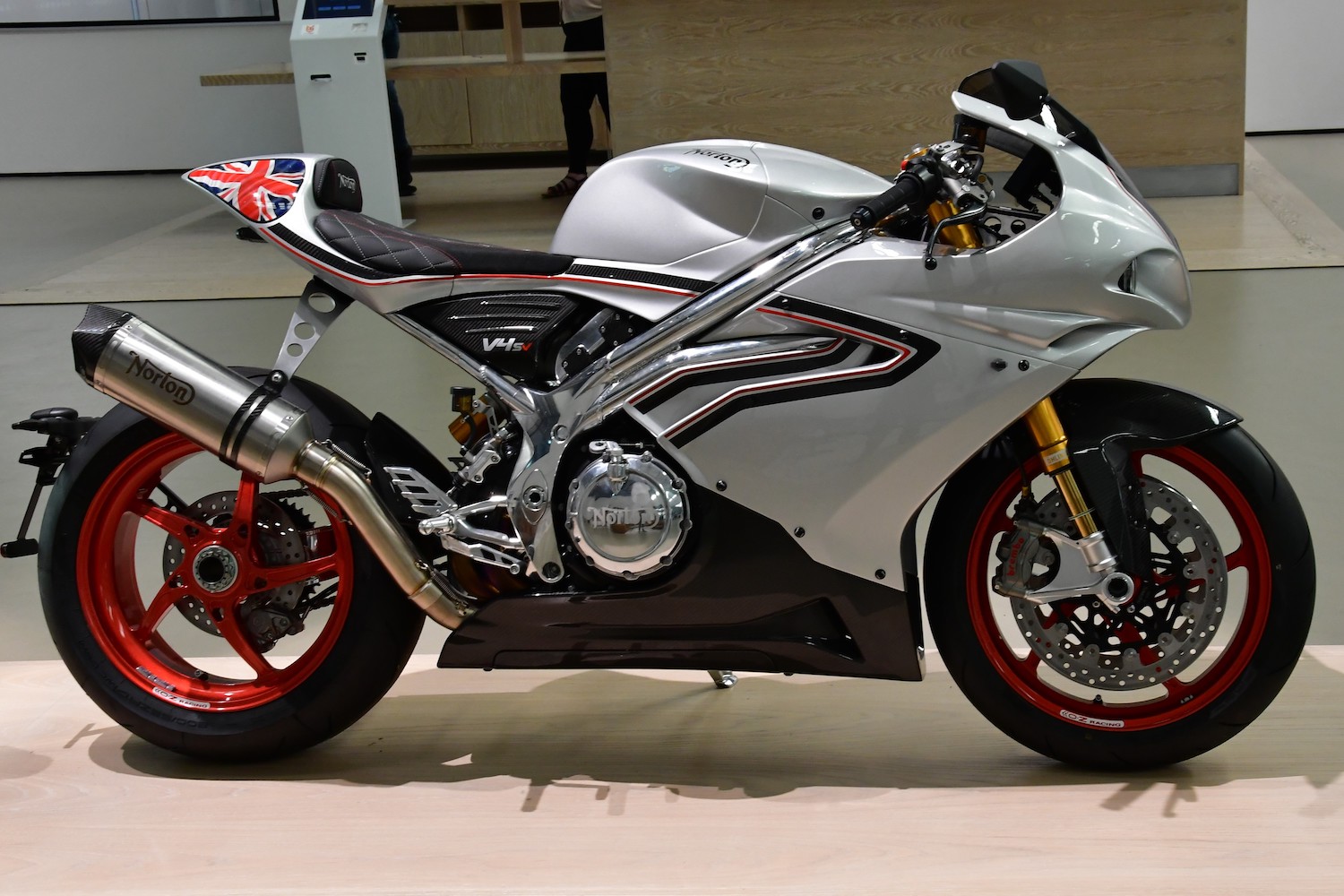 I visited the factory in mid-June 2023, and was shown around by Client Support Advisor Kevin Wilson. Kevin explained that like many modern automotive facilities the factory was more of an assembly plant, with components being shipped in from a number of suppliers.
The majority of the components are held in a huge quarantine section, before being 3D batch scanned to ensure they meet the company's rigorous quality control standards.
Like most factories, once away from the reception area photography is banned, so unfortunately I'm going to have to rely on words alone to describe my experience, although there's a very good YouTube video by Lamb Chop Rides.
After passing the 3D scanning office I was shown into the frame building area, and while inevitably some of the components of the new Nortons are bought in and assembled, the frames – both steel for the Commando and aluminium for the V4SV (more of which later) are hand-fabricated in the factory.
I have to say all the welding I saw looked pretty top notch; but the quality control team were clearly meticulous, and there were a small number of frames that had been rejected and were about to be resubmitted to the frame builders for remedial works.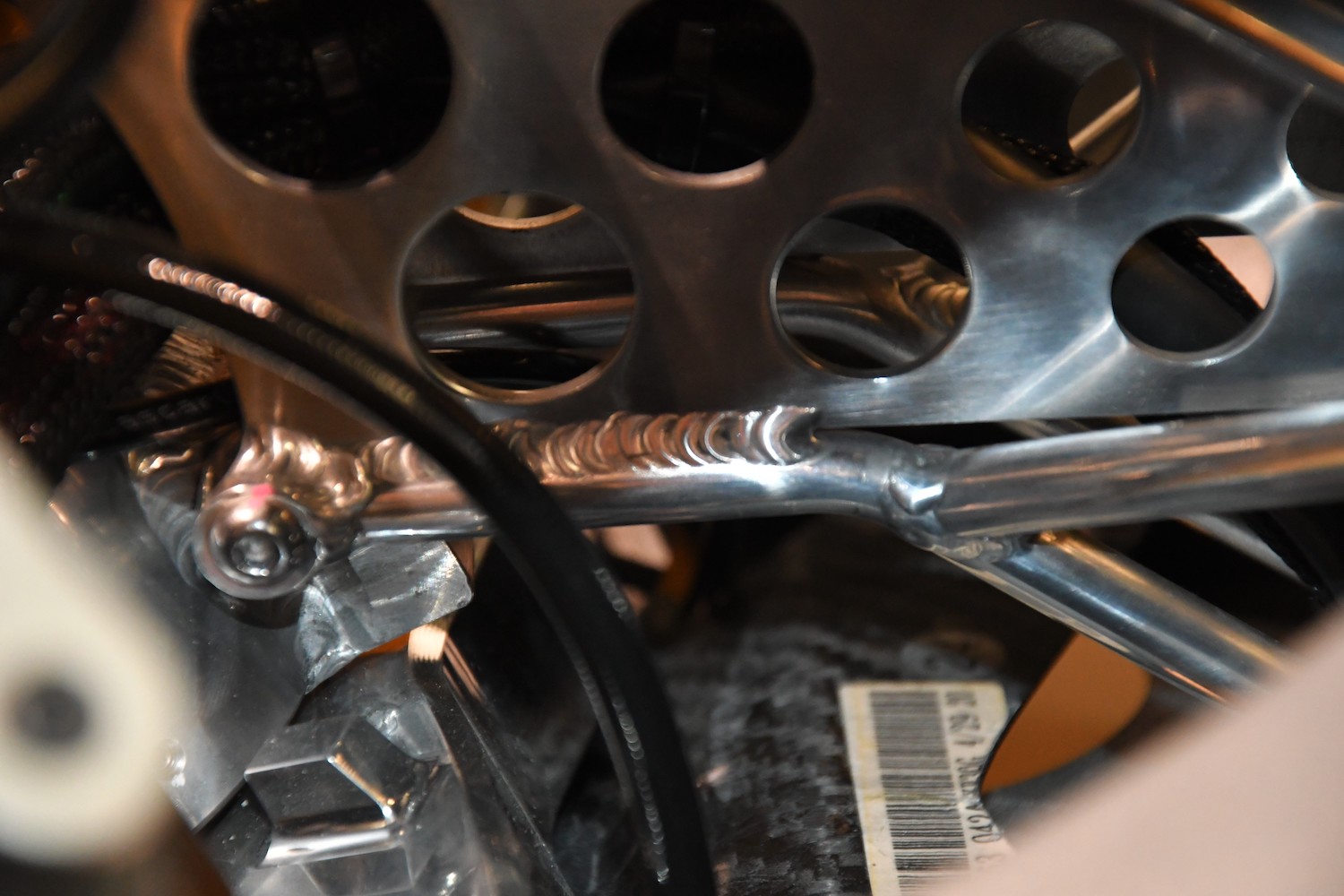 Leaving the welding/jig area, we watched one of the engineers building an engine. This wasn't a chap in overalls with an array of greasy tools lying around; it was more akin to a set of very detailed Lego build instructions on a screen, complete with flashing LEDs showing which tools to use for each process; the tools being located (and presumably recharged) on a small rack in front of the monitor.
The next section was the assembly area. Each bike and its various components were set on trollies, with those various components placed in numbered trays, and similar to the engine shop, each station had a screen giving the engineers detailed instructions for each phase of the build.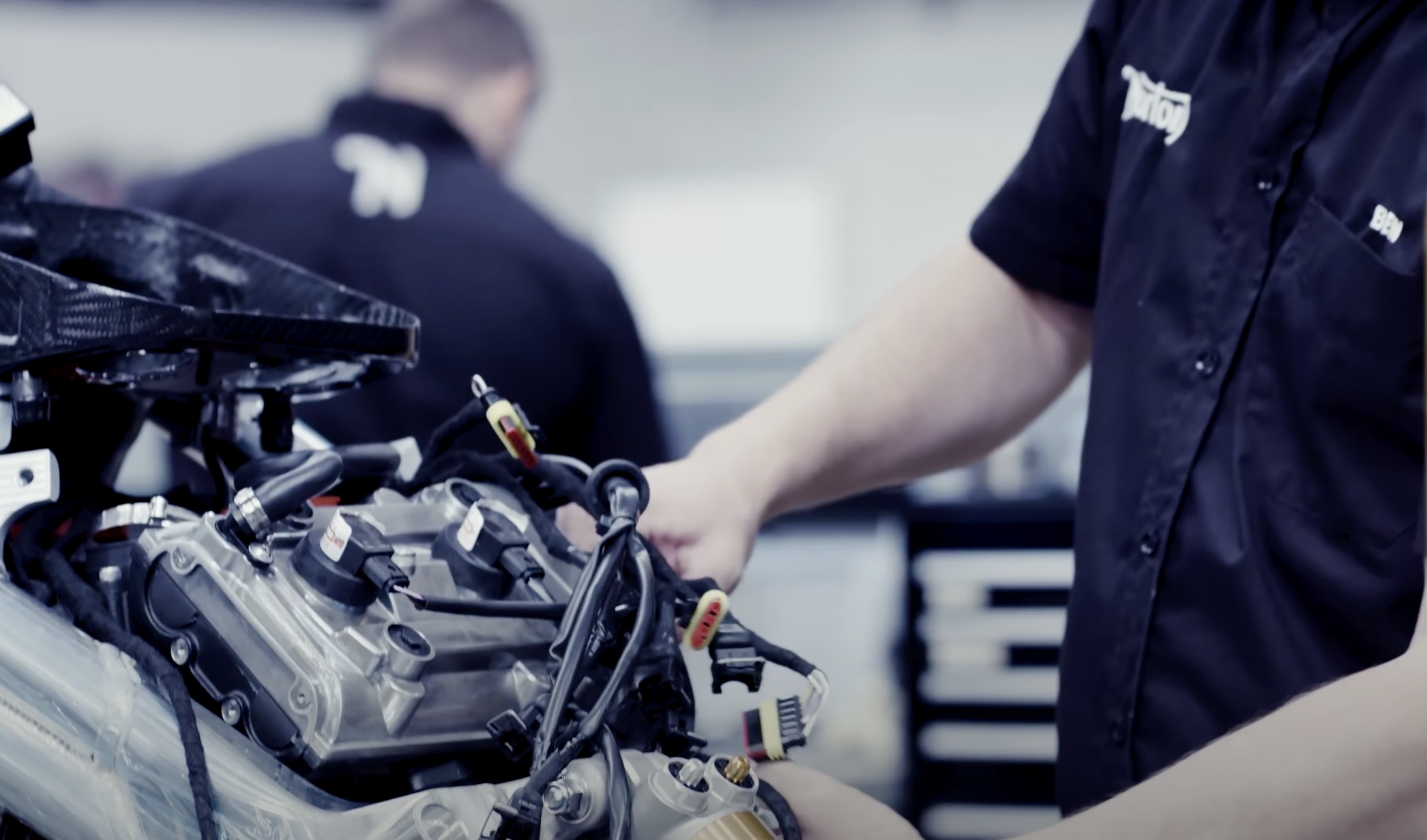 Look, I'm simplifying things massively here; these bikes are hand built, and as illustrated in the Lamb Chop Rides video the quality control was rigorous in the extreme and the attention to detail impressive to say the least. More than 35% of the bike has been re-engineered to improve quality and reliability since the Garner era.
Once a bike has been assembled on their mobile platform, the next stage is a 'white glove' inspection to check the hand applied pinstripes and paint finishes. The Commandos are finished in either Manx Platinum with traditional red and black pinstripes, or black with gold stripes.
Commando engines are available in either an aluminium finish or the 'Corvid' pack, with the crankcases, barrels and cylinder head having a black finish, with machining on the barrel fins.
Other options include the choice of black or chromed rims for the spoked wheels.
The bikes then enter a tunnel fitted with dozens of varying shades of LED strip lights designed to pick out even the tiniest flaw for the examiners. Talk about making things difficult for yourselves.
The V4SV – assembled on the same line – was also available in two finishes, which set off the hand polished aluminium frame a treat.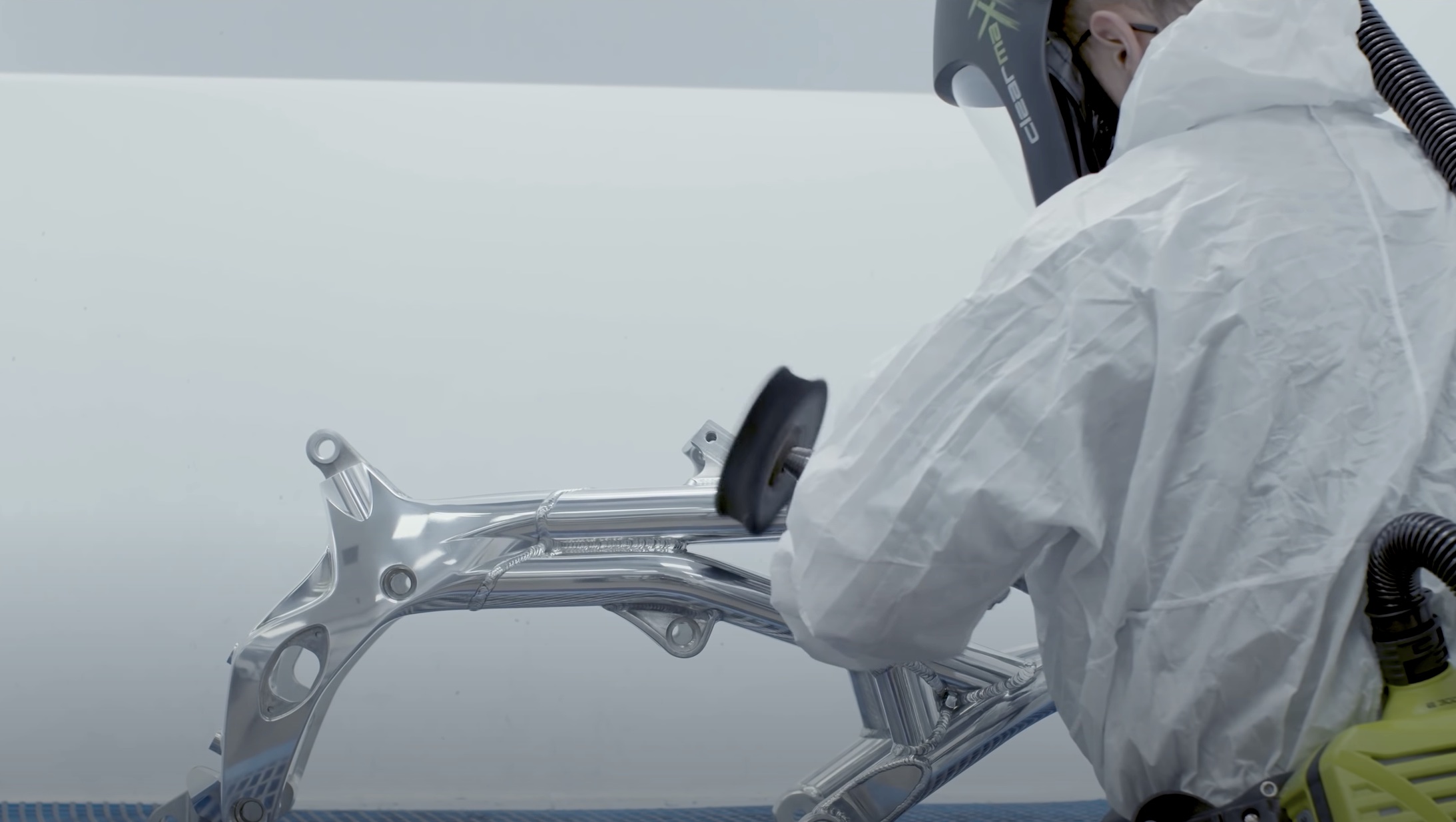 According to Norton's website, you can opt for the Manx Platinum bodywork with red and black pinstripes, full colour Union Jack and black front number board. These bikes are fitted with tasty red OZ Racing forged aluminium wheels. The finishing touch is a lacquered carbon fibre belly pan.
Alternatively, (and looking absolutely magnificent in my humble opinion) you could choose the carbon fibre bodywork with an understated monochrome Union Jack design, grey pinstripes and carbon fibre BST wheels. Prices start at around £44,000.
Once you've pulled your tongue in and stopped drooling, the final stage of the assembly process was the dyno room. Every bike is filled with measured quantities of the various fluids that bring the metal to life and started for the first time. It's then run on the dyno, with the power output needing to be within a certain expected tolerance to pass muster.
There were a group of finished bikes – both Commandos and V4s ready for customers, and please excuse the continued hyperbole, but they looked exquisite.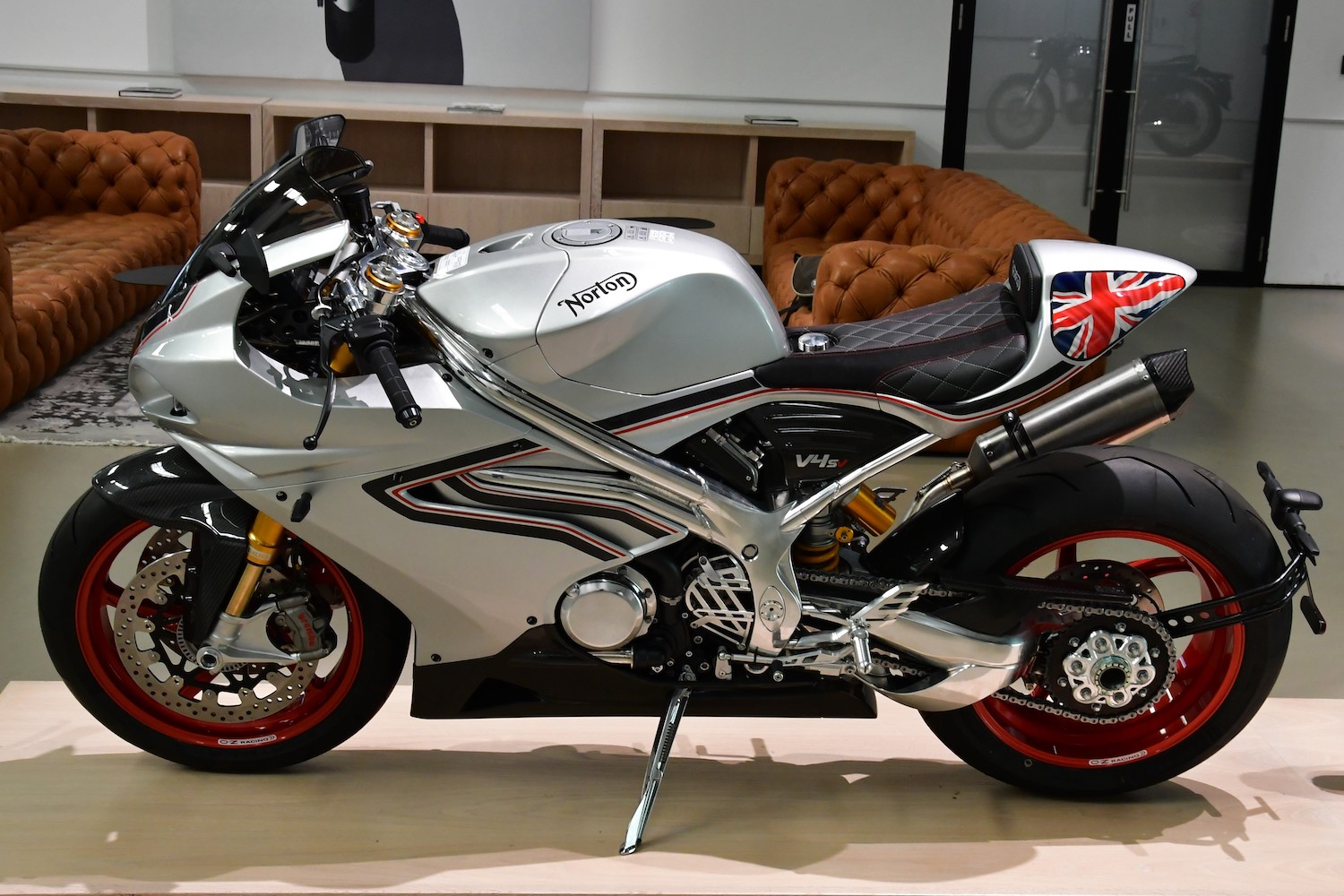 The reception area of the factory is spacious to say the least (I can only imagine other things are planned here) and featured generous Chesterfield-style leather sofas and a curtain shrouded turntable, displaying a prototype of the limited edition V4CR, which in basic terms could be described as a café-racer naked version of the V4SV.
There were a few vintage Nortons – don't ask me which ones – sitting on 'Bike Shed' style wooden plinths, and iconic Norton imagery adorning the walls.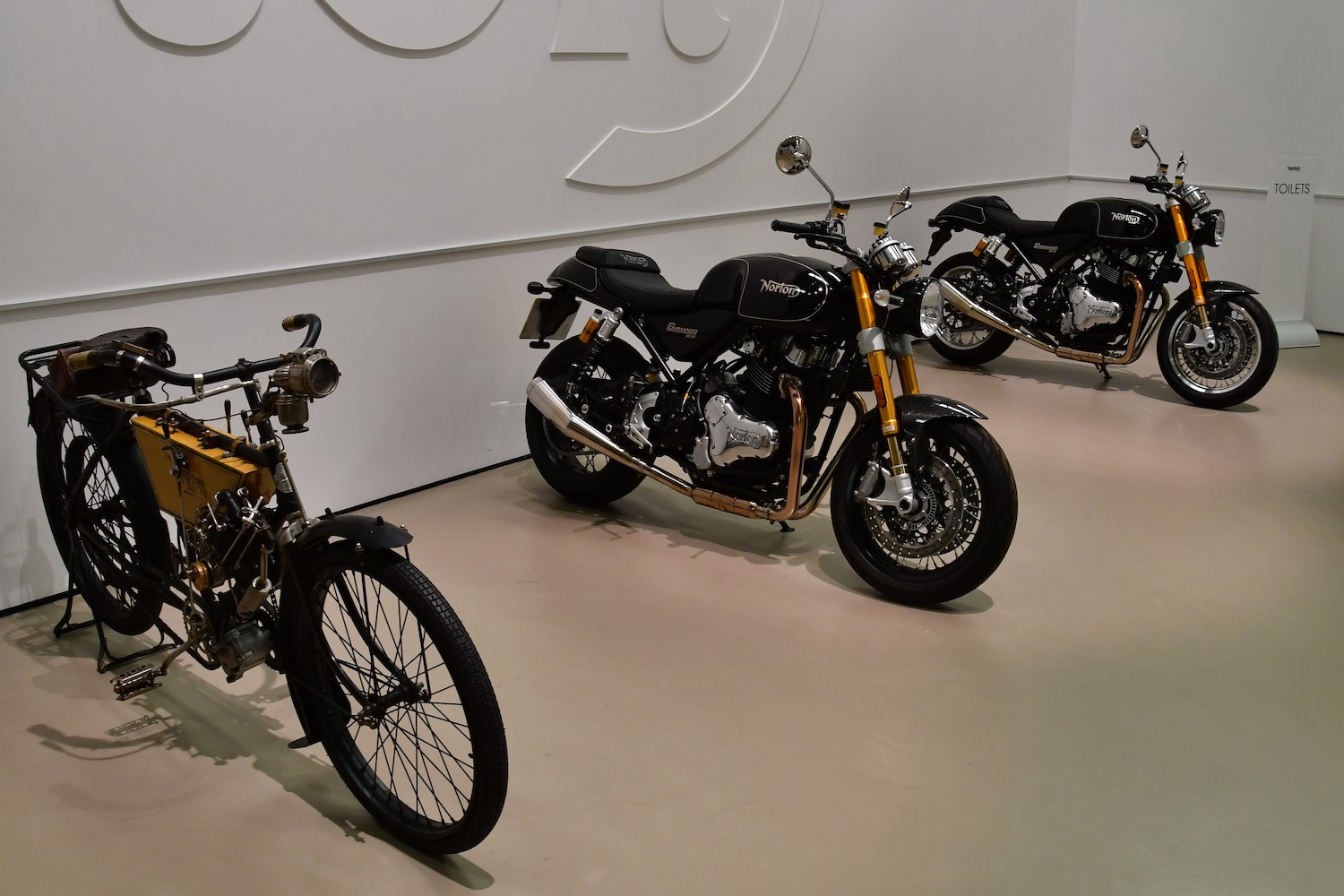 There were also a couple of Commando 961s and a V4SV.
But now it's time to talk about the real reason I was there – riding the Commando 961 SP, which seems to differ from the Café Racer (The Commando 961 CR) only by way of the handlebars and an additional £500 for the latter, which is fitted with clip-ons rather than the flattish bars of the SP.
I was offered the option of the CR, but as I'm approaching pensionable age with several years spent riding a Harley-Davidson Dyna I (probably sensibly) opted for the SP, which has a soupçon more 'sit up and beg' about it.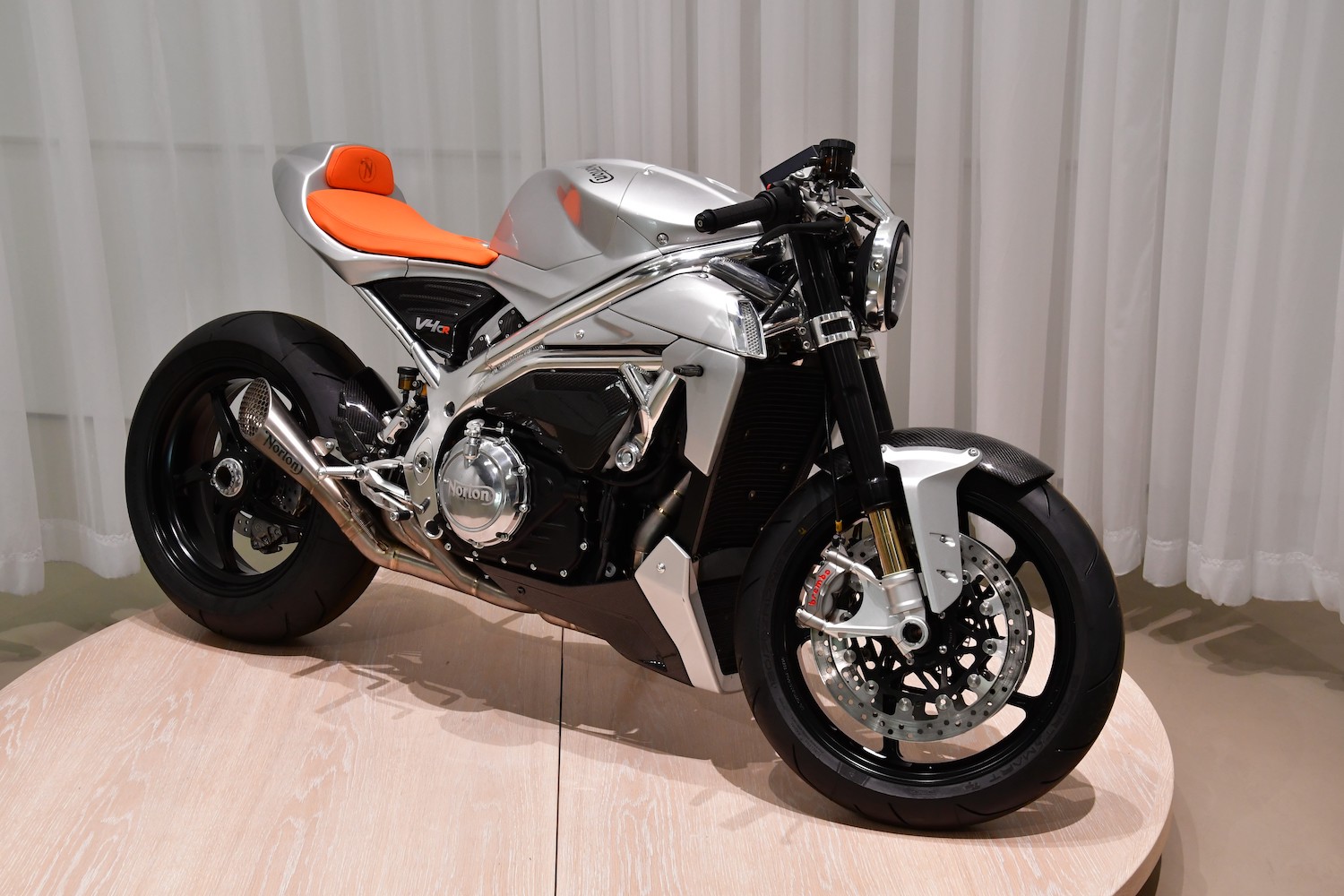 On being introduced to the bike by Kevin, I was told there were no modes or anything like that to worry about, with the novelty of a good old-fashioned ignition key nestling neatly between the speedo and the tacho.
You'll need a gentle key-fob to avoid scratching the machined billet top yoke. I was told that the indicator switch was just left or right and central push-in to cancel, 'like a Honda'.
I'm disappointed they didn't seem to self-cancel, which sounds a little petty, but most of the bikes I've ridden since the mid-1970s seem to have managed this.
But then none of them have been British icons.
The rest of the controls were pretty straightforward too, five speed gearbox, ABS, analogue clocks (it wouldn't have looked right with a TFT) and halogen headlamp.
With a name like 'Norton Commando' this is – as you'd expect – a classic looking motorcycle, with a slightly bulbous 15 litre tank and manually adjustable Öhlins suspension front and rear, along with a nicely embroidered seat complete with a stylish rear hump.
It says 'quality' almost everywhere you look, but then this is a hand-built premium motorcycle.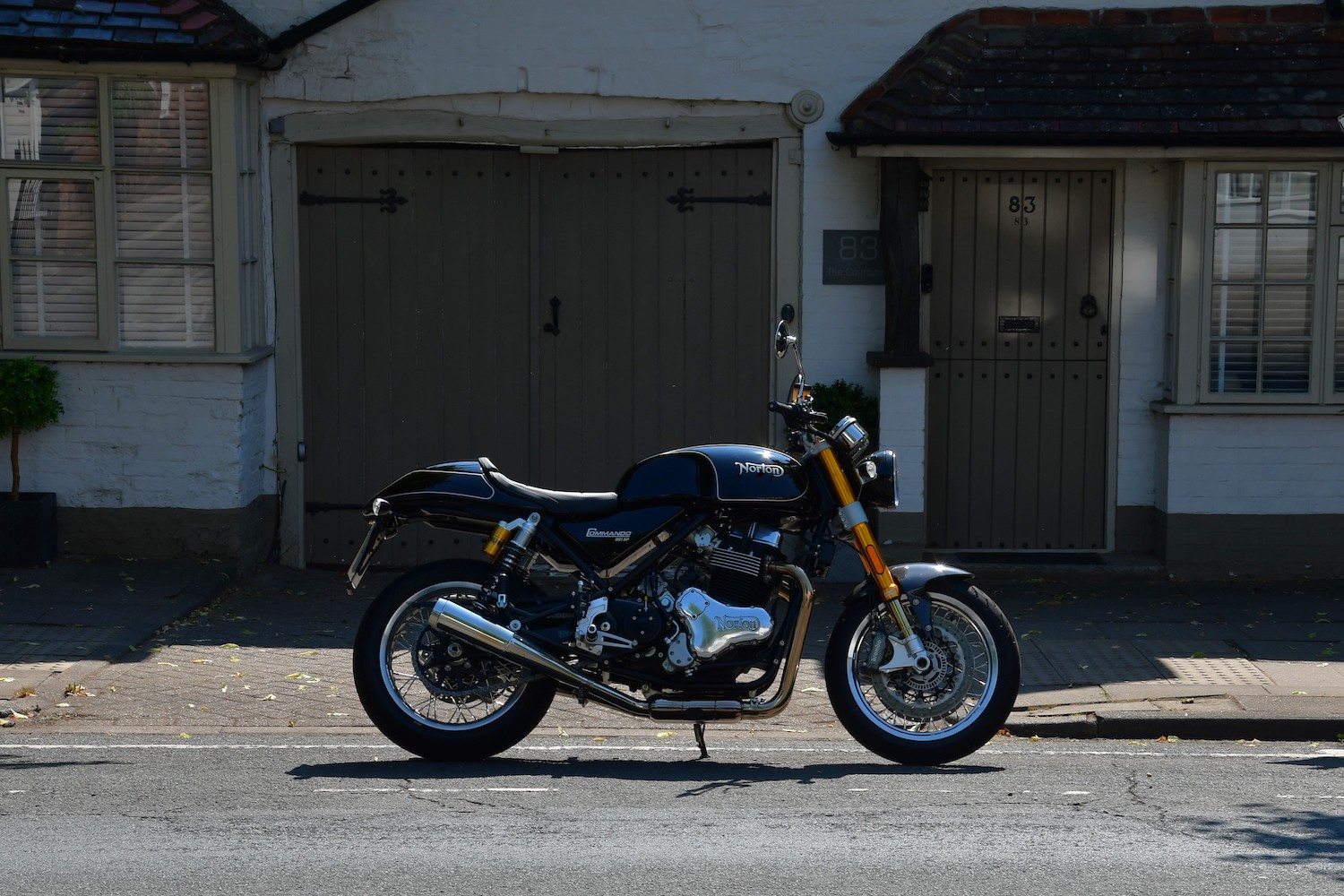 I say 'almost' advisedly; the aforementioned switchgear felt a little flimsy, and the front brake and clutch fluid reservoirs were of the 'jam pot' type, but I suppose it could be argued that they went with the retro feel of the bike.
I found the side stand a bit of a struggle. Or should I say finding the side stand was a bit of a struggle. It seems sturdy enough, but it was mounted forward of the gear lever, so while it was easy to flip down and up, it wasn't where you'd expect it to be. But I should think the engineers are probably aware of that by now.
The foot pegs also folded up with the least provocation and stayed up. Again, something you get used to but a little disconcerting initially.
With the LCD dash read-out set for the time (so I knew when to turn around and come back) I set off in the direction of Stratford on Avon, although my initial progress was a little jerky, thanks to a very responsive and lively throttle combined with heavy traffic, but that could have been me.
Once out on the open road the bike seemed quite responsive, but then it was a sub-litre parallel twin, so that's only to be expected.
The exhaust note is daringly throaty in these modern times. There was also a lot of engine noise, but then there was a lot of engine.
The Dunlop Sportsmax tyres fitted to the 17" rims complemented the Öhlins suspension well enough, and the twin Brembo 320mm front discs squeezed by radially mounted four pot calipers seemed to work well up front, while at the back a single 240mm disc with a two-piston caliper seemed more than adequate to bring a big old lump like me to a halt without too much drama.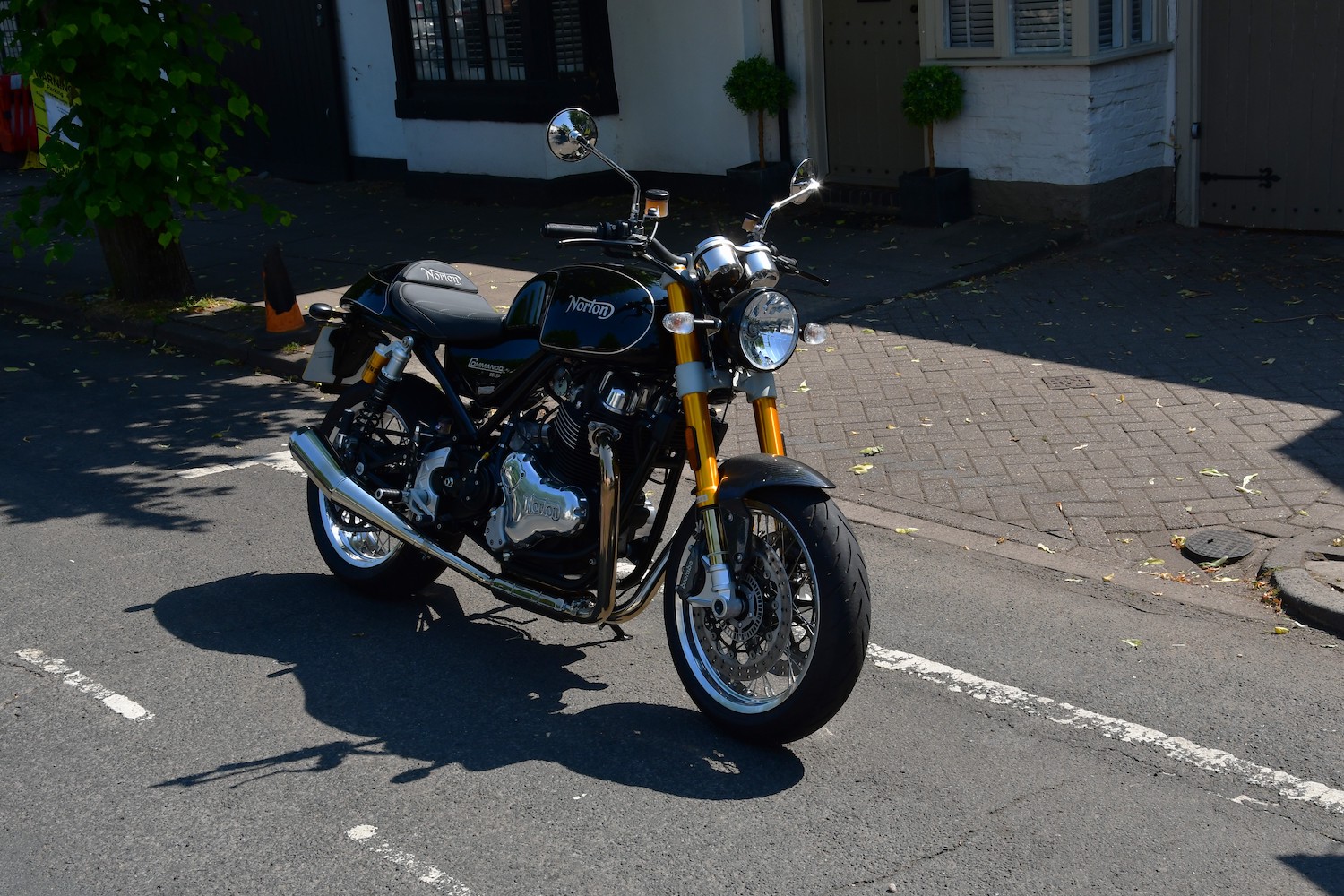 Don't get me wrong, I took this brand-new bike out for a spin out in the sticks for an hour and a half; there was never any danger of any knee sliding or eliminating of chicken strips. But I think I got a fairly good impression of it.
And that impression was a very favourable one. TVS have clearly made a substantial investment in Norton Motorcycles, and they're in it for the long run. See also Eicher/Royal Enfield and Tata/Jaguar Land Rover if you're looking for a similar business model.
The 961 Commando is currently a low-volume model, and if you're wondering how an air-cooled parallel twin with a throaty exhaust note gets past Euro 5 emissions regulations, you won't be surprised to learn that it doesn't.
Each bike is subject to Single Vehicle Approval (SVA), which is primarily aimed at one-off builds, enabling Norton to bypass the restrictions that larger manufacturers have to abide by. I would however be very surprised if there wasn't a water-cooled and quieter engine waiting in the wings, ready for production to be ramped up to the sort of numbers TVS must be eyeing for the future.
Now the bit you've been waiting for. The price.
OK. It's not cheap. You could argue that for a traditional sub-litre parallel twin roadster a price ticket of around sixteen grand (give or take) is a bit rich. But you're buying exclusivity, and probably an investment.
But quibbling about the price and pointing out that you could get a Bonnie or an Interceptor 650 for considerably less would be a bit like saying you went to The Savoy Grill and while it was all very nice, you could get a similar meal in your local chain steak house for a third of the price.
These bikes are meticulously hand built with quality components (Brembo, Ohlins for example) and the parts are 3D scanned before being passed for use. And then there's the SVA process. I don't think it'll be too long before this bike evolves into something more in keeping with modern times.
So like a meal in a posh restaurant, you may be getting similar ingredients, but the way it is prepared and served is miles apart from somewhere that is churning product out like a sausage making machine.
It certainly costs more than comparable bikes, but unlike its rivals you're unlikely to see another one at a bike meet.
And for that reason, I'd say the Norton Commando 961 is a triumph. With a small 'T'.
Martin Haskell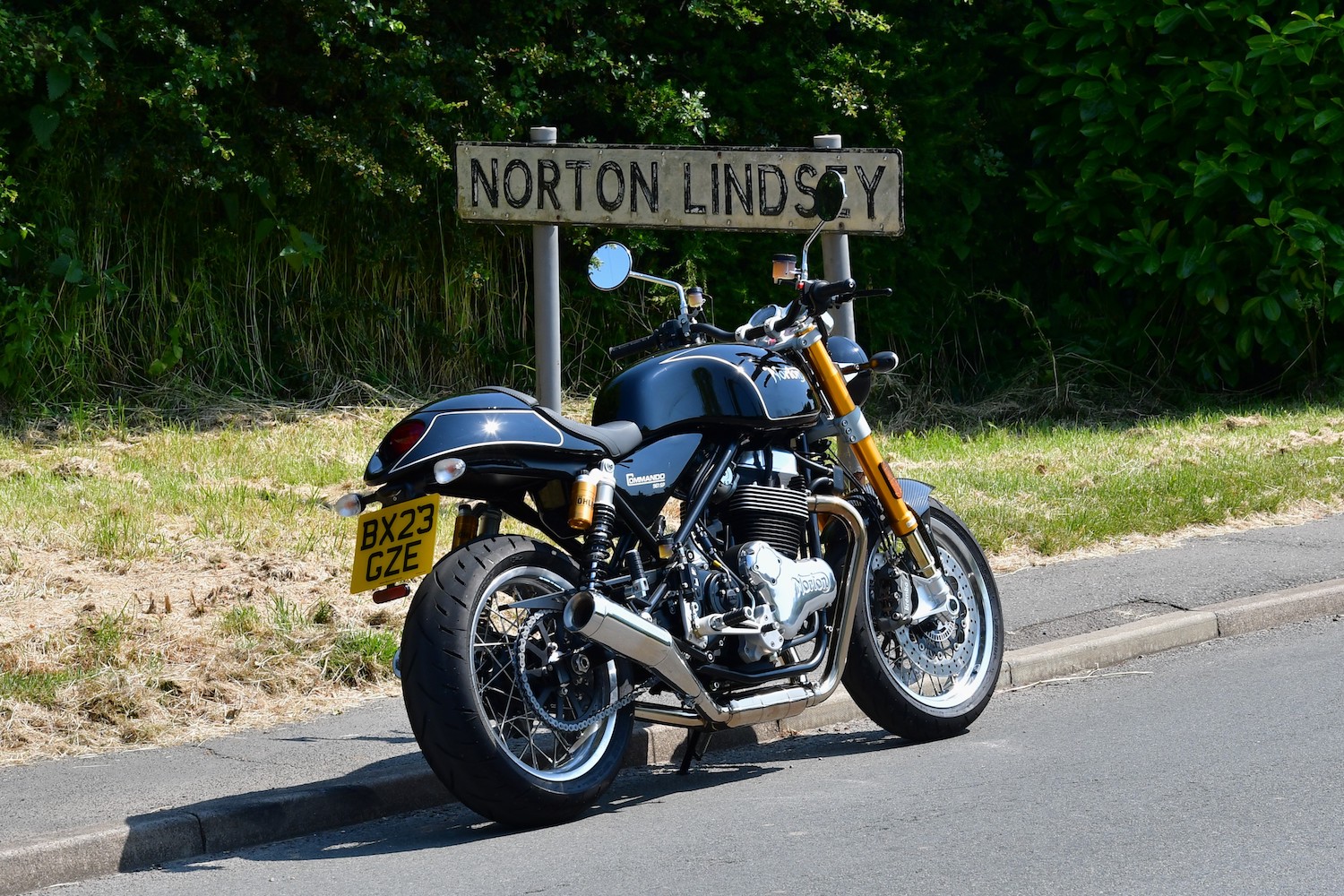 Please follow and like us: