Performance & Practicality
This time last year I finished a Digest This piece entitled "Scooter Snobbery" by saying: "…just because someone chooses a machine that it is comfortable and practical, it doesn't for a moment mean that he or she doesn't want to enjoy all the pleasures and satisfaction that a pair of wheels and an engine is capable of delivering."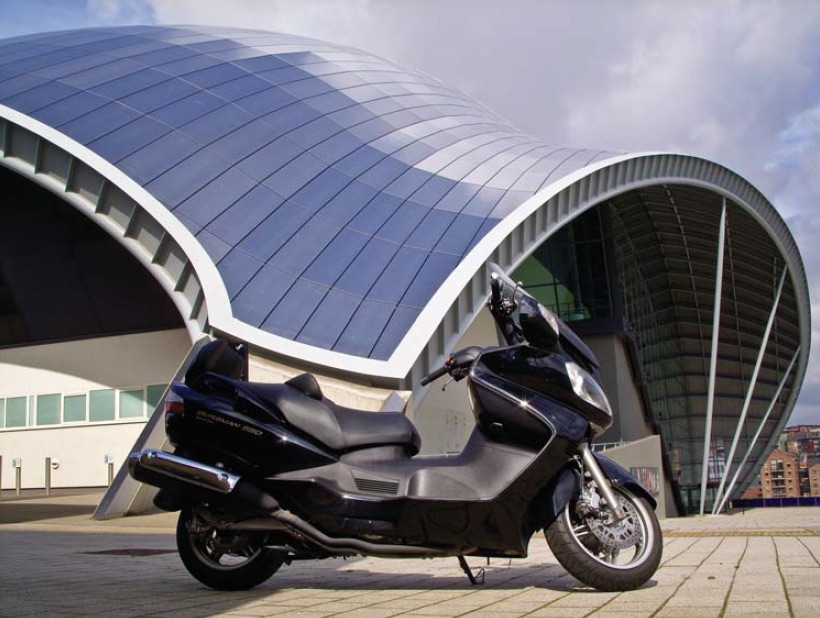 A lot of our younger readers would say that statement is simply an illustration of just how old I am: slippers and cardigans are supposed to be comfortable and practical, motorcycles are supposed to be fast and fun. And of course they'd be right on all counts: I am no longer in the first flush of my youth; cardies and mules are dead comfy; and motorcycles can be enormous fun and spectacularly fast.
However, after 33 years of riding all sorts of machinery, I've arrived at the inescapable conclusion that when it comes to a long journey, you're better to sacrifice the unusable top end performance of a modern superbike, in favour of something that's a little more 'user friendly'. Because in my world if a bike brakes well, handles sharply, and can hit a ton quickly and still have a bit in reserve, then it's more than capable of delivering everything I'm likely to require by way of speed, thrills, and mortal danger to my life and licence.
I picked the Burgman 650 Executive up from Suzuki in Milton Keynes and pointed it vaguely northeast aiming for the seaside town of Hemsby on the Norfolk coast. I flicked the bike into "manual" mode and enjoyed the novelty of using the 'up' and 'down' buttons to 'change gear'; but it was obvious before I'd even reached Bedford that all I was doing was fiddling because the fully automatic mode was more than capable of delivering the engine's 54bhp in a crisp and efficient manner. Besides, if a situation came up where I needed – or just plain wanted – a little extra, all I had to do was hit the 'power' button and the cunning box of tricks raised the revs by around 1500, providing a healthy surge of power. This option really came into its own on the long straight single-carriageway stretches of the A11, where everything was crawling in my direction but there were occasional long gaps in the oncoming traffic that just begged me to hit the power button and nail the throttle – and I've never been one to ignore a serious bit of supplication from a willing engine, so a lot of frustrated faces blurred by on my left while I grinned at the Suzuki's acceleration.
By the time I arrived at the holiday camp where Keef was having his fiftieth birthday party, I was enormously impressed with the Burgman. It had managed a very respectable turn of speed; the seat, which had seemed overly firm when I first sat on it, had turned out to be incredibly comfortable and there was stacks of legroom so I was able to move them around to avoid cramps; and best of all when I rode through some pretty heavy rain I discovered that it offered really good protection, particularly once I'd wound the electrically adjustable screen up to its full height.
The official celebration was good clean family fun and, aside from the karaoke, very civilised, whereas the after party back at Crusty's chalet was hardcore! I'd had so much fun on the trip across from Bedfordshire that I'd decided to ride to Newcastle the next day, so I gave up on the diehards at about 3am, knowing I'd end up wasting half the following morning otherwise. My chalet mate rolled in at 6.15 and walked back and forth on the floorboards for about 10 minutes in what sounded like tap shoes, before tumbling into bed and snoring loudly within seconds of his head hitting the pillow. Oh well with a couple of hundred miles ahead of me the earlier I hit the road the better.
Aside from improvements in comfort, the single most important factor that has transformed my experience of long-range riding, is my Ultimate Ears moulded monitors, because I can't imagine a single uplifting or life affirming situation that wouldn't benefit from a great soundtrack – which was perfectly illustrated as I rode along a beautifully surfaced, deserted road in the Fens, with an early morning mist drifting across the fields and Radiohead's "Street Spirit (Fade Out)" filling my head.
I rode up to Cromer and across, which was a bit of a long way round, but it meant that I got to travel some great roads that were made even better because of the long clear sight-lines, which allowed me to make swift, smooth progress, even when they meandered wildly. I joined the A1 at Newark-on-Trent and chilled out listening to my iPod, while the Burgman munched the miles as fast as I dared to permit it; and in what felt like no time at all, the Angel of the North was off to the right, rising up above me and announcing that I was almost at the Tyne.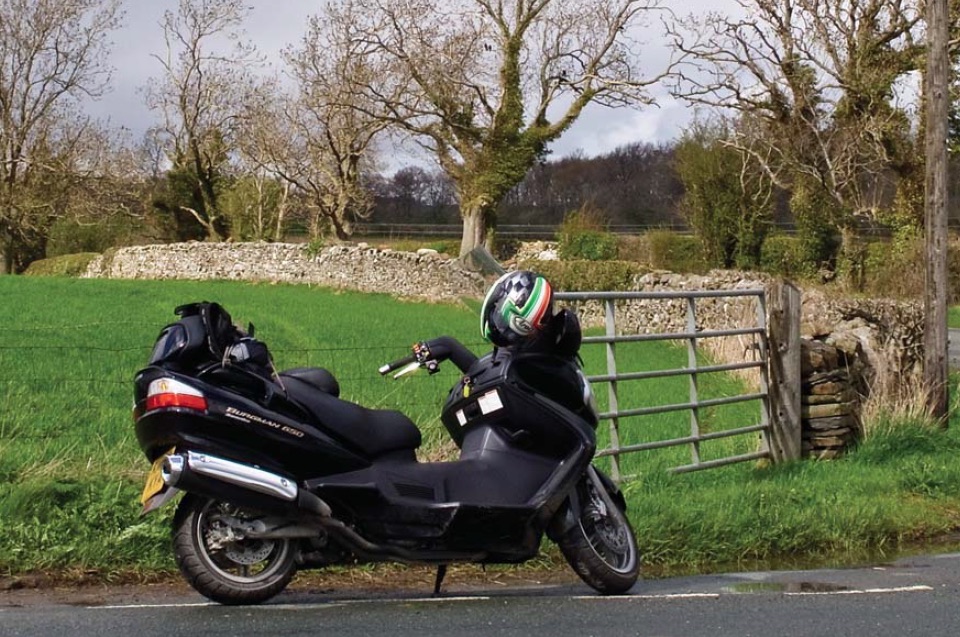 Next morning I was in no hurry so I was looking for an interesting route south and I spotted the B6278. I picked it up at Consett, which is about 10 miles southwest of Gateshead, and followed it across a beautiful bleak landscape all the way to Barnard Castle. From there I intended riding through the Yorkshire Dales to Skipton but I screwed up and ended up on the road to Ripon; so I stuck with it, switching to the A61 when I got there. My mate Dan lives in Wakefield and I know the A61 runs through there so I followed it all the way through Harrogate and Leeds and on to his place in the home of the Trinity.
After a Chinese take away and our usual putting the world to rights session, I decided that a late drive on virtually empty roads was guaranteed to be better than anything I'd be faced with after a few hours sleep. So at 1.15am I inserted my earphones and headed off down the Doncaster Road with The Mighty Wah blasting out "The Story of the Blues". When I pulled onto the A1 it was delightfully deserted, so in the absence of any other traffic and with the speed cameras standing out like yellow beacons in the distance, I told the Burgman to take me home and not to spare the gee gees.
A couple of hours later I was haring across equally empty city streets, singing along with my soundtrack and reflecting on just how capable the big Suzuki scoot is. It had been dead easy to fling around on the A and B roads on the Fens, it had great brakes and it responded to my inputs without revealing any tendency to wallow or behave badly, no matter how twisty things got; it had felt absolutely rock solid and planted as it carried me south at a 'very respectable' pace; and once I was back on home turf I found myself regretting the lack of traffic, because I was sure that me and the 650 and the streets of London were made for each other.
Interestingly the best fuel consumption I saw was a respectable 51.68mpg, but even the lowest return I got on a tank full, after the throttle on the stop blast down the A1, still worked out to 51.22mpg!
Dave Gurman
Suzuki Burgman 650 Executive £6,949 OTR
This article first appeared in issue 129 of The Rider's Digest in June 2008 but issues with my new secondhand Burgman caused me to dig it it out; nowadays a new one will set you back around nine grand. DG.
Please follow and like us: