Riders' Lives ~ Jack Lewis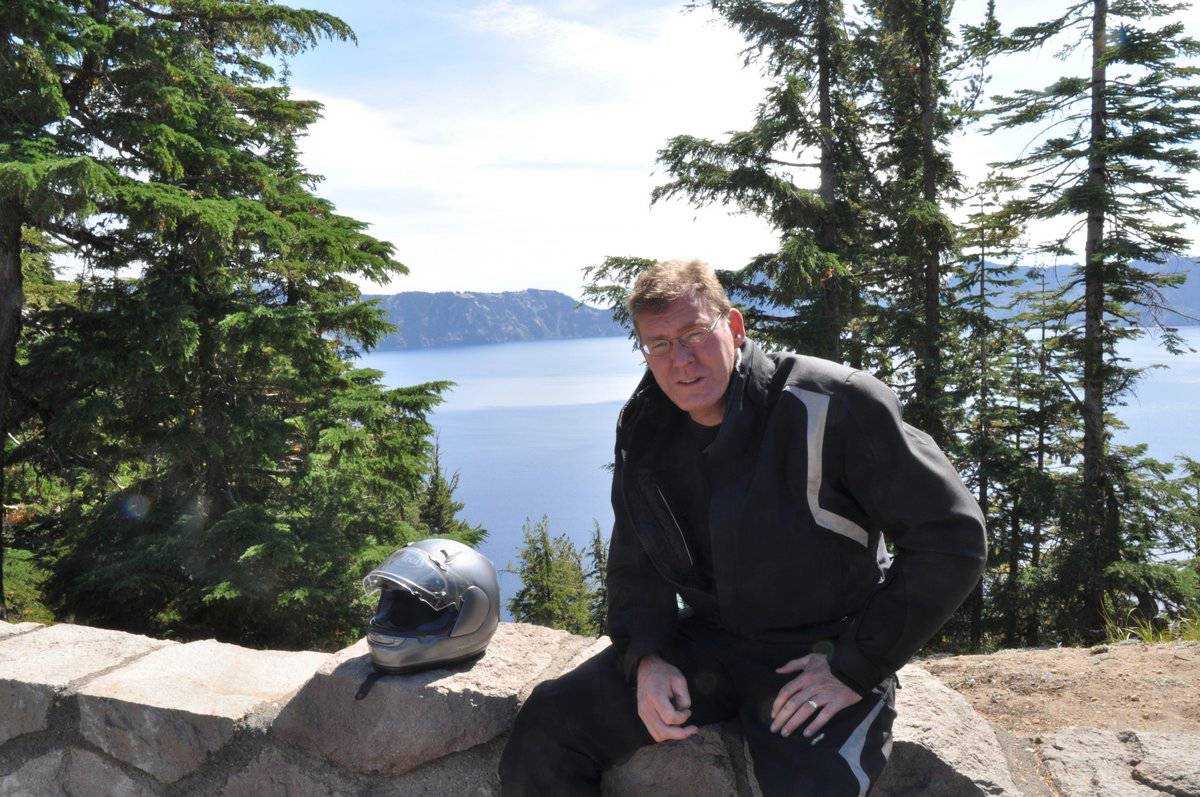 1. What was your first motorcycling experience?
Big brother of a friend gave me a ride on the back of an old-school Vespa. We blasted up the steep part of Raleigh Street in NW Portland, Oregon. The thing I remember was hitting the bottom of the grade and suddenly pitching up, then tearing up the hill with magical speed. The only thing not perfect in the world right then was that somebody was between me and the handlebars.
2. What is your current bike?
Two BMW 'S'-bikes: a 1969 R69S-US ('Honey;' love), and a 2007 R1200S with minor upgrades ('Black Betty;' domestic bliss). Also a Rotax street tracker custom built on a 1981 J&S flat track race frame with a 2010 ATK Rotax crate motor ('Homewrecker;' lust). Pretty Wife runs a 1991 Moto Guzzi Mille ('Sal') and a 2009 Triumph Street Triple ('Street Dancer').
3. What bike would you most like to ride/own?
A Patrick Godet Egli/Vincent, built especially for me. The Preciouss-sss…
4. What was your hairiest moment on a bike?
Hairiest moments always seem to relate to getting very close to the edge. The most damaging moments have been when I tipped over it, often in a not-so-dangerous situation when I just wasn't paying very close attention. Yes, I wrote 'often.' I am a clumsy bastard, when you get right down to it. My legs have so many healed fracture lines that my X-rays look like ancient cave art.
5. What was your most memorable ride?
A camping trip undertaken with my mother, stepfather, and college girlfriend in 1988 or so. We looped around eastern Oregon, western Idaho, and southeast Washington. My then-girlfriend, a Tokyo native, was awed by the seemingly endless spaces.
6. What would be the ideal soundtrack to the above?
Ghost Riders in the Sky? I dunno; I'm a terrible DJ.
7. What do you think is the best thing about motorcycling?
The sudden and magical extension of your physical powers serves to heighten your awareness of the reality you are mediating. My motorcycles (defined as "the one I'm riding right now") work something like a jetpack; they rocket me into a new level of awareness even as they're actually taking me to new places… and in a way that tweaks the people I meet into realizing THEIR potential, as well. I don't think I could stand to be a rock star – that's too much glare of attention for any semi-stable man – but I can stand and evangelize rhapsodically about bikes until I run out of breath or whisky.
8. What do you think is the worst thing about motorcycling?
The worst thing about motorcycling is the same as the worst thing about any fascinating phenomenon: trend-sniffing hipsters who see it not as a path to themselves, but as a social credibility card to be exploited in the service of their all-important cool factor.
9. Name an improvement you'd like to see for the next generation?
Wings.
10. How would you like to be remembered?
I'd prefer to be remembered as someone who looked for the parts of truth I could discern, and shared them when asked.
Jack's web site and professional Facebook page
Please follow and like us: